Wouldn't you like a wallet that fans out 4 – 7 credit cards, IDs, or gift cards so you can quickly and easily choose the one you want to use? If you're like me, the answer is a resounding yes.  
Wallets that fan out cards are often called pop-up wallets because a button or lever causes the cards to instantly jump up from your wallet into a fan so you can choose the one you want.
These wallets are compact, too, only fractionally larger than the cards they contain. They're small enough to fit comfortably in the palm of your hand, purse, or front pocket. And like most contemporary smart wallets, each of them on this list will protect your cards from high-tech, RFID scanning from digital pickpockets.
One of these 6 is sure to make you a fan of fans.
7 totally cool wallets that fan out cards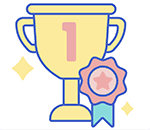 1. My Top Pick: Ekster Senate
The Ekster Senate pop-up wallet is my personal every day, front pocket carry. I love the way my cards instantly fan out with the press of the black button at the base of the wallet.
Its size is barely larger than the cards it carries, so it definitely qualifies as a palm-sized, minimalist wallet. The aluminum cardholder holds 4 – 6 cards and gives them RFID protection. The Ekster Senate is wrapped in top-grain leather tanned under gold-rated LWG-certified protocols, and it looks and feels really lush.  An elastic cash strap on one side holds bills folded over twice, business cards, or receipts.
It's also available with a bluetooth tracking card that's solar powered. The tracker is only the thickness of 3 credit cards and the wallet has a hidden space that it fits in nicely. You can use your phone to locate your Ekster wallet with the free Chipolo app or press the button on the tracker card in your wallet to find your phone. You can also use the app to see the location of your wallet or your phone on a map.
Check out my full review of Ekster wallets.
2. Lefada Minimalist Wallet
All of the wallets on this list have a pop-out credit card holder that fans out your cards, but the Lefada Minimalist wallet is the only one of two on this that you can remove the aluminum holder. This minimizes the wallet down to the barest of bones, if that's your thing.
Lefada's origin story is that they created the original pop-up style credit card holder that fans out all of your plastic. There is a money strap on the outside for storing cash or the day's receipts, and a transparent window inside for your driver's license or other ID.
The wallet comes in several versions that differ in the way that your cards are ejected from the RFID protected cardholder. Lefada uses Crazy Horse genuine leather which gets its name from its use in making horse saddles. It is treated with a wax that helps the leather repel moisture and will give this wallet a vintage look as it ages. 
3. Secrid Mini Wallet
The bifold design of the Secrid Mini wallet not only pops out 4 – 6 cards out into a convenient fan for easy access, but allows cash and 6 more cards to be carried inside. The wallet uses a patented mechanism that pops out your cards with a simple flick of a lever at the bottom of the wallet.
They're staggered nice and evenly so you can pluck the one you want. The sturdy aluminum housing that keeps your cards from bending or breaking also provides RFID protection.
Secrid wallets are made in Holland with leather sourced from European cowhides and available with an impressive choice of 16 different leather styles. They even offer a leather alternative made from a vegan material with a natural nubuck look.
If you really want to go minimalistic, you can purchase just the aluminum card protector mechanism that ejects your cards into a fan. There won't be any leather, but you'll be able to choose from an additional 29 different colors and designs to customize the aluminum finish to your liking. 
4. Fidelo Hybrid wallet
The Fidelo Hybrid wallet has a capacity of 5 cards that fan out nicely by way of a quick action trigger at the bottom of the wallet. It's similar to the Lefada Minimalist wallet because the credit card holder can be removed from the top-grain, vegetable-tanned case. This further minimizes the thickness of an already minimalist wallet.
This is a credit card holder wallet, so the only way to carry some cash is on the outside. Fidelo includes not just one, but two carbon fiber-accented elastic bands that allow you to do just that. Leather does not block RFID scanning, so when the outer leather case is removed, the aluminum case is still busy protecting the cards inside.
Maybe the best thing about the Fidelo is the price. It's considerably less than the Ekster Senate and Secrid Slim wallets, and still fans out your cards for quick access wherever and whenever you need them.
5. Serman Brands Slim Card Holder
Rather than a spring-loaded mechanism that ejects your cards into a fan, the Serman Brands Slim cardholder uses a smart strap to pull your cards into view. The cards aren't displayed in a perfect fan like the Secrid or Ekster wallets, but the pull-out strap has a nice low tech feel to it and still does the job. It also means one thing less to go wrong!
It's a bifold wallet with a transparent ID window inside and a slot for carrying cash when folded in half. It can fit up to 10 cards and still stays just a half-inch thick. It is engineered to block 13.56 MHz or higher RFID signals which protect your credit and debit cards with unauthorized scans.
Think of the Serman Brands Slim wallet as a transition —a hybrid, if you like— between a minimalist smart wallet and a more traditional carry like the Serman Brands 1.S. It's made from full-grain leather and available in six designer colors. 
6. Fantom R wallet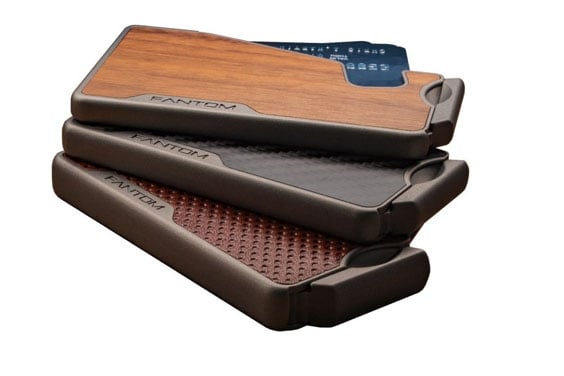 The Fantom R wallet is one of the newest kids on the block with an aggressive new design that's reminiscent of a hand-made pocket knife. Instead of a button, there is a lever that instantly fans out your cards lengthwise, like a hand of gin rummy. The cards are stored in an RFID protected aluminum chassis that's available in wood grain, carbon, or pebbly, faux leather finish. It's available in 3 different sizes that hold from 7 to as many as 13 cards.
The quirky asymmetrical design is completely unique as far as I know in the wallet world. The cardholder slopes at a steep angle from one corner and terminates with a thumb notch. This opens up enough space to grab an exposed corner of a card without using the lever. 
You can order the attached titanium money clip in 10 different outrageously bright colors that firmly hold a bandaid, concert tickets, or a few twenties. The corners have a gentle radius that helps the wallet slide smoothly in and out of a pair of slim-cut jeans.
Here's another post with even more about wallets that eject your cards. 7 Best Card Ejector Wallets: "Pop-up" Goes the Weasel.
LEARN MORE: There are wallets that are even smaller and more minimalist than the pop-up wallets that are in this post. Check out these Ridge Wallet Alternatives if you really want to slim down your everyday carry.