The Secrid Miniwallet is one of a family of six wallet styles that are all built around Secrid's patented card ejection mechanism. It just a simple motion to pull the trigger lever at the bottom to eject up to six cards into a perfect fan for immediate use.
A solid aluminum cardprotector with trigger action is the heart and soul of all Secrid wallets. For me, reliable quick card access is the number one reason to own a Secrid wallet. 
A close second is the reputation Secrid has for using high-quality, full-grain leather in all their leather wallets. Nothing is outsourced to Asia. All of their wallets are made in Holland and their leather they use is exclusively European cowhide.
How does the Miniwallet stack up against the other Secrid wallets?
The Miniwallet, like all Secrid wallets, uses an ingenious design that pops up 6 flat cards (4-6 cards if they have raised numbers) from a strong card protector case. Unless you shake the wallet like a ketchup bottle, the cards never fall out.
The Miniwallet definitely shares more similarities than differences with other Secrid wallets.
Here's a quick comparison chart. 
What makes the Secrid Miniwallet unique
1. It is narrower in width than the Slimwallet, Twinwallet, and Cardslide
When I compared the width of the Secrid Miniwallet to its cousins, the Slimwallet, Twinwallet, and Cardslide, I found the Miniwallet to be a full eighth of an inch narrower.
I know, I know, that doesn't sound like a lot. But in my mind, every little bit counts when your wallet is competing for space in the front pocket of your tight jeans.
(Secrid didn't call it a "Mini Wallet" for nothin'.)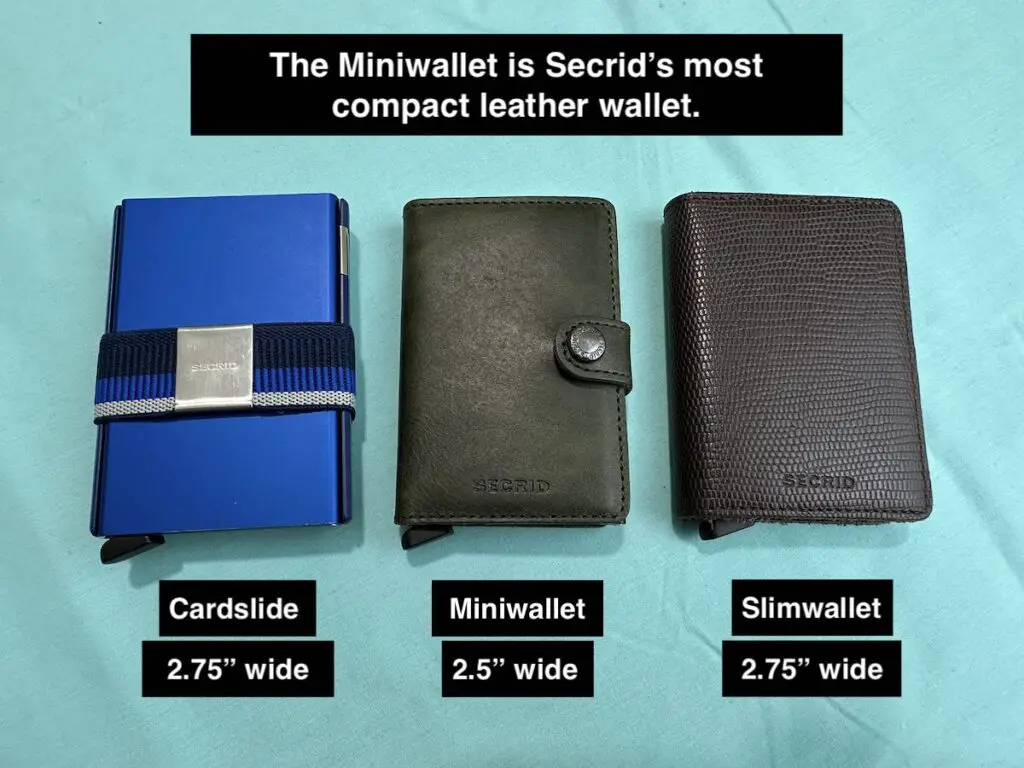 The smaller size feels more compact, too, with much less flex in the leather than the Slimwallet. Secrid managed to slim things down and tighten things up without sacrificing any of the wallet's storage capacity for cards and cash.
Inside, it has two card slots for extra cards and a dedicated place for a few bills of paper money folded in half. Add these extra cards to the six in the aluminum case for a total capacity of 10 cards.
TIP: If you have any metal cards or paper cards like business cards or membership cards, you'll have to keep them in the card slots. The patented mechanism that Secrid uses has a tendency to get gummed up with any cards other than plastic.
2. It has a strap with a snap to keeps the wallet closed when you're not using it.
For some people, a strap to hold your wallet closed might be overkill. I thought so too, at first. But now I realize how nice, tight, and compact the Miniwallet fits in my pocket. 
By comparison, I carried the Slimwallet for a few months and it had a tendency to twist along the leather hinge both in and out of my pocket. It just feels sort of floppy. It also has a tendency to get tangled with other items in my pocket.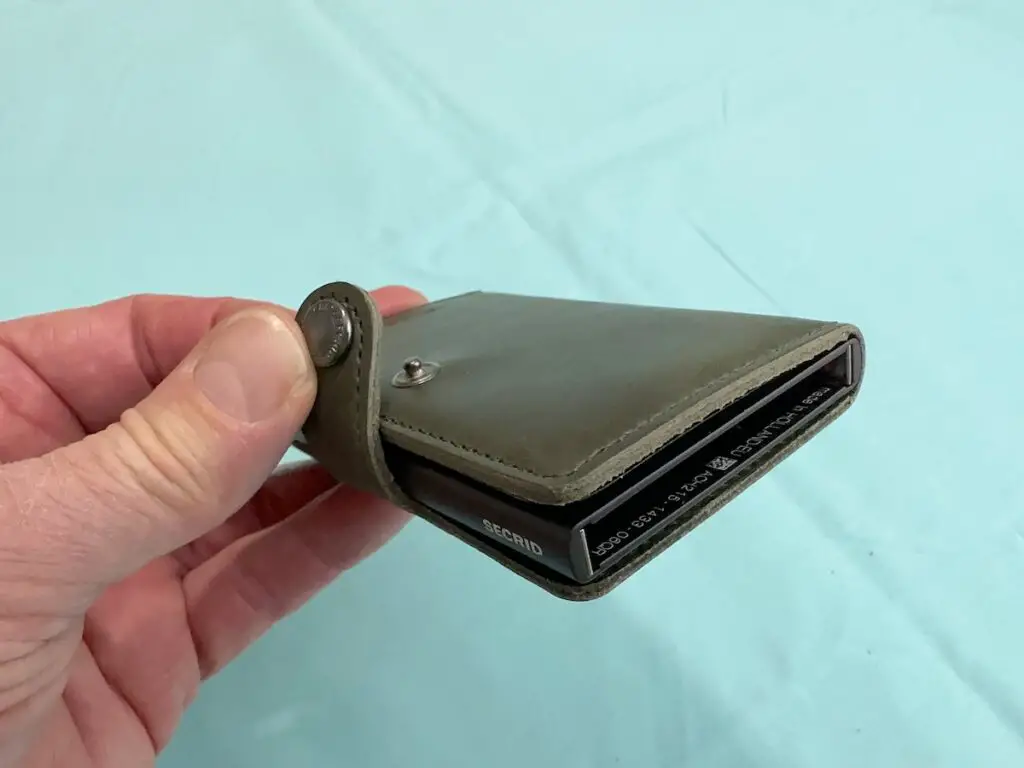 When I started to carry the Miniwallet, I was impressed by how well-behaved the Miniwallet was with the strap and snap. Even after unfastening the snap and open the wallet, the leather feels tighter and more precise. 
One drawback of the snap and strap is that it increases the thickness of the wallet. Not to mention it breaks up the smooth leather surface on one side which causes the strap occasionally snag going in and out of my pocket. But this is just nit-picking.
3. It's just plain handsome
Full-grain leather sourced from European tanneries is Secrid's claim to fame. The leather is thick and substantial, with more of wide variety of styles than any other wallet maker.
The wallet I'm using in this review is Vintage Olive, but the leather options aren't just about color.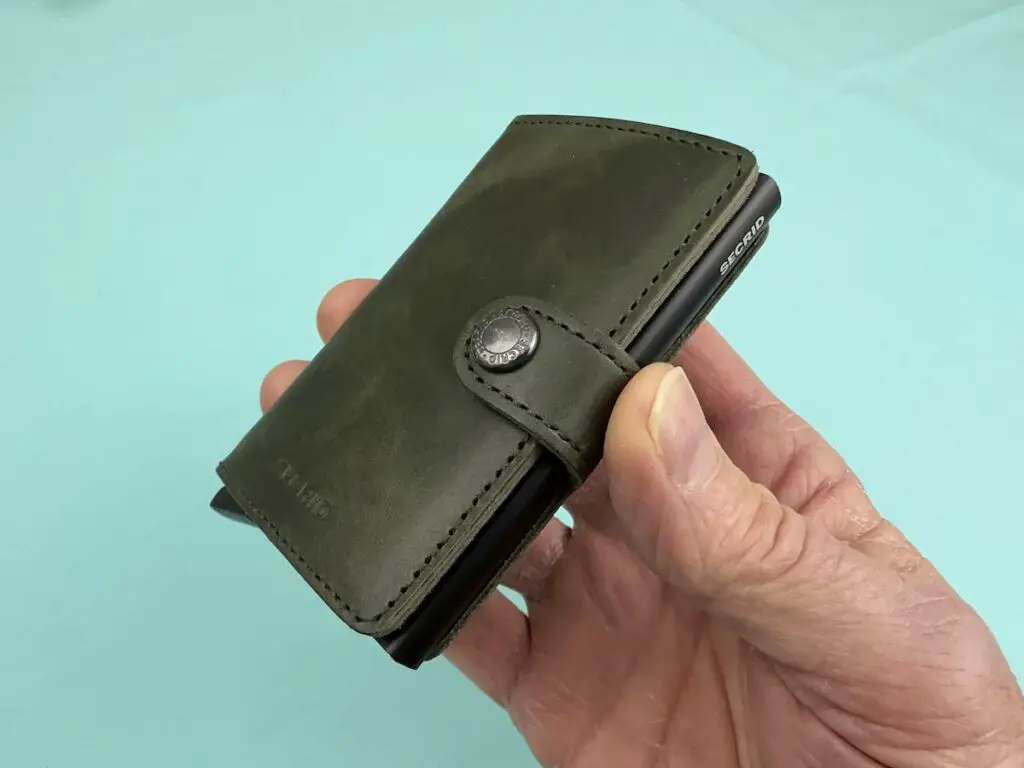 Here is a sampling of the different types of leather that you can get with the Miniwallet.
Geometrically embossed leather
Saffiano embossed finish
Vintage leather with a carefully abraded surface with a wax finish that gives it a stonewashed look
Matte finish
Rango is a rugged leather type with embossing
Nile leather made with a special tamponato technique with a high gloss finish
Carbon leather with a texture that looks like carbon fiber
The only thing I don't like about the leather is that Secrid doesn't burnish or paint the edges of their leather. This means the edges have a tendency to develop noticeable stray fibers over time.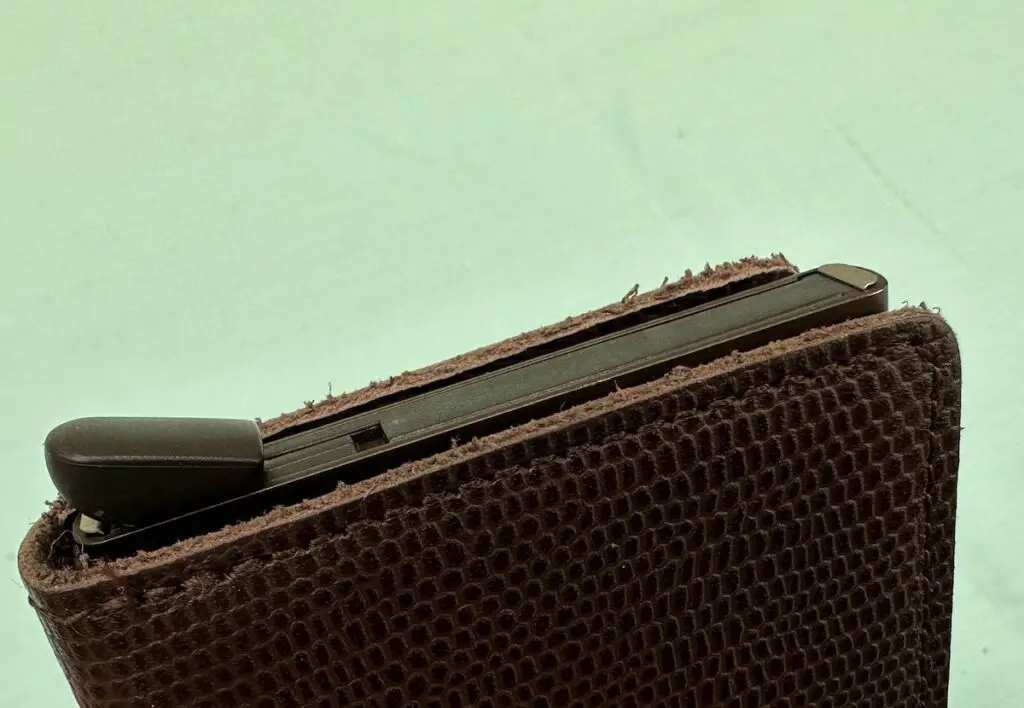 Some people love this because of the real leather, fresh-from-the-tannery look, but I prefer a more finished appearance.
4. The Secrid Miniwallet is more compact than Ekster.
The Ekster Parliament is the head-to-head competitor to the Secrid Miniwallet. Quality wise, Secrid and Ekster stack up pretty close to each other. But it's important to know that the wallets from the two companies have fundamental design differences. 
In regards to size, the biggest difference is the length. When I place the Miniwallet next to the Parliament, the Miniwallet is a full half inch shorter in length.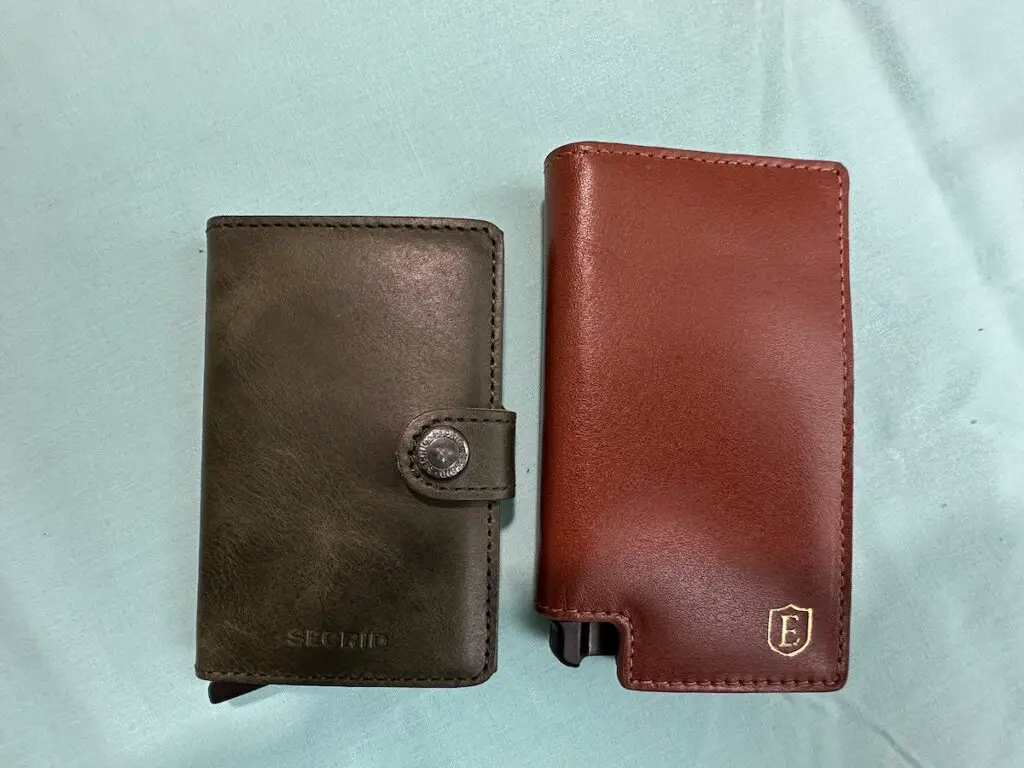 This probably has to do with the different designs of the card ejector mechanisms from the two companies. Secrid uses a trigger lever that you pull slightly downward, while Ekster has a slider button that you push sideways. 
I favor Ekster's card ejector more than Secrid because it is more fun to use and your finger doesn't have to move as far. Ekster pops-up the cards more quickly, too. 
The bottom line, though, is that the Miniwallet (and all Secrid wallets) are equally effective as Ekster for popping up six cards into a perfect fan. Secrid's design just does it in considerably less space.
5. Warranty
Secrid has a standard 2-year warranty on their wallets. After purchase, if you register your wallet with Secrid, they will add one more year to their standard for a total of 3 years.
The only other company that offers a similar 3-year warranty on leather wallets is Bellroy.
BUYING TIP: You can purchase Secrid wallets from the manufacture in Holland or get them directly from Amazon. I found that Amazon has a surprisingly large selection of Secrid wallets, often substantially discounted from the prices on the Secrid website. Delivery is faster, too, especially if you have Amazon Prime. https://www.walletsurfer.com/recommends/ekster/
Secrid wallet alternatives
The only head-to-head competitor that equals Secrid's quality is Ekster. Here are the two models I can personally recommend from my experience of carrying them over the past few years.
Ekster Senate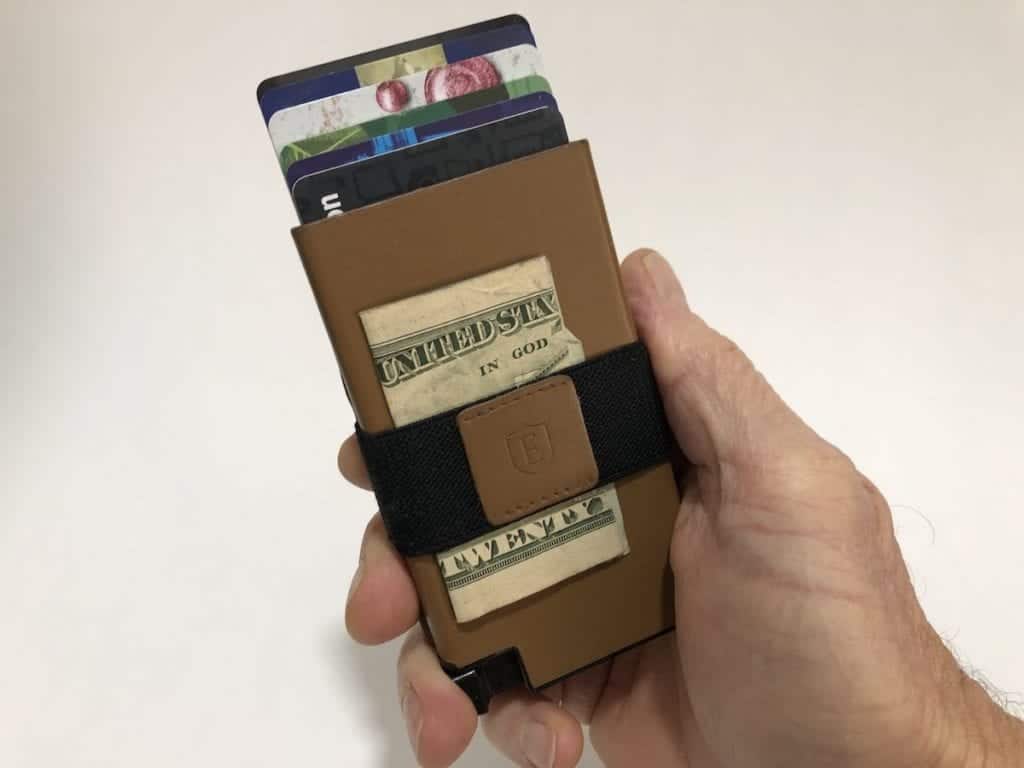 The Ekster Senate is a compact, card holder wallet that uses top-grain leather wrapped around Ekster's quick access card ejector mechanism. It ejects up to six cards with the push of a button rather than a trigger lever like Secrid.
The leather has a smooth surface and is quite a bit thinner than Secrid. This makes the wallet more sleek in your pocket. I like the fact that Ekster burnishes the edges of their leather (which Secrid does not).
Like Secrid, the Ekster Senate holds 6 cards in its card protector case. There is room for another card in a slot on the back as well as space for cash and another card or two under the money band.
It's modular, too. You can remove the card holder and carry it separately
Ekster Parliament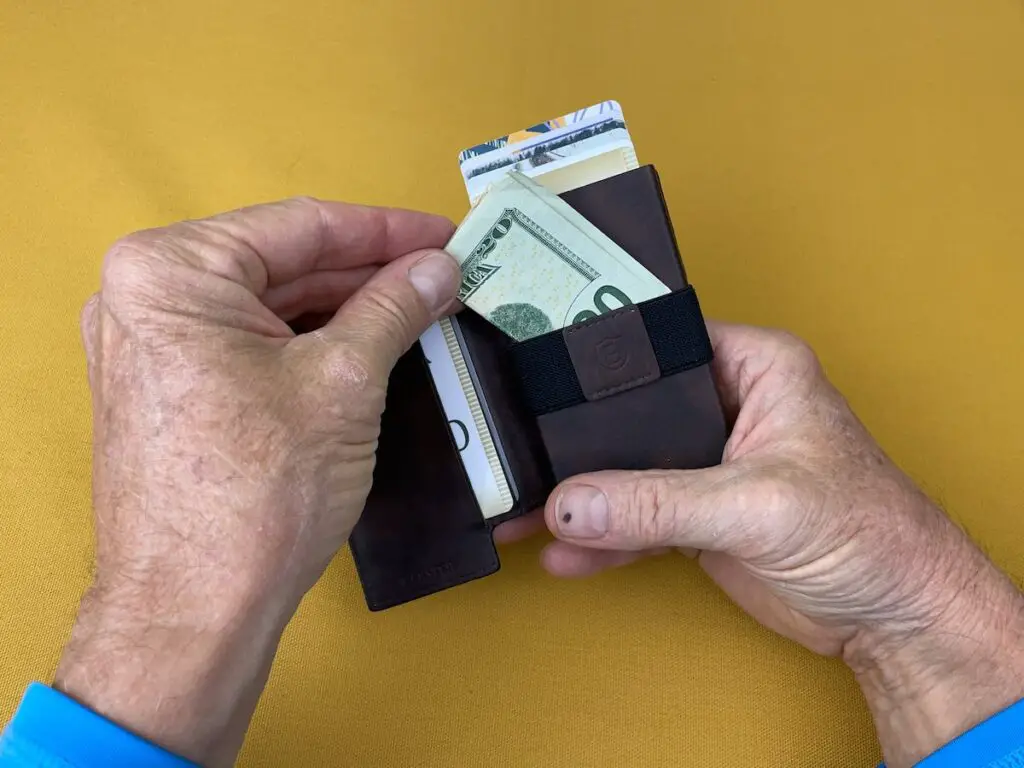 The Ekster Parliament is more formal wallet than the Senate with a bifold design. That means it's thicker than the Senate.
The bifold design gives you a dedicated flap of the wallet with two card slots that will hold 4 cards total. An added advantage is that any cash you place under the money strap is hidden when the wallet is closed.
Ekster offers 4 types of leather, including a vegan option, with 10 colors to choose from.
Personally, I prefer the Ekster Senate more than the Parliament because of its compactness.
Last word
You really can't go wrong with any Secrid wallets. Their reputation precedes them and, in my experience, it's well earned.
All Secrid wallets are RFID blocking. The strong case that pop-up your cards also protects them from unwanted wireless communication.
The case is made from aluminum and this protects your cards from RFID skimming, though unauthorized wireless intrusion is really a nothing burger.