You need an RFID wallet that prevents credit card scanning because digital thieves have portable devices that can goad you card into giving up your financial information.
The jury is still out about the real risk of this happening in the real world. But, as they say, it's better to be safe than sorry.
Your new contactless credit card, aka tap-and-go card, is the type of credit card that's potentially vulnerable.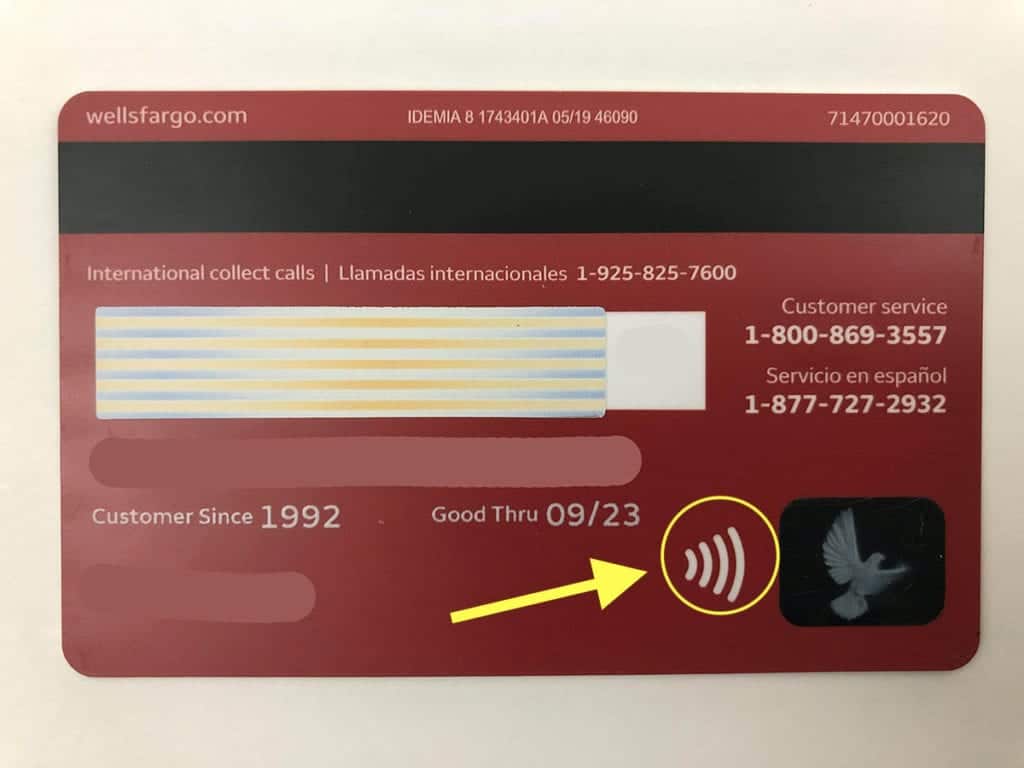 Believe it or not, there is a miniature antenna embedded in the contactless card's RFID microchip. When you wave this type of credit card in front of a store's credit card terminal, the terminal connects with it and wirelessly powers up the chip.
When the terminal and your card's chip make a connection, the chip sends out the data on the card to the terminal. Transaction completed. 
Criminals have learned to leverage this technology in their favor. But these 6 RFID-protected wallets will stop them in their tracks.
These are the 7 wallets that prevent credit card scanning

My Favorite: Slimfold Original Soft Shell
You won't find any leather in the Slimfold Soft Shell wallet. Instead, it's made of a waterproof material that uses the technology and abrasion resistance of motorcycle crash pants. It doesn't scratch like leather and weighs in at less than half of an equivalent leather bifold wallet. It's also skinny, just 1/6th" thick.
The Slimfold is made in San Francisco and has an incredible 5-year warranty. That's 5 times longer than what most wallet manufacturers offer. I carried this wallet for about a month it is the thinnest wallet I've ever carried, even with 6 cards and cash.
Unlike the appearance and feel of leather that matures as it ages, the scratch-resistant Slimfold minimalist wallet will continue to look new for years to come. For all its material high tech-ness, it is a conventional bifold design with a deep enough currency pocket for all international currencies and even boarding passes.
The footprint of the wallet is not as minimalist as some, but if you distribute your cards evenly, it stays remarkably thin. An invisible RFID-blocking lining prevents credit card scanning. If leather isn't a must-have, this (almost) bulletproof wallet is the one to get.
Buffway Slim Minimalist RFID wallet
The Buffway Slim Minimalist wallet continues a trend of high quality RFID blocking wallets that prevent credit card scanning. And you can't beat the really low buy-in price. All 24 color choices are made from genuine leather and will slip into your front pocket with barely a bulge to show for it.
There is an exterior ID window on one side with a convenient thumb notch to slide out your driver's license. The opposite side has the same thumb notch for extracting the credit card you use most often.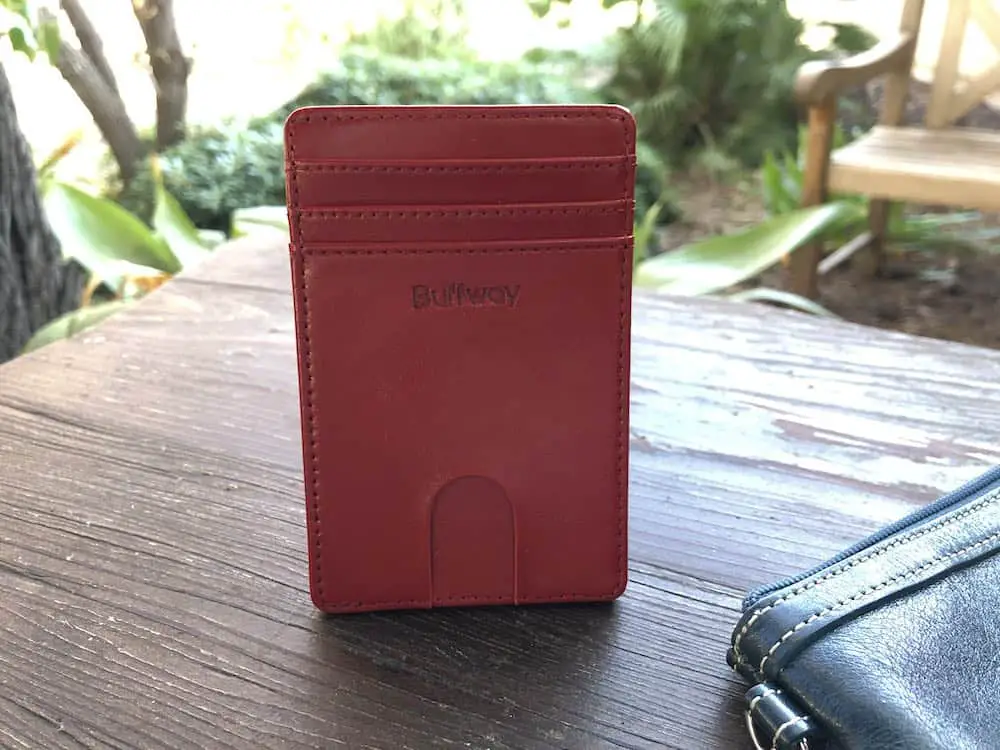 There are additional slots for credit cards and two side slip pockets for your Costco card or that Starbucks gift card you received on your birthday. There is also an additional pocket inside for cash (folded on half), receipts, or a couple of Tylenols.
For those of us who like to carry our phones and wallet in the same pocket, the Buffway Slim Minimalist will make you forget that it's even there. In terms of value, I can't think of another wallet that offers so much for so little. This video from Walletopia breaks down all of the features.
Bryker Hyde Minimalist 1.0 – ID Outside
The Bryker Hyde Minimalist 1.0 is yet another wallet that makes you re-examine your need for unnecessary clutter. Even though it's a bifold wallet, it's not a whole lot larger than a credit card, but still wide enough to hold some USD currency under the interior money clip.
This wallet has an ID window on the outside, but if you would prefer it on the inside, read about Bryker Hyde's nearly identical wallet here. There are two credit card slots on the outside for quick access and another 6 inside.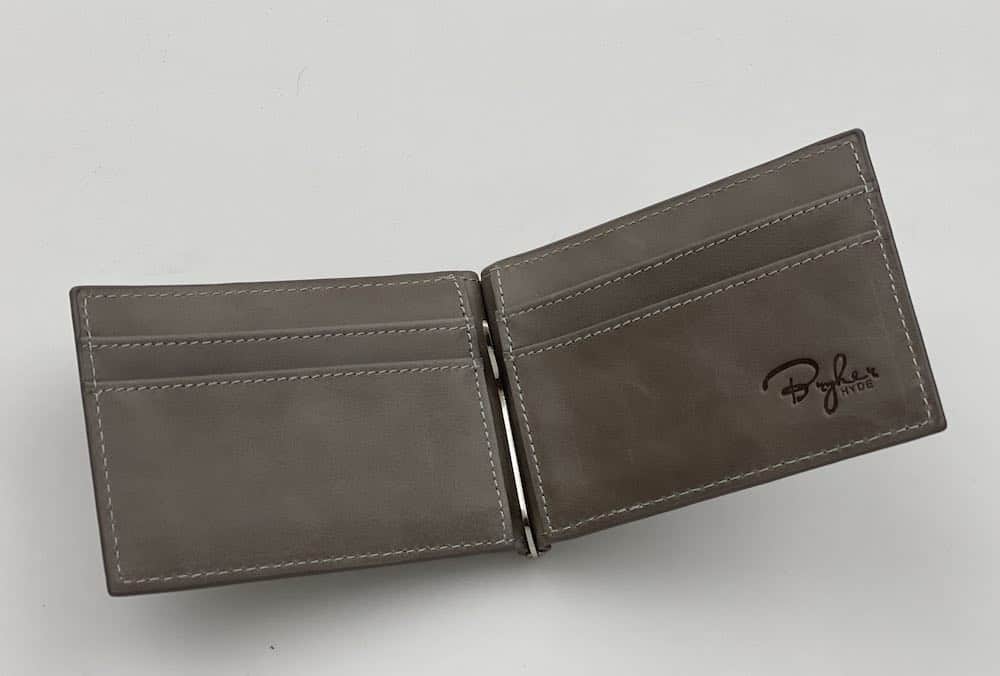 I like that it uses tough full grain leather that will last a lifetime. Full grain leather is stiffer than top grain leather, so it will take a bit longer to break in and form fit to your pocket. But the wait will be worth it.
Since it's on this list, you know that it gives solid scanning protection for your RFID credit cards. It blocks lower frequencies, too, such as those used in staff IDs and hotel room cards.
Travelambo Slim RFID Wallet
The Travelambo Slim RFID wallet is a one-piece wallet (not a bifold) that has a silver embroidered lining. This is the magic stuff that blocks RFID frequencies for credit cards and drivers' licenses. Yet is allows the lower frequency ID badges and hotel room cards to work.
The wallet comes in your choice of crosshatch leather, Napa leather, or Crazy Horse leather. Designed for men or women, it is thin enough (just .012" thick!) to fit in tight jeans or next to the smartphone in your front pocket. 
The Travelambo is machine stitched but otherwise handmade with traditional leather-making tools. It is designed to appeal to a younger hipper crowd without sacrificing its broader appeal. The wallets are individually checked for defects before they leave the factory.
There is room for currency folded in half and room for 6 credit cards. At this price point, you could buy five of them as gifts without dropping much more than $50. For this kind of quality, it's an incredible value. This video has a closer look at its features.
Radix One Black Steel
The Radix One Black Steel has a radical but simple design. It's really just a sandwich of 2 hardened steel plates that are held together by an adjustable silicon band. As you add more cards between the plates, the sandwich gets thicker.
The band doubles as a place to stash your cash, receipts, or some business cards. If you need more room, the silicon band unhooks from either side to create a little more slack.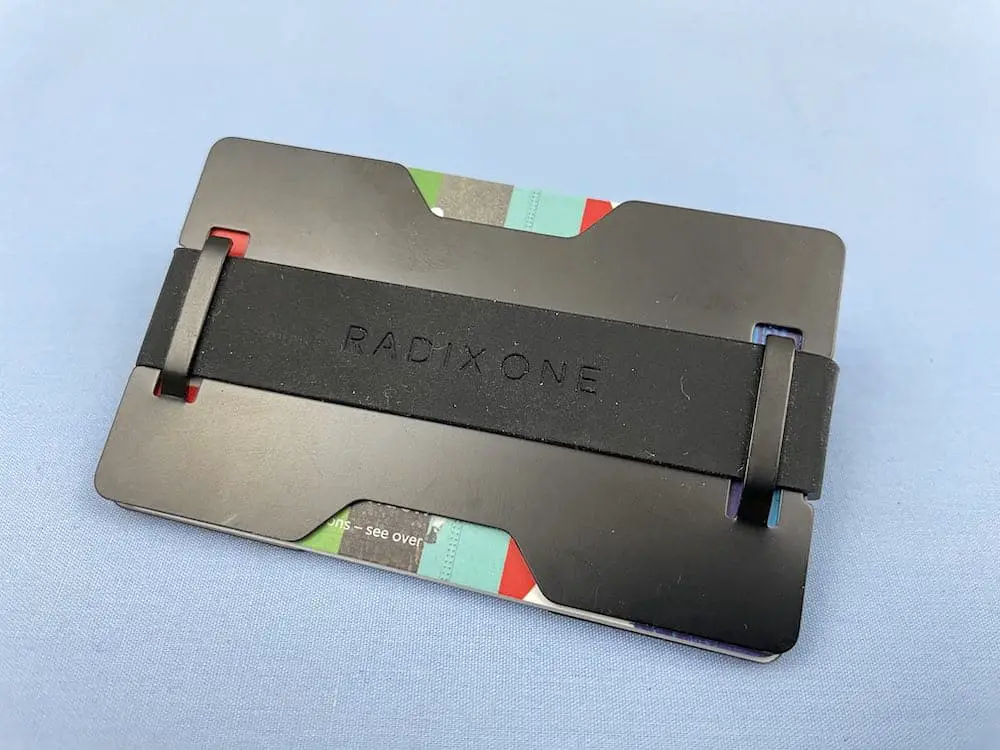 The RFID scanning protection comes from the stainless steel plates that form the "bread" for the sandwich. This is as simple of a minimalist wallet as your could ever hope for to prevent credit card scanning. It has the hard cold steel feel of the Ridge wallet, but without the tiny screws and the hefty price.
Because of its oh-so-basic design, it doesn't have an ejection system to access your cards like the Secrid wallet. In order to access the card you want, you need to take them all out and then reinsert them. Ah… the price of minimalism.
Roco RFID-Blocking Money Clip
The Roco RFID blocking money clip is very similar to the Radix One Black Steel. The biggest difference is that the Roco uses aluminum rather than steel to form the sandwich of RFID protection. The aluminum feels a whole lot lighter in your pocket.
Like the Radix, it uses a silicon band to keep the plates pressed firmly again the cards. The Roco, however, rotates its strap by 90 degrees. Two different sized bands ship with the wallet to allow expansion room for a whopping 20 cards. The band is designed to hold cash, too.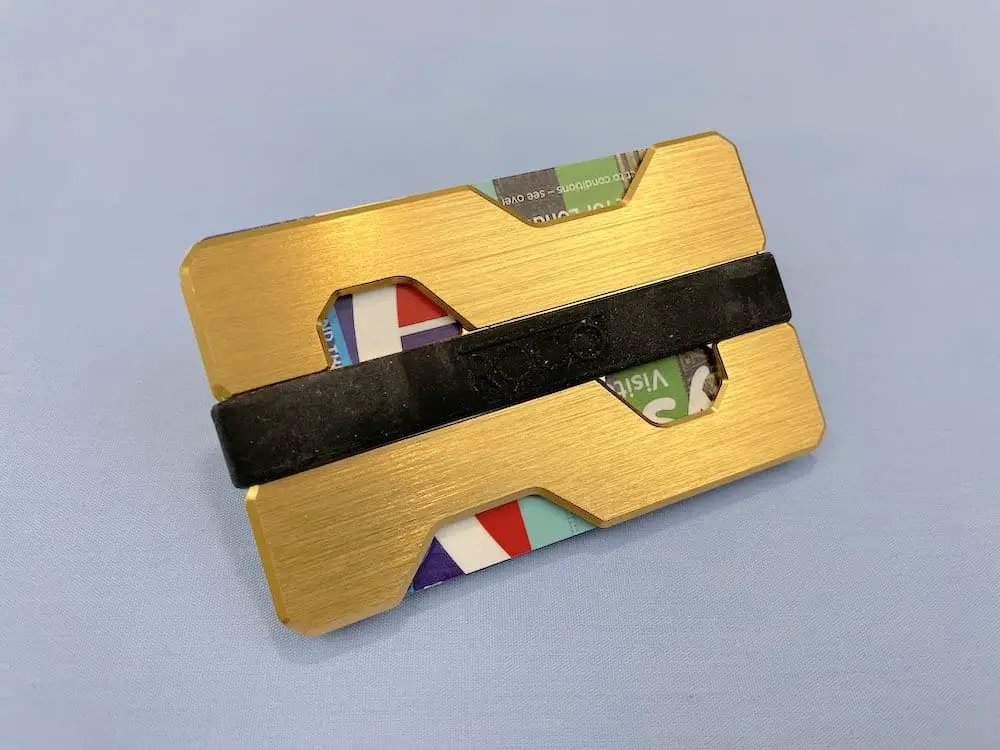 To access the cards, first push them out halfway. Then squeeze the empty side of the wallet and the cards will spread out accordion style. Most owners love the wallet for the simple, minimalist carry that it is, but wish there was an easier way to access the credit cards.
If that is something that you're looking for, you might try the Ekster or Fidelo pop-out wallets. Either of these wallets fan out cards beautifully at the push of a button. And they offer the same RFID scanning protection.
Ridge wallet
The Ridge minimalist cardholder wallet is so overbuilt and well made it comes with a lifetime guarantee! How's that for product confidence? They will even replace the elastic, screws, money clip, and cash strap plate. It is made of ultra-durable aluminum plates and elastic that expands as you add more cards.
It's a pricey wallet, but the construction and materials make it all but bulletproof. The Ridge is remarkably small, too, only the size of a credit card. So it just about disappears into your front pocket.
Carry your credit and debit cards, cash, and even your business cards in this functional and slim RFID blocking wallet. It holds 1 to 12 cards and expands in thickness as each card is added. 
The outside notch allows you to pop out the cards easily into a fan, which gives you the opportunity to quickly pluck the one you want. The rugged but modern design will keep your cards safe from bending or breaking. Best of all, it feels like next to nothing in your pocket.
LEARN MORE: Still thirsty for more? Ready my post 7 Wallets that Keep Credit Cards Safe for even more wallets that prevent credit card skimming.