Updated May 2, 2021
Most wallets made in the last 5 years now protect credit cards from unauthorized RFID scanning. Some of them block it with special materials sewn into the leather. Others use an aluminum holder that prevents your cards' information from being stolen. Heck, even wrapping your cards or your whole wallet in aluminum foil will work just as well. 
What is RFID? It stands for Radio Frequency Identification and it's been around for decades. It was first developed for inventory control, but now it's used in employee ID tags, hotel room keys, subway transit cards, passports, and contactless credit cards.
If your credit card has a symbol on the back that looks like a radio wave made up of four curved lines, it's known as a contactless card or a tap-and-go card. A nearby thief with a portable RFID scanner could potentially acquire the personal information from the RFID chip on your card. It's known on the mean streets as RFID skimming. 
Luckily, the vast majority of cards that we carry are contact cards. They are much safer because the information in this type of card can be accessed only when you physically insert it into a  credit card reader. However, if you've received a new card in the latter part of 2020, it is most likely one of the new contactless cards.
There are literally hundreds of wallets out there that can protect your cards from being scanned. But the following 5 give you RFID skimming protection along with some awesome extra features. 

My Favorite: Ekster Senate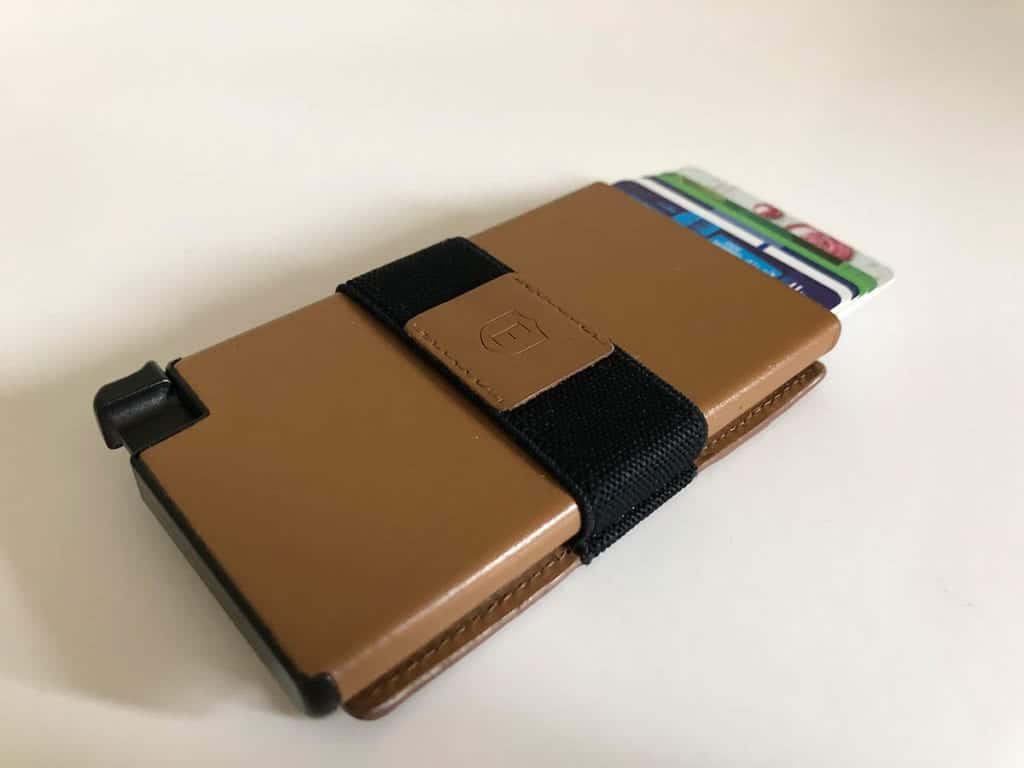 The Ekster Senate is my every day carry and I love the way it holds five cards that pop out into nice fan at the press of a button. The cards fit inside an aluminum holder that blocks RFID frequencies and makes your wallet scan-proof.  It's beautiful, too, with leather tightly wrapped around everything.
The premium leather is of the highest quality—sourced from bulls, not cows—because the male gender has fewer defects. (I'm just the messenger, folks.) It's tanned under gold-rated Leather Working Group (LWG) environmental protocols and available in 7 different colors. 
One side of the Ekster Senate wallet has an extra pocket for something like a transit card that does NOT have RFID protection. The opposite side has an elastic money band for paper money, receipts, or a bandaid. It's also available with a solar-powered tracking card that makes the wallet un-lose-able.  I use this last feature ALL the time. 
The only drawback is that it prefers plastic cards. Paper cards like some insurance cards and membership cards sometimes hang up when they're ejected. (But that's just nitpicking.)
Ridge Cardholder Wallet
This Ridge wallet is going to appeal to guys, mostly. It's made of your choice of titanium, aluminum, or carbon fiber, and all 3 materials function equally well at repelling RFID scanners.
There is no fancy tanned cowhide to be found, only hard, unyielding materials that hold and protect up to 12 cards. The cards pop out in a fan, but they do so horizontally via a push on an outside notch.
Depending on the model, the Ridge wallet either comes with a metal money clip or an elastic strap. Either the strap or clip will hold a few paper bills or a tightly folded hanky to blow your nose or wipe back a few tears on date night.
A rather unique feature of this wallet is that it expands in thickness as more cards are added. It's minimalist in design, barely larger than the size of a credit card. It fits comfortably in the palm of your hand and takes up next to no space in your front pocket.
Flipside 4 Wallet
The Flipside 4 wallet might just be the most interesting RFID scanning wallet on this list because it is so unconventional. It has a hinged design, sort of like a flip phone, that locks itself shut when closed.
It's constructed of polycarbonate with special aircraft aluminum alloy that provides RFID blocking security. Just press a button and the wallet flips open revealing two compartments, one for cash and one for credit cards.
The Flipside 4 wallet is not made just for storing cards, because it roomy enough to hold up to 10 unfolded cash bills. The choice of colors is pretty wild, too, with bright orange and hot pink options that only a color blind person could lose.
Is it a minimalist wallet? No, not really.  But if you want a crush-resistant wallet that holds up to 8 cards that can't be scanned, and flips open into organized compartments at the push of a button, then this is for you.
Lavemi Large Capacity Leather Clutch
Every wallet doesn't have to minimalist or even small-is to have RFID scanning protection. The Lavemi leather clutch is unapologetically large, yet elegant and stylish. In fact, it's supersized with enough room for 11 credit cards and a smart phone.
It has three transparent windows, too, for your driver's license, family photos, or even a small mirror. It's a clutch, so it's designed mainly to be carried as a stylish accessory for women.
The 100% premium full-grain leather has a pebbled finish for good grip-ability with 18 stylish colors to choose from. On top of that, it has 5 full-length pockets for cash and a checkbook, with room left over for a phone as large as the iPhone XS.
But won't the RFID protection affect my mobile phone signal, you ask? The answer is no, because the wallet only blocks the frequencies in the range that RFID enabled credit cards operate. The blocking material is sewn into the wallet between the leather and inner lining, so it's completely invisible.
Travando Money Clip Wallet
The Travando Slim wallet has a more traditional bifold design but with some unique features courtesy of gutsy German engineering. For starters, It's made of what Travando calls carbon leather, a faux leather that has RFID scanning protection built into it.
Instead of a dedicated sleeve for cash, there is an integrated money clip inside that holds paper bills when folded in half. It comfortably holds 7 cards in old-fashioned style slots with no fancy buttons, sliders, or levers to eject them. The exception is an outside pocket that has on opening at the bottom to fit your thumb or finger to push a single card out.
Like many bifold wallets, the wallet is only as slim as what you don't put in it. The specs say that it's just slightly over a half-inch thick, which means it will fit neatly in a front pocket. It's slim enough to fit in your back pocket, too, though it's not what your chiropractor would recommend. 
D01 Dapper Wallet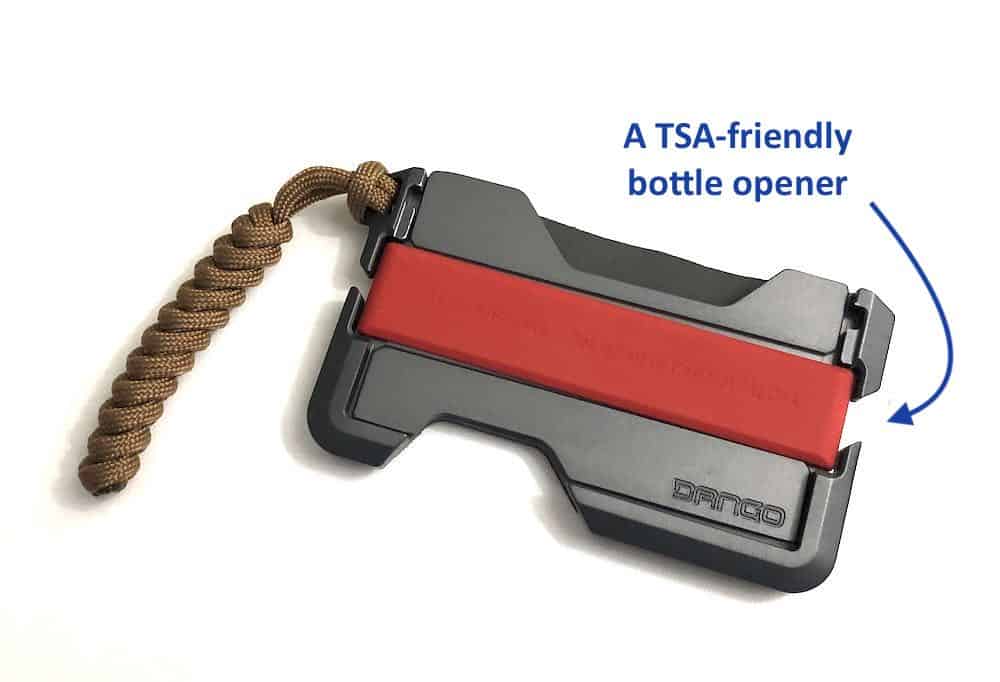 The D01 Dapper Wallet was designed to be edgy, built for someone who isn't afraid to be daring. The designers say they were inspired by exotic motorsports when they created this high-performance wallet. This Dapper accompanies you in style from a board meeting to a night in the clubs. You might be tempted to take it out of your pocket just to show it off.
It is made right here in the USA with top-grain leather. You have a choice between smooth Golden Whiskey Brown leather or a rockin' Jet Black leather.
Each wallet comes with stainless steel bolts and a clear anodized aluminum chassis with a black silicone band. Everything comes together in one sleek package.
The Dapper holds up to 12 cards, and though lightweight, it has a durable build quality. .You can use the built-in indent to push your credit card out, ready to easily pick the one that you're looking for. When you're done, a simple flourish of your hand pushes them all back into the wallet, safe and sound.
Fidelo Hybrid Minimalist wallet
This sleek, game-changing RFID blocking wallet features an exclusive and multifunctional 3-piece modern design. It is built with easy one-finger access and smooth-eject pop-up card feature that fans out your cards. (The video review site Walletopia uses an endoscope to check out the pop-up mechanism here.)
With three different options to carry your Fidelo Minimalist wallet, you can change things up as often as you like and never get bored with this minimalist wallet. You can go ultra-minimal and just carry the compact push button cardholder by itself, or if you like to carry cash with you, you can add the carbon fiber accented money clip band. 
But if you want to add some style to your EDC (Everyday Carry), you need to carry it all inside the removable full-grain crazy horse leather case. Stylish and sophisticated, this leather case can go from a black-tie dinner to the honky-tonk without batting an eye.