Even though Apple came out with MagSafe technology for the iPhone 12 in October 2019, hardly anyone I know is using it to its full potential.
The biggest mistake I see is that many are not using a MagSafe compatible case. This basically makes the MagSafe technology inside the iPhone 12, 13, and 14 all but useless. 
And even if they do have a MagSafe compatible case, they are unaware of all of the MagSafe compatible accessories that are made to work with their iPhone 12 and newer.  
In this post, I will break it all down so you can unlock the full MagSafe potential of your iPhone.
What is MagSafe?
MagSafe was originally designed to magnetically attach a power cable to Apple MacBooks. This allowed the cable to easily pull away from the computer rather than a plug-in cable that could cause your MaBook to come crashing to the ground if someone tripped on the cable. 
In October 2020, Apple decided to incorporate this magnetic technology into the iPhone 12. It continued with the iPhone 13 in September 2021 and the iPhone 14 in September 2022.
MagSafe tech is really just a circular ring magnet and a small orientation magnet embedded in the back of the phone. When you place your phone on an Apple MagSafe wireless charger, the phone "locks" into the perfect charging position, guided by the matching magnet array within the charger. 
Other MagSafe accessories also have the same arrangement of magnets to make sure that the accessory is lined up correctly on your phone. Because the magnet is circular, you can rotate any accessory on your phone and it will still stay attached.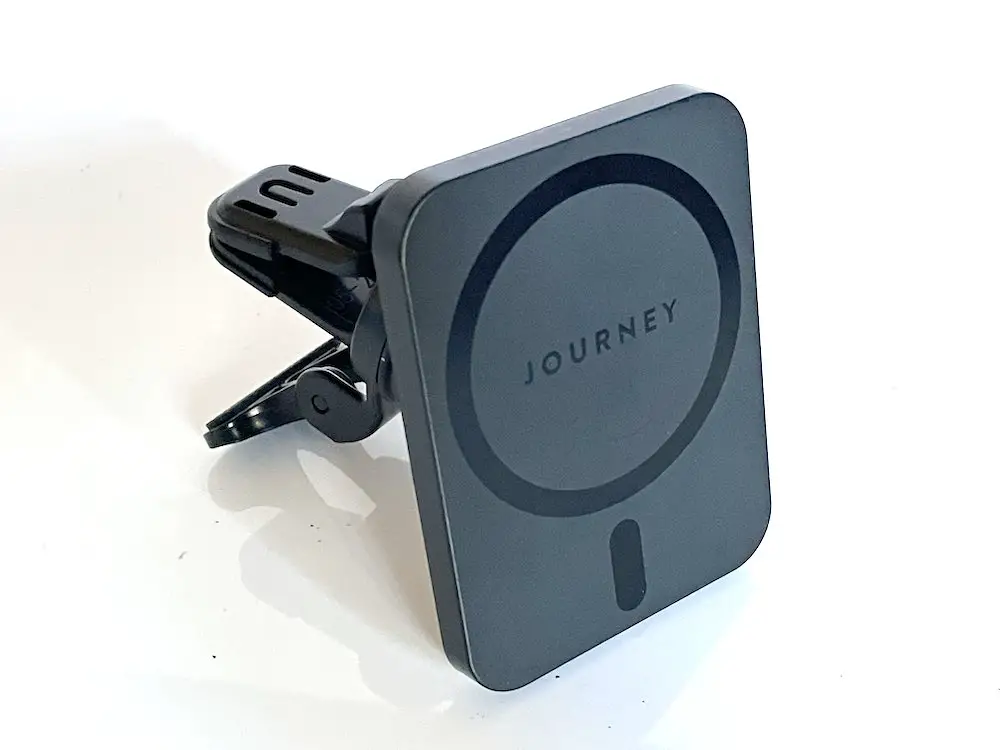 MagSafe charges your iPhone 12/13/14 super fast
This may sound like a no-brainer because wireless charging has been around since the iPhone 8. But before MagSafe, you could never be sure your phone was placed in the right position for charging. Just a fraction of inch off the mark in any direction and your phone could take twice as long to charge—if it charged at all. 
With MagSafe charging, you can now charge your iPhone 12 or newer with up to 15 watts of power when you use an Apple MagSafe charger. This charger can charge a near empty battery to 50% in just 45 minutes.
That's almost as fast as plugging it in. (Plugged it in with the lightning cable will speed things up to 30 minutes for a 50% charge.)
Because older iPhone such as the iPhone 8, 10, and 11 do not have MagSafe technology, they will only charge at maximum of 7.5 watts.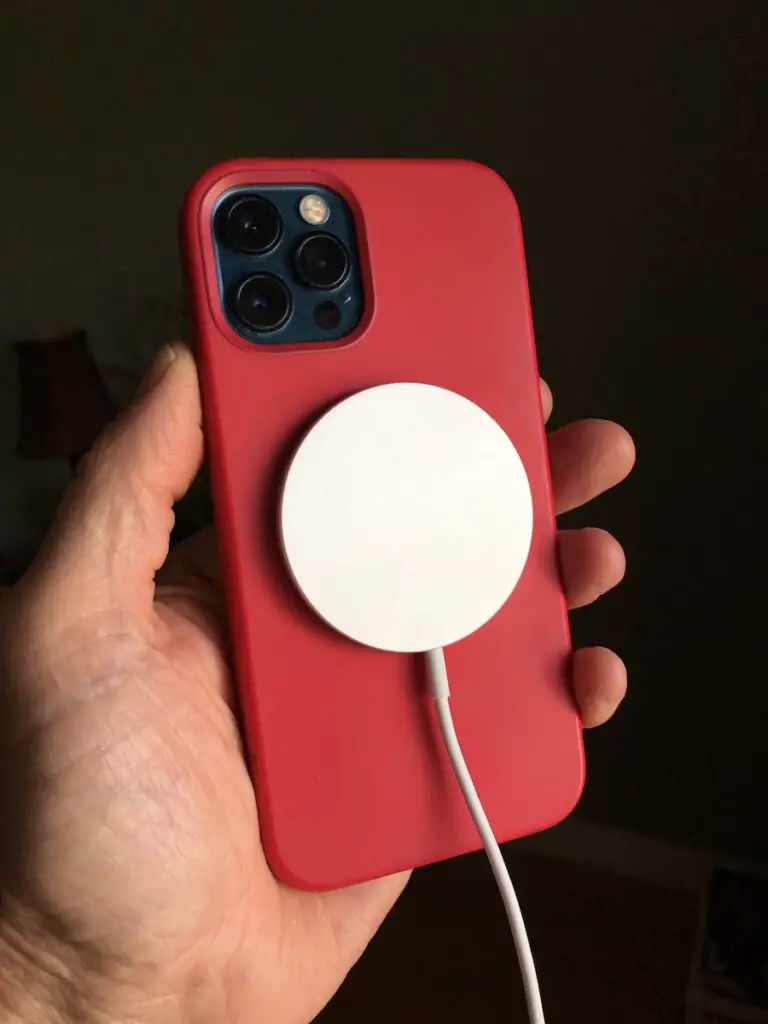 Keep in mind that you have to use an Apple MagSafe wireless charger with at least a 20 watt power brick (adapter) to get the full 15 watts. Also, not all 20-watt power bricks are created equal. It's best to stick with the Apple branded adapter if you're not sure.
It works with MagSafe compatible accessories
With the advent of MagSafe for the iPhone 12, many dozens of manufacturers responded with their own MagSafe compatible accessories.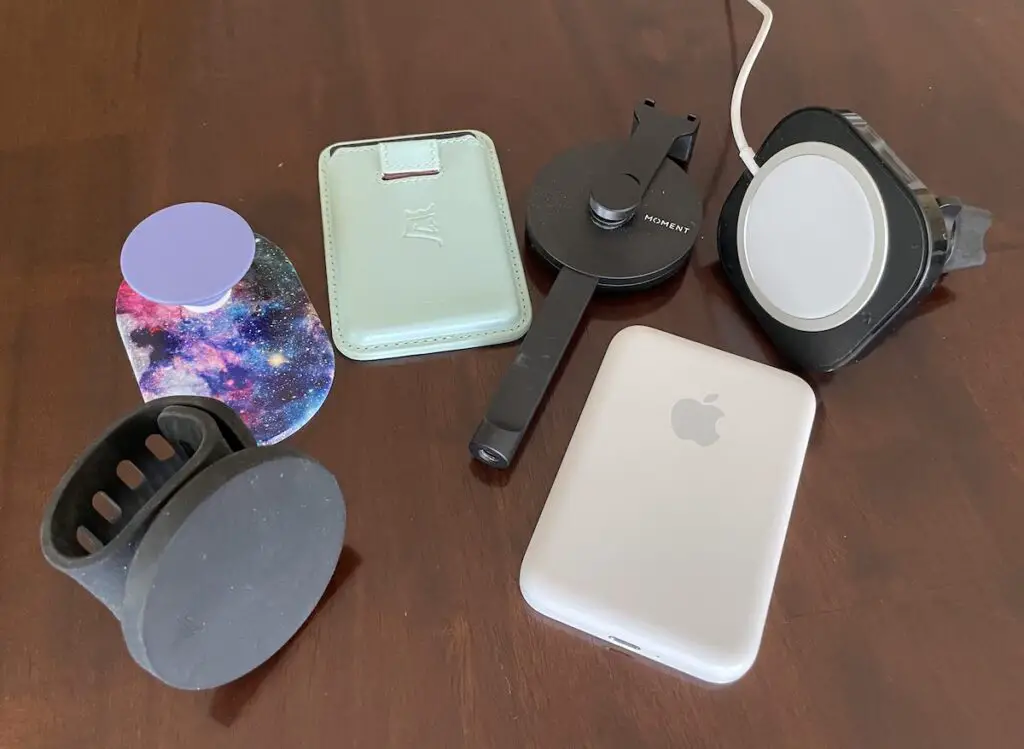 Not only can your wirelessly charge your phone, you can attach other accessories to it magnetically to make it that more useful.  These aren't apps, they are physical add-ons that attach to your phone magnetically. 
These MagSafe accessories include:
wallets
chargers
phone grips
car holders and chargers
kickstands for hands-free viewing
First, you need a MagSafe compatible case
A MagSafe magnet array is embedded in the back of every iPhone 12, 13, and 14. Nearly all MagSafe accessories will work with a "naked" phone without a case. 
The problem is, most people like to protect their phone with a case. The MagSafe magnet array inside the phone is not strong enough to work with just any old case. Wireless charging won't work either. 
You have to buy a MagSafe compatible case.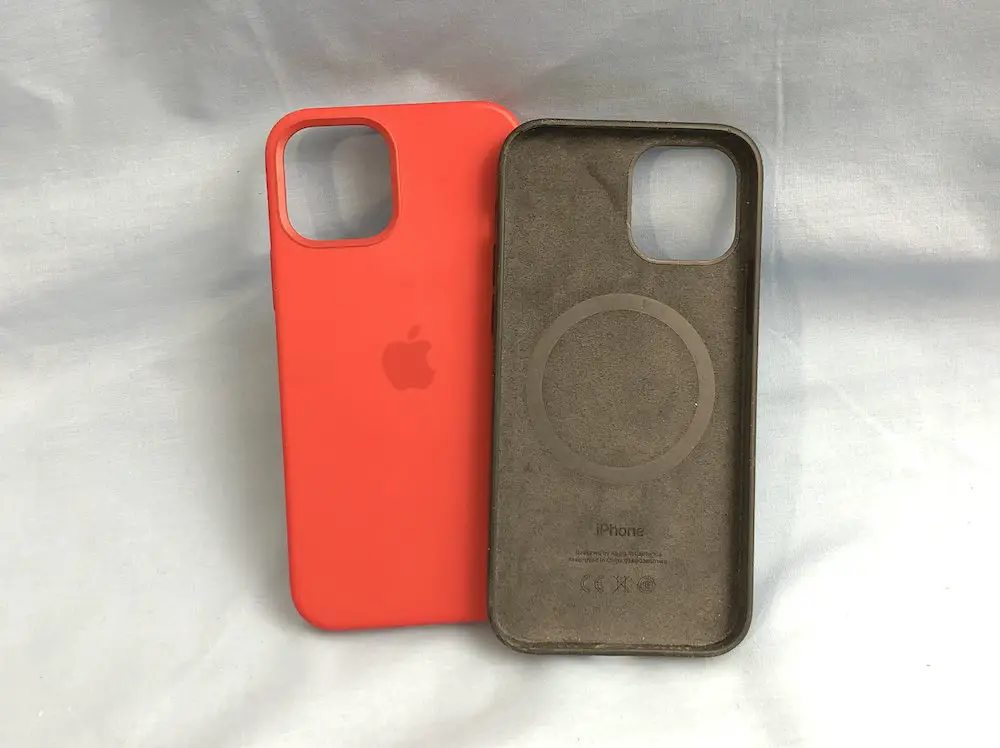 All MagSafe compatible cases have their own MagSafe magnet array embedded inside the case. Apple makes several versions of its own case, either constructed of grippy silicon or leather. 
But there are literally dozens of other manufactures that use Apple MagSafe specs (Apple sets the specs that manufactures have to go by) to make their own cases. Some of these, such as the Moft Enhanced case and the MagBak case have MagSafe magnets in their cases that are even stronger than Apple's.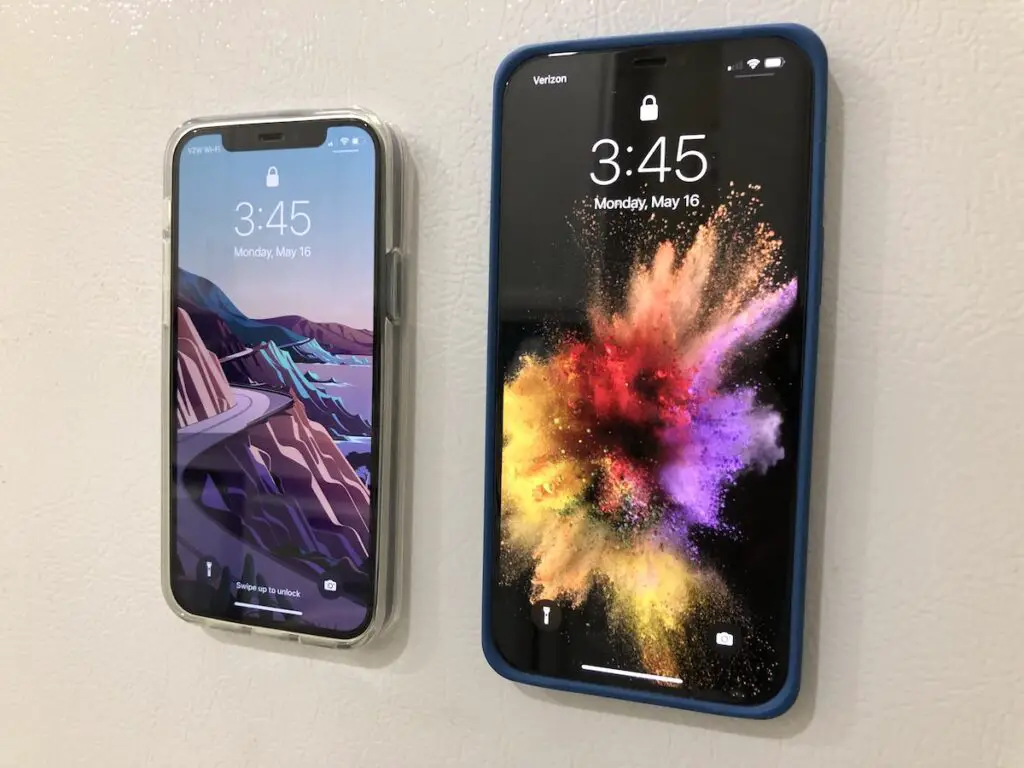 MagSafe accessories
As a long-haul iPhone user myself, I think incorporating MagSafe technology into the iPhone 12, 13, and 14 is the coolest thing since sliced bread.
Not only has it increased the wireless charging speed, but it has opened the door to a jackpot of accessories that I don't know how I ever lived without. I break them down here, along with my favorite recommendations for each.
Wireless chargers
Apple has a proprietary charging technology for charging your iPhone 12 and newer with up to 15 watts. With just a few exceptions (such as the Belkin Go Charge), you need an Apple MagSafe charger to get up to 15 watts of wireless power. You'll also need the proper power brick (adapter) to plug into your wall.
All other wireless chargers will only deliver 7.5 watts to a MagSafe equipped iPhone. Some chargers imply that they will put out 15 watts, but this generally applies to Android phones, not iPhones.
My recommendation is to stick with the genuine Apple MagSafe charger and Apple power adapter. With this set up, you'll always be charging at the highest possible speed.
MagSafe wallets
When I started carrying a MagSafe wallet, I never looked back. These wallets attach magnetically (and reliably) to the back of my iPhone 12 Pro with an Apple silicone case. I still keep my older, bulkier wallet near me (usually in my car), but MagSafe wallets have become my daily drivers.
Most Magsafe wallets carry 2-3 cards and maybe a bill of case or a few receipts. But that's about it. I usually carry a drivers license, a credit card, and a $20 bill, so that's all the room I need.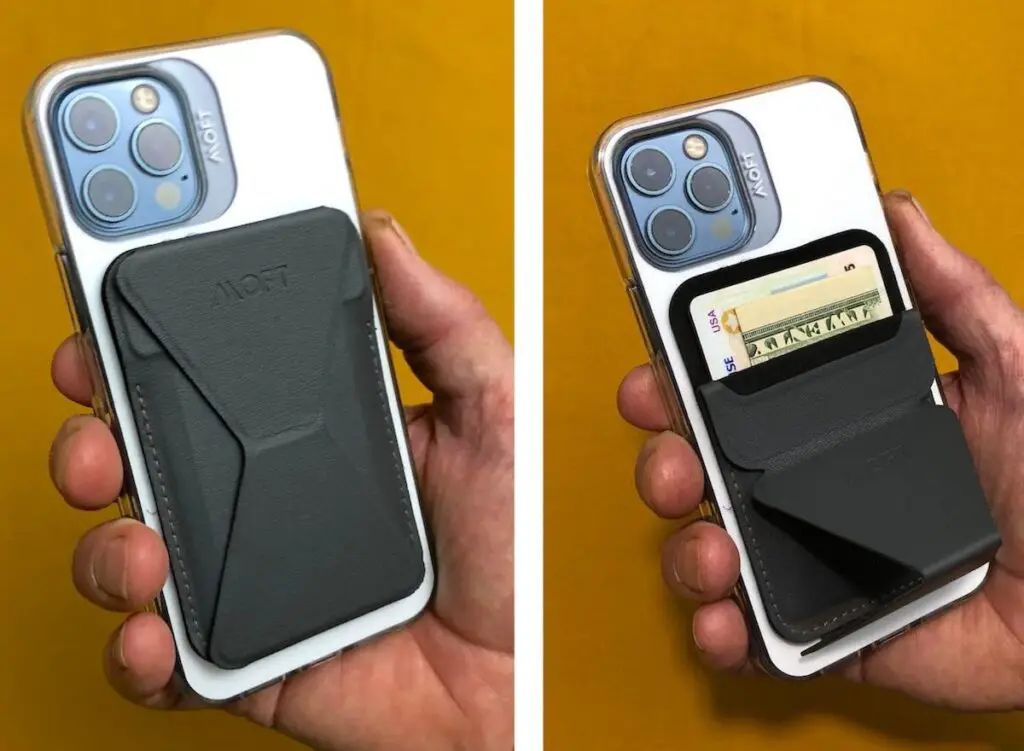 Apple created the first MagSafe wallet, but there are at least a dozen others that I highly recommend over Apple's version.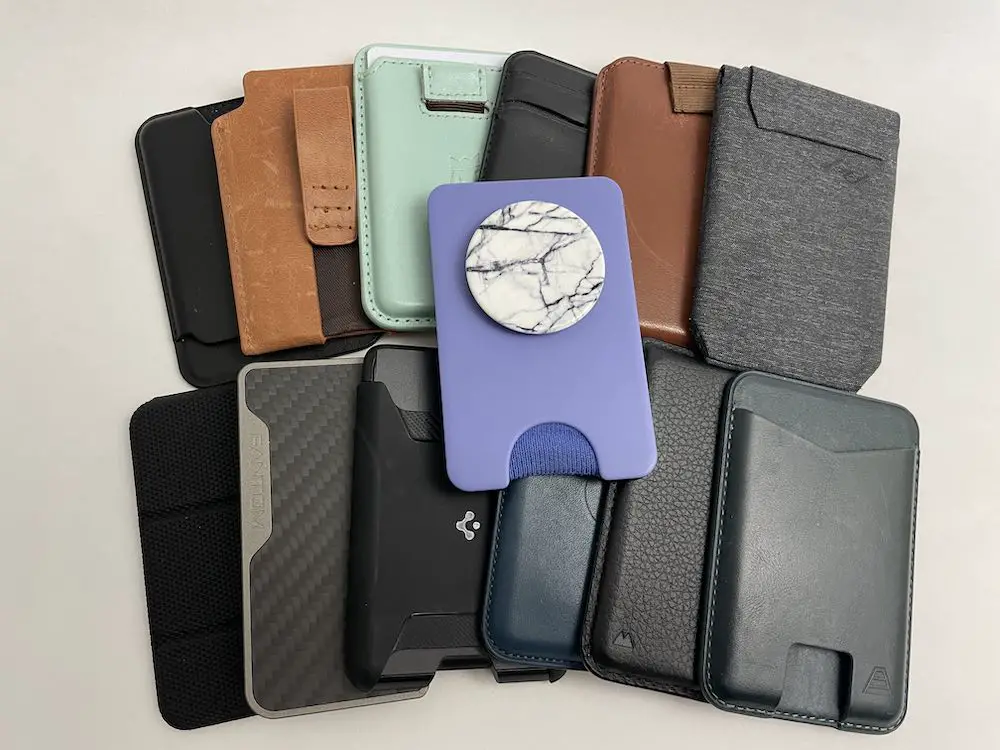 I wrote an entire post that compares 14 different MagSafe wallets. You can check that out here.
5 quick advantages of carrying a MagSafe wallet
It's always attached to your phone but easy to remove
One less thing to forget when you leave your house.
Super fast access to your cards in the check-out aisle
Only a negligible increase in your phone's thickness
The Moft, Peak Design, MagBak, and PopWallet MagSafe wallets all double as kickstands to view your phone hands free.
My recommendation is the Moft MagSafe compatible wallet. It's easy to use and folds out into a kickstand that holds your phone in 3 different positions. It's also one of the least expensive and the one I carry around the most.
MagSafe car mounts
A MagSafe compatible car mount for your iPhone is another indispensable item you didn't know you needed. Many states (including Arizona, where I live) now outlaw the use of a cell phone while you're driving unless it's hands free.
That means you have to have a holder for phone while you're using it. With MagSafe, it's ultra easy to slap your phone on a magnetic car mount instead of some sort of spring loaded phone holder.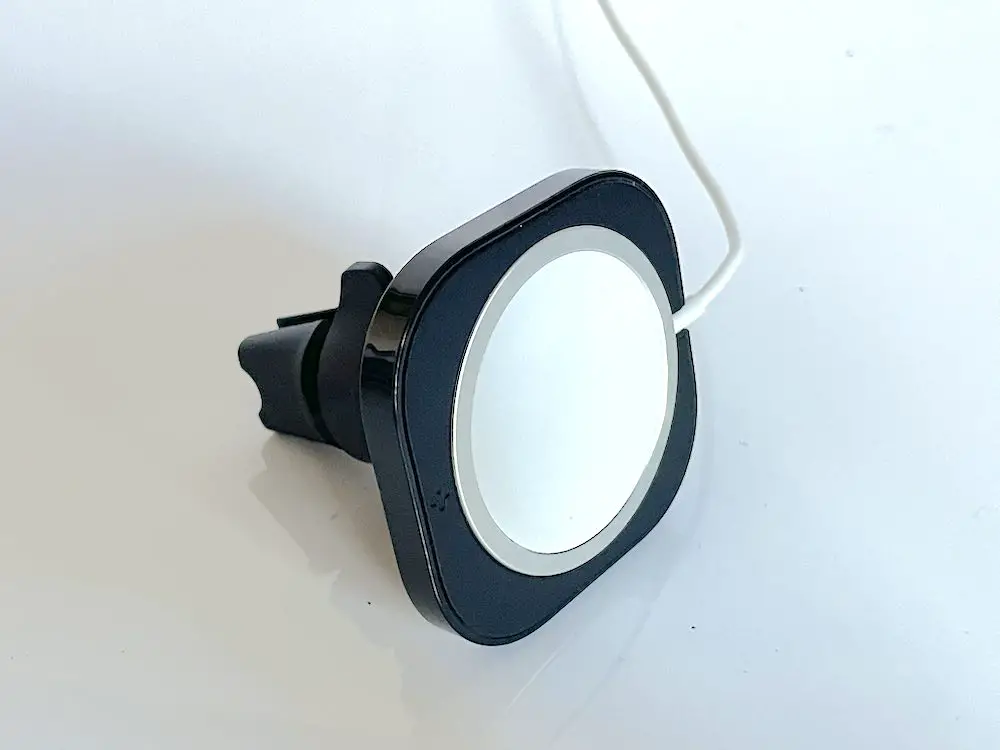 All of the MagSafe car mounts I have tested will hold my iPhone 12 Pro and my wife's iPhone 12 Pro Max with a secure grip.
Another huge advantage to some car mounts for your phone is that you can charge your phone at the same time. Not all car mounts charge your phone, but the ones that do are worth having.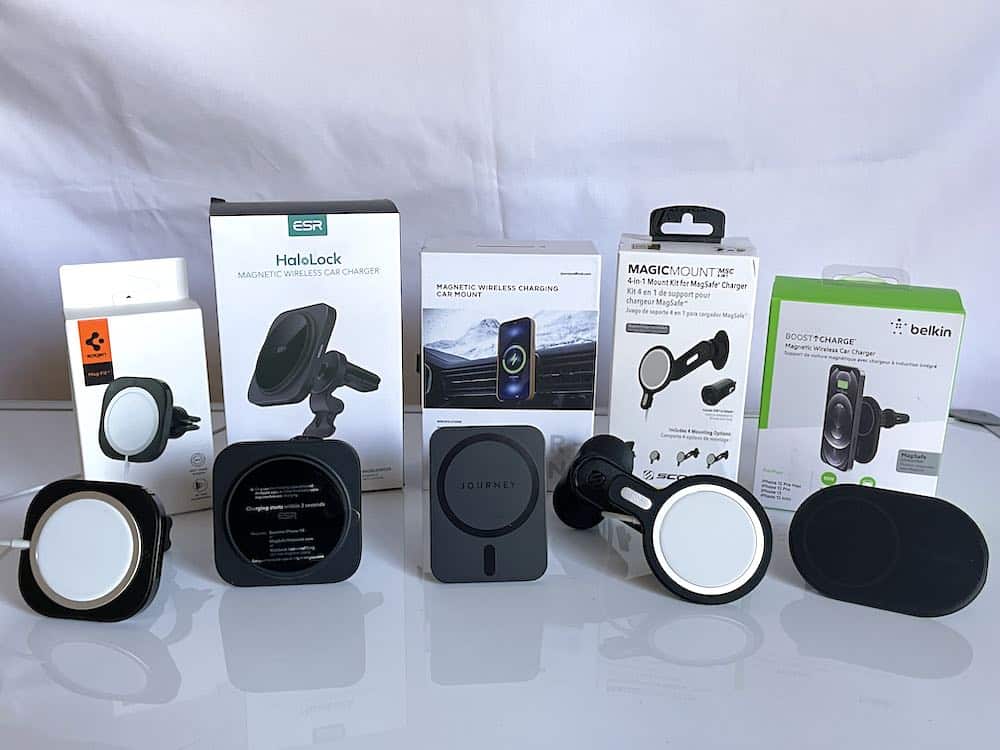 I prefer the kind of mount that presses onto the louvers of your A/C vent, rather than the gooey sticky ones that attach to the dash with some sort of glue or two-sided tape.
My recommendation is the Spigen MagFit car vent mount. It rotates on a ball joint so you can dial in the exact position you want. And it stays tight on your vent louver, too. It's one the least expensive, but you'll have to buy the Apple MagSafe charger for it to work.
MagSafe phone grips
PopSocket is probably the best name phone grip. But until recently, their grips attached to your phone with adhesive. In the past few years, PopSocket has come out with MagSafe compatible PopGrip and a MagSafe PopWallet that also doubles as a grip.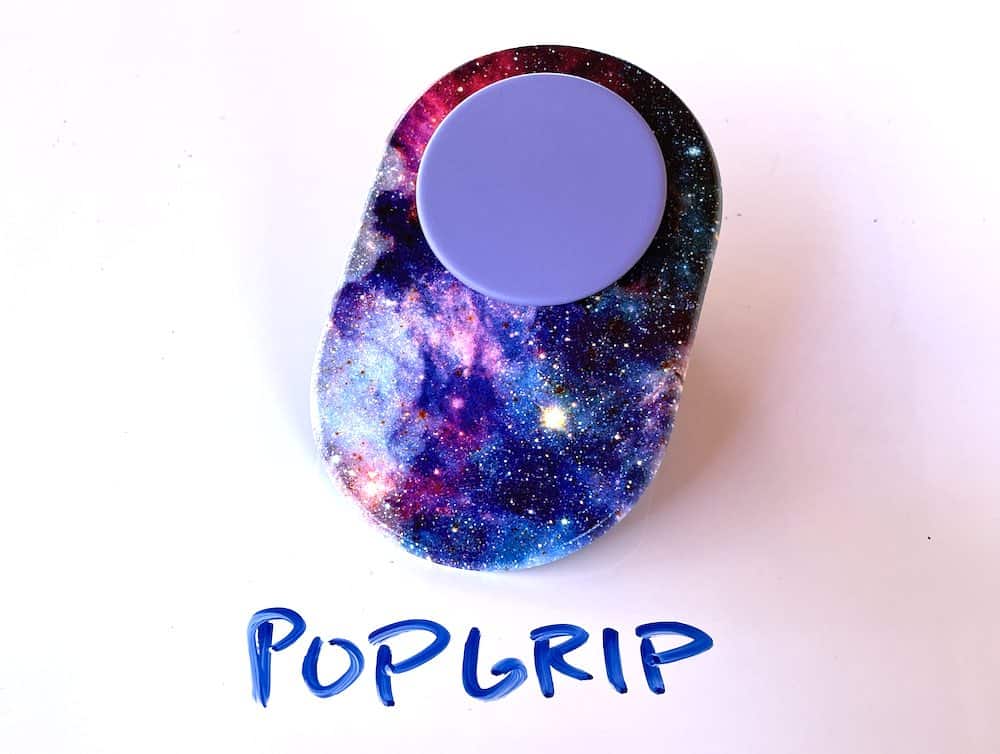 There are many other types of phone grips besides PopSocket. All of them attach magnetically to your iPhone 12 or 13 and have a strap or ring that allows you to hold your phone without actually touching your phone.
I wrote a whole post about different types of phone grips here.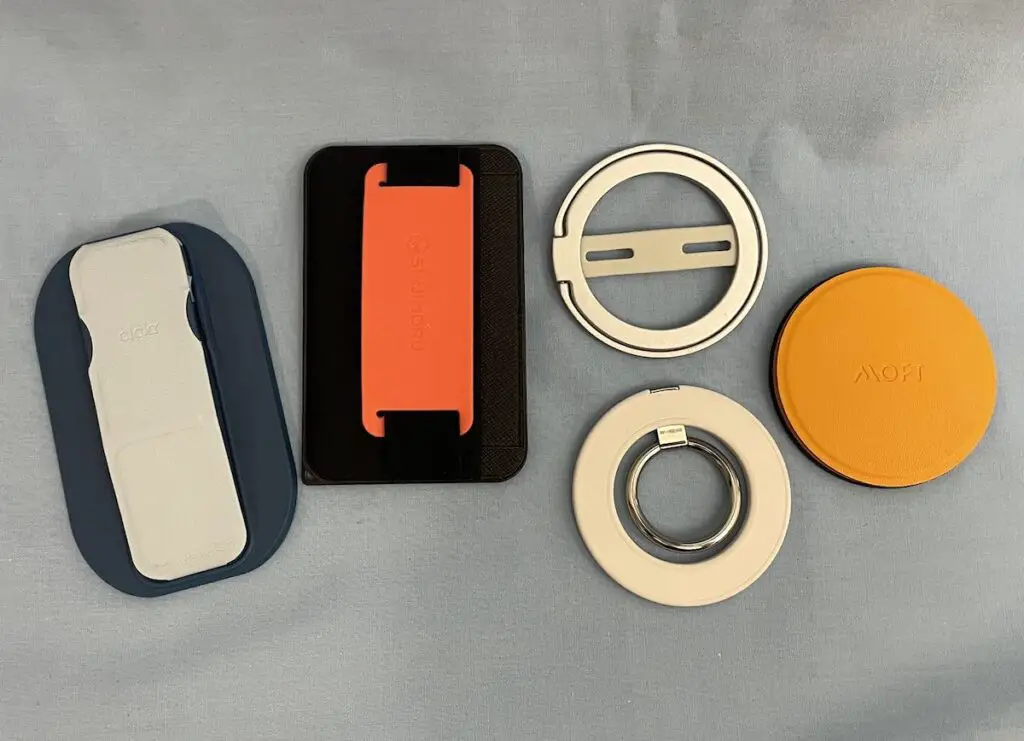 They're called grips because they help you more securely hold onto your phone. Just slip one or two fingers through the strap or ring. Just to be sure, I always wrap the tips of my fingers around my phone (just in case).
MagSafe kickstands hold your phone in multiple viewing positions
This is arguably my favorite feature about MagSafe accessories. I love to place my phone in portrait position (vertical) to read Apple News, Instagram, or blog posts while I'm eating. For Youtube, I generally watch videos in landscape (horizontal viewing position.
Both MagSafe grips and MagSafe wallets can fold out into kickstands for your phone. Some MagSafe wallets, like the Moft wallet, can be used as a grip, kickstand, and a wallet!
The most versatile MagSafe kickstands will do all 3 viewing positions.
portrait
landscape
floating
And they generally do double or triple duty as phone grips and/or wallets, as well. Once you start using a kickstand for your phone, you'll wonder how you ever did without it.