These innovative wallets have features that even the pickiest dads will love receiving (even if they grumble that you didn't need to buy them anything).
But how are you supposed to pick one? Here are 5 of the best dad-worthy wallets you can get for your dad for Father's Day, Christmas, or anytime.
BEST OVERALL: Ekster Parliament
This is my top pick. It's a card ejector wallet that pops-up 6 credit cards with the push of a button. It's convenient and addictive to use.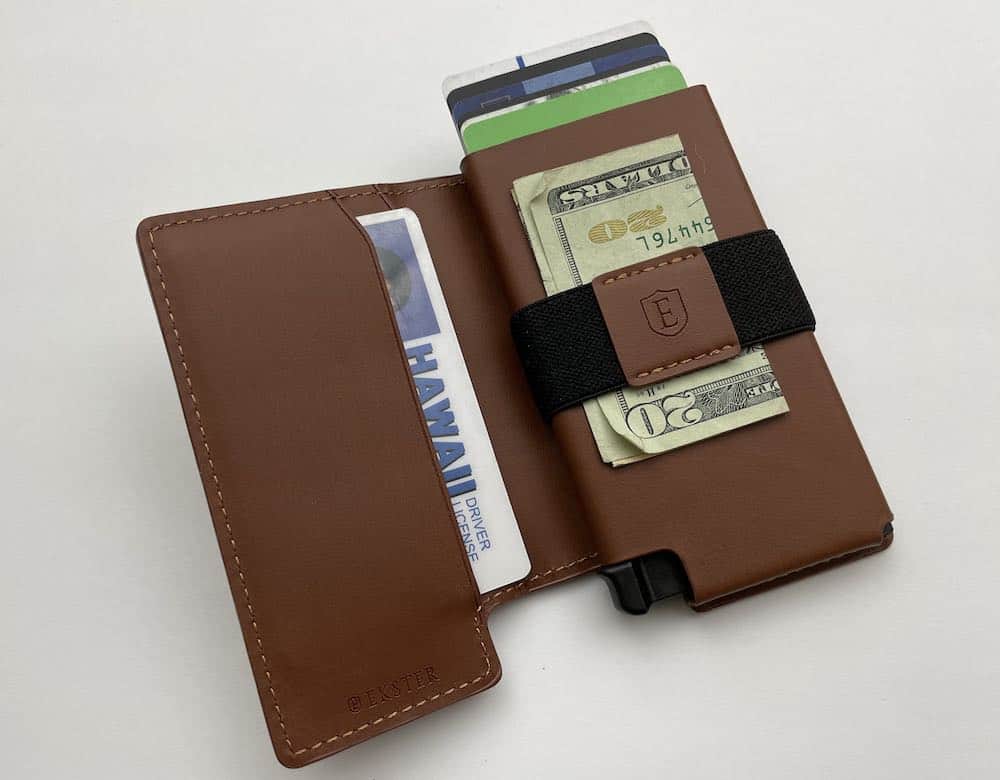 Ekster Parliament
card ejector pops-up 6 cards
cards are stored in an RFID-protected aluminum case
PROS
beautiful leather design
quick card access
innovative pop-up design
trackable with additional solar-powered tracking card
CONS
storage limited to 9 cards
only holds a small amount of cash
The Ekster Parliament is the card holder wallet that I carry every day. Ultra-slim and crafted with top-grain leather that only looks better with age, the Parliament is one of the best leather and metal wallets for dads who appreciate craftsmanship.
This wallet is more than just a pretty face, however. It can also carry all the cards and cash your dad needs to have on hand.
Even better perhaps is that it doesn't have space for all the unnecessary stuff, meaning no more ancient business cards and receipts bursting at the seams. What's really impressive about the Ekster Parliament, though, is the amount of tech it has crammed under the hood.
More than just a passive card holder, the Parliament features a handy card ejector system. A rigid aluminum case holds up to 6 cards that pop-up for quick access with the push of a button. There are two card slots inside for a few more cards.
There's a multi-purpose elastic strap that's perfect for holding cash. I wish there was a place for storing unfolded bills like the Secrid Slim, but it's not to be.
In the back pocket, there is space for an Ekster solar-powered tracking card. The Ekster tracker must be purchased separately.
What you're buying is a GPS wallet tracking card that is solar-powered, voice-activated, iOS and Android compatible, and connected to a wide-reaching crowd search community.
If your dad is the forgetful type, this is the perfect matchup that will ensure he will never lose his wallet again.
BEST MINIMALIST: Rossm Card Holder
The Rossm proves that minimalism doesn't have to mean compromise. With this wallet, your dad will never have to pick between style and practicality.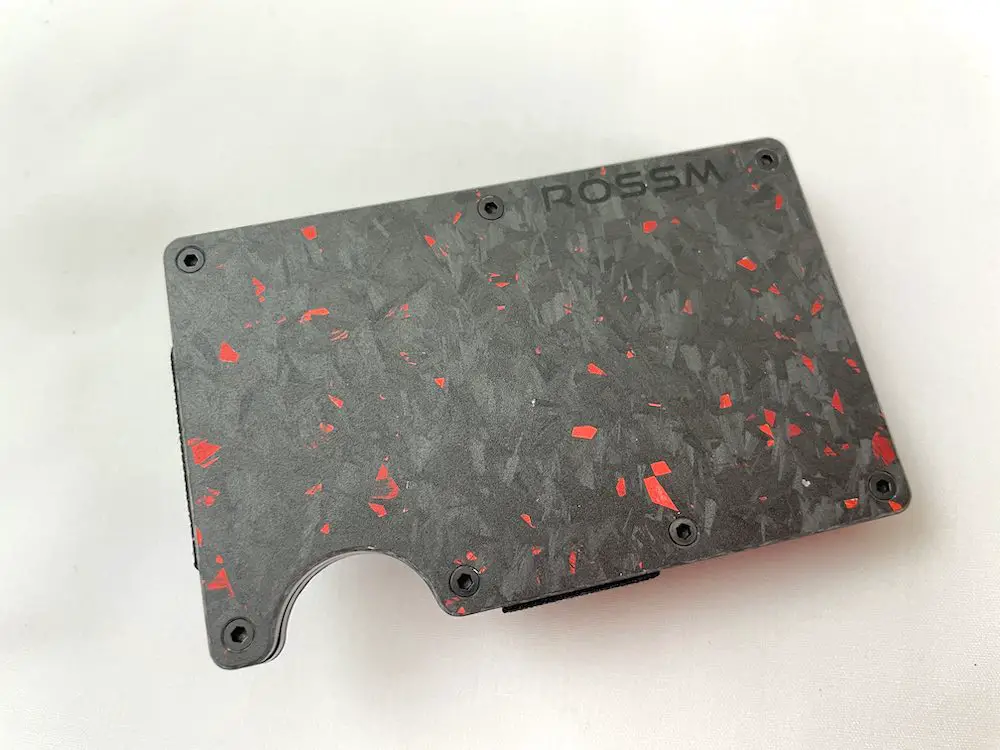 PROS
RFID protection
built to last
attractive and minimalist
excellent value
CONS
cards can be tricky to remove at first but improves with practice
Sleek and modern with its high-end metal finish and unique shape, the Rossm forged carbon card holder is pretty much the antithesis of the tattered leather one you're used to seeing. It's not just all style, though. The Ridge is also incredibly functional.
This minimalist card holder will store anywhere between 1 and 12 cards between its rigid carbon fiber plates, ensuring your dad will always have everything he needs right at his side. You also don't have to worry about them falling out either, as the Rossm uses an elastic strap to keep them securely in place.
For those more familiar with bifolds, card access might take a little practice. To fill it, you'll need to pry open the plates and slide your cards in. Taking them back out will require pushing them out from the other side's C-shaped notch.
It's not the smoothest process but it does get easier over time and as you get the hang of it.
Does dad need somewhere for cash, too? That's okay. The Rossm card holder also comes with a cash strap for a few bills folded over twice.
BEST TACTICAL: Dango M1 Maverick Wallet
The unofficial wallet for all gadget geeks and tech nerds. The Dango M1 Maverick is a wallet meant for all smart dads.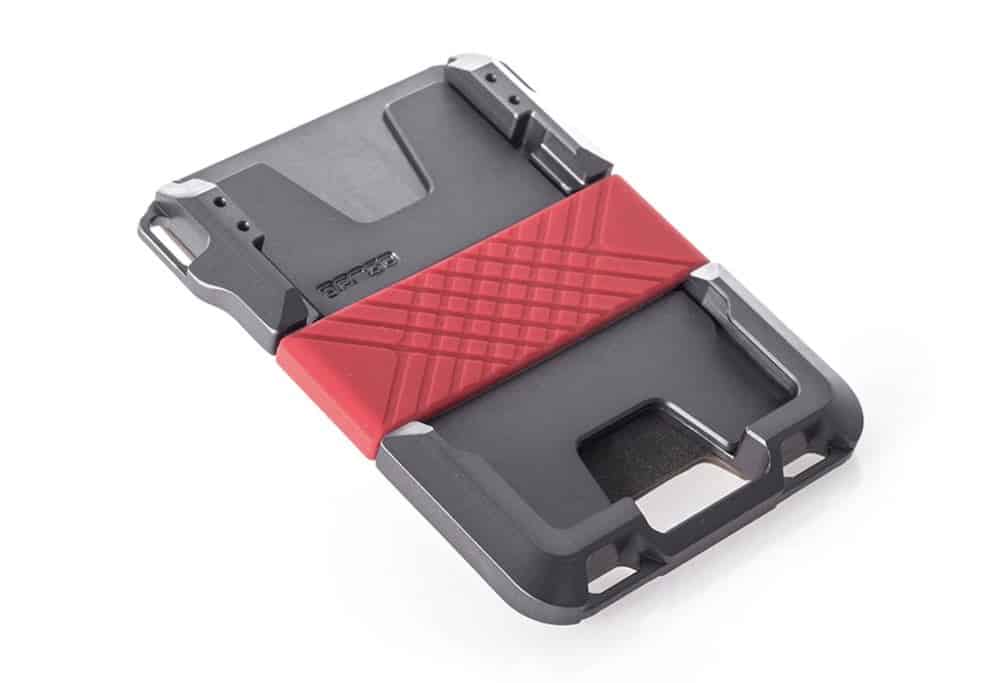 PROS
lots of gadget add-ons
tough long-lasting construction
RFID secured
holds up to 12 cards
CONS
a little thicker than other smart wallets
Dango's M1 Maverick is one of the most gadget-heavy and toughest wallets on the market today. Combining aerospace aluminum, top-grain leather, and industrial-grade hardware, it can withstand even the heaviest use.
It also has a rather unique design, making use of a multi-looped chassis that can be used to attach anything from your usual keys to your less-usual tethers.
The more traditional wallet design is still there, though, giving you a dedicated silicone wallet band for cash or other necessities, an RFID blocking card case, an a vertical card holder that you can slide in and out for quick and easy use.
Holds up to twelve cards and cash,
It's the best wallet for fathers who appreciate minimalism but still need plenty of space to work with.
It's also great for those who like to frequently change things up since this tactical wallet is built with a modular format. The silicone band, pockets, and wallet screws are all interchangeable, giving an unparalleled sense of customization.
This youtube video from video review site Crispy Things will make you feel like you're holding the M1 Maverick in your hands.
But what about the gadgets we promised? Well, the M1 Maverick has plenty of that. Just about everything imaginable is available and made just to fit this wallet. For the officers out there, Dango sells a badge adapter that will keep your dad's badge fully visible and easy to display at all times.
Tool guys can also rejoice as a M1 compatible multi-tool is also available, offering him convenient wrenches, paracord tensioners, seat belt cutters, and even a bottle opener. Now that's dad-friendly.
BEST TRADITIONAL: Bellroy Note Sleeve
For those who appreciate modern tradition, the Bellroy Note Sleeve is a no-brainer.
ENVIRONMENTALLY CERTIFIED LEATHER

A beautifully constructed wallet


Made of top or full-grain leather from gold-rated tanneries. It's super slim and lightweight with a hidden area for coins and an interior pull tab for cards. 


PROS
traditional but slim
carries cash, cards, and coins
environmentally certified leather
RFID protection
CONS
has an old-school wallet look
It takes the traditional and hones it rather than expounds upon it, offering a classic experience at its best. This animated video from Bellroy really shows the ins and outs of the cleverly-designed Note Sleeve.
With a typical bi-fold form and genuine leather construction, it feels good and familiar. Function has been significantly improved over other wallets, offering RFID protection (which many traditionally-styled competitors lack).
If it ain't broke, don't fix it is the battle cry for my father and many others alike. Well, the Bellroy Note Sleeve agrees with them. It's the most traditional wallet on the list, but this wallet knows that's not necessarily a bad thing.
The Bellroy Note Sleeve has quick-access slots that don't stretch out, a hidden coin pocket, a dedicated cash section, and a pull-tab so your dad won't have to fish around for cards he rarely uses.
This dad wallet also offers plenty of space, without it becoming excessive. It's a perfect balance between the modern minimalism we now expect and the ridiculous excess that older wallets embraced.
It gives plenty of space for necessities without offering so much your dad will overfill it with random odds and ends.
It can hold 11 or more cards, plenty of cash, and enough coins that he will always have perfect change. In other words, it offers exactly what he needs and nothing more. It's streamlined tradition.
BEST SUPER LIGHT: ICLIP Wallet
Light on the weight, heavy on the quality. The I-CLIP really is less done better.
PROS
lightweight and slim
attractive minimalist design
relatively inexpensive
easy access to cards
CONS
not RFID protected
strong composite plastic frame might scare people off (but it shouldn't)
Sophisticated, sleek, and modern, the ICLIP is the ideal wallet for fathers who appreciate the finer things in life. Where some wallets fail in the design department, the ICLIP excels. It offers a little something for everyone (yes, even for the dad who claims he doesn't care what it looks like).
This card holder can be purchased in soft-touch leather, full-grain leather, ostrich leather, and carbon fiber-embossed leather. No matter what material you pick, you can be assured that everything is high-quality, designed and made 100% in Germany.
Beyond its looks, the ICLIP is a functional beast of a wallet, comfortably holding 12 cards and cash with no problem, no bulging pockets, and no heft. It also features an open window that easily allows you to look at your cards and quickly access them.
The integrated money clip keeps cash organized and at the ready. The clip is spring-loaded and keeps your cash in place while simultaneously holding your cards firmly.
It does what many other minimalist wallets try to do, but largely does it better. It's slim, it's light, it's affordable, and made from a hi-tech composite plastic with a metallic finish. I've been using mine every day for a few months now and I love it.
Frequently Asked Questions
What is a pop-up wallet?
A pop-up wallet utilizes a mechanism to eject credit cards for quick access. Generally, the wallet uses a lever, button, or slider to fan out credit cards so that a single card can be quickly and easily chosen. Lefada, Secrid, and Ekster are 3 wallets manufacturers that use this pop-up delivery system for credit cards.
What is a minimalist wallet?
A minimalist wallet is usually compact, slim, and lightweight.  By design, it cuts any wasted space down to the bone. It usually appeals to people who want to un-complicate and declutter their lives by carrying only the barest of essentials. The payoff is a wallet that is easy to carry and with little or no front pocket bulge.
What is a card holder wallet?
A cardholder wallet is designed to hold credit cards and other plastic cards that are the same size. A cardholder wallet often has an ejection system that fans out the cards, such as the Ekster and Secrid wallets. It's usually minimalist in size, too, barely larger than the size of the cards it contains. 
What is a tactical wallet?
A tactical wallet is a credit card holder that typically doubles as a multi-tool. It can store a $20 bill, open a beer bottle, or pry a nail out of a 2 x 4. The tools are cryptically built-in and generally "disappear" into the wallet design. It usually has a high-tech look and appeals to outdoor enthusiasts who lean strongly towards a minimalist lifestyle.