---
SUMMARY
Designed and made in Germany, the I-CLIP is a stylish minimalist cardholder wallet for men or women. It feels feather-light in your pocket and gives you fast access to up to 12 cards. It has an ingenious minimalist design that is based in pure simplicity.
PROS
Ultra light weight
Minimalist size
Quick access for up to 12 cards
Fine leather with many choices of colors and textures
Integrated money clip
CONS
No RFID skimming protection
A little pricey
Some might be turned off by the plastic construction
Specifications
Materials: High-performance plastic laminate with full-grain leather
Weight: 0.5 ounces
Dimensions: slightly larger than a credit card
Capacity: 12 cards
Warranty: One year, covers defects in materials or workmanship
---
THE FULL I-CLIP REVIEW
The I-CLIP is a disarmingly simple card holder wallet that pulls at your heartstrings the longer you carry it.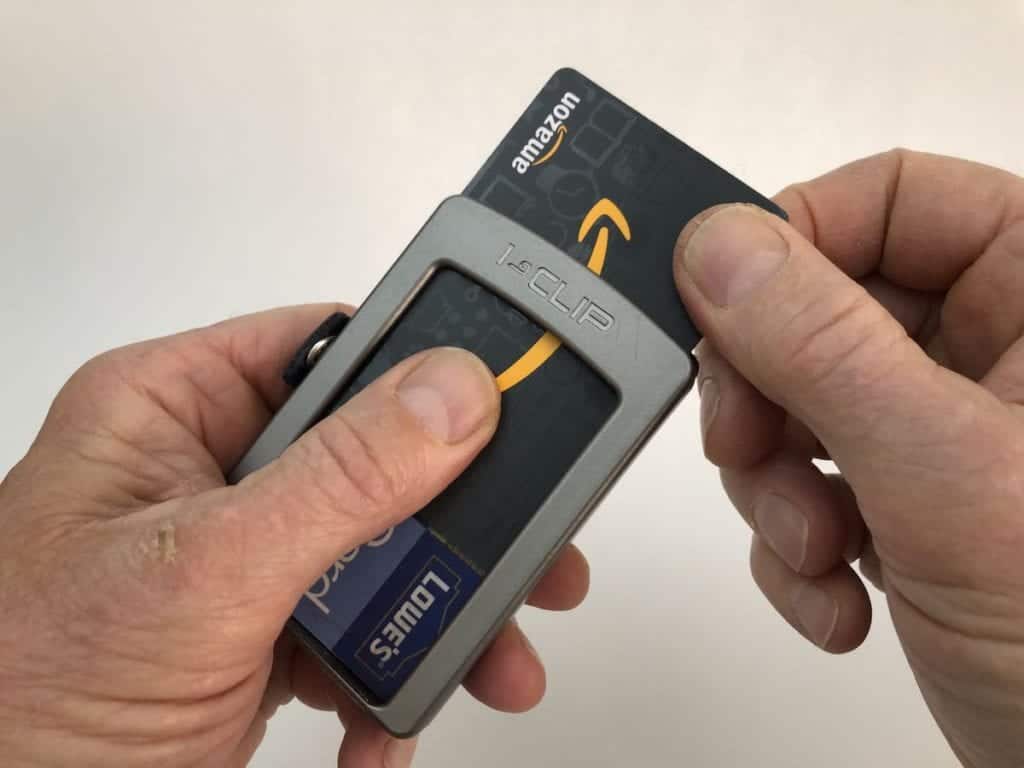 A Unique One-piece Design
The design of the I-CLIP cardholder wallet is deceptively simple. So simple in fact, that I was initially put off by how austere it is. Over time, though, it has won me over.
For starters, it's made of one piece of plastic. Yep, you heard that right. Plastic. I-CLIP calls it Robutense, a high-performance plastic composite they developed specifically for this wallet. The wallet is feather-light (0.5 ounces) and practically floats in my hand when it's empty.  
The frame of the I-CLIP just like looks all-the-world like metal and it comes with your choice of a metallic gray or gunmetal gray finish.  The I-CLIP that I purchased is metallic gray and it's just a tad darker than the color Apple would call space gray.
On one side, the cardholder has an open design with a relatively thin bezel. This allows most of the information on your top card to be clearly seen, including your card's embedded chip.
Needless to say, because of this openness, this is not an RFID-protected wallet. If this is a deal-breaker for you, I-CLIP sells a set of RFID shields for an extra cost. Simply place one of these credit-card-size shields on top and on the bottom of your card stack to discourage anyone from skimming your cards.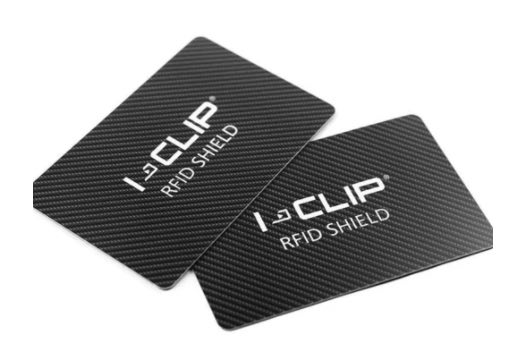 The other side of the frame is full-grain leather that opens and closes with a metal snap. You can buy the I-CLIP with a dozen different leather types and textures. Mine is classy deep navy with a pebble texture. 
The hinged side of the leather fits into the wallet inside a slot that is cast into the plastic frame. I assume they use some sort of adhesive to keep it there, but I-CLIP doesn't divulge that particular detail. It seems solid, though.
This leather cover folds over the money clip side of the wallet and snaps into place. I like the fact that it completely hides any cash you might be carrying under the money clip. The sound of the click that the metal snap makes when it closes is satisfying, too.  It feels trustworthy and secure.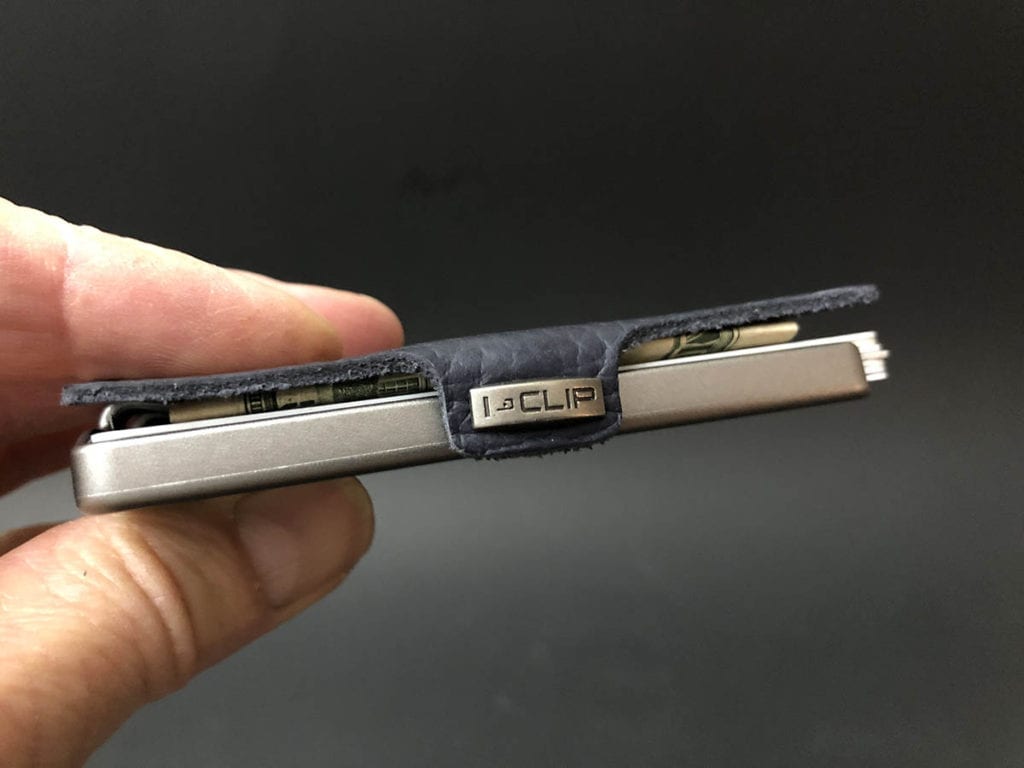 It holds up to 12 cards
They designed their cardholder to carry up to 12 cards. And yes, I confirmed that it will accommodate all 12. But to be honest, it feels a little cramped. I find that 5-8 is a more comfortable fit, particularly if you are also carrying a few notes of cash under the clip.  
The I-CLIP holds your cards in place in two ways: 
First, the integrated money clip (also made of the same plastic) provides pressure on the back side of the card stack. It forces the cards against the front side of the cardholder's plastic frame.  
Second, the long dimensions of each card touch the sides of the wallet frame with just enough friction to stay in place. Not too little, not too much. Because the plastic frame is softer than metal, it will be kinder and gentler to your cards over time.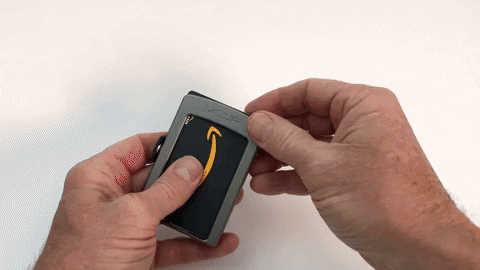 When you're ready to use a card, simply push the card out of the wallet with your thumb. The card on top is the easiest to extract, so this is the place to put your most often-used card. It's a little trickier to access the other cards in the stack. But with practice, it gets easier.
You can use the money clip to hold cash in a conventional way by folding it over twice. Better yet, place one side of a bill under the clip. Then fold the remaining part of the bill over on itself. The result is a bill folded in thirds. This video from I-CLIP demonstrates it much better than I an explain. 
Nice Build Quality
I admit that I did a double-take when I first discovered that the I-CLIP cardholder wallet is made of plastic. Plastic breaks, right? But after reading dozens and dozens of reviews, very few owners have expressed dismay that their wallet broke. Most of them are more irritated that the wallet is made of <gasp!> plastic.
One of the few long-time owners I could find is a Youtuber on the MacMaster Youtube channel. He says that he has used his I-CLIP every day for a year and has had zero problems with it. In fact, he would unhesitatingly buy the I-CLIP again.
Most of the negative views from other owners have something to do with the plastic construction, even if their wallet hasn't broken. My question is: Why did they buy a plastic wallet in the first place?
The good news is that I-CLIP will replace your wallet if the plastic frame every breaks within one year after purchase. Just send them a photograph of your broken wallet plus proof of purchase. They will honor the warranty whether you purchased it directly from I-CLIP or from Amazon. 
Over 75% of the owner reviews I have read from all sources give the wallet between 4 and 5 stars. They love the non-bulky, minimalist size that fits comfortably in a front pocket. The build quality is high, the money clip doesn't lose its tension over time,  and it's easy to access cards and cash in a checkout line. 
The weak point of any kind of leather is the hinge where it bends back and forth. So kudos to the engineers at I-CLIP who created a hinge design that barely moves when the cover is opened and closed. It looks like it is designed to last.  
Overall Performance
All in all, I like the way this wallet performs. It lets me access the card I use the most (the one on top) instantly with the flick of my thumb. And I love the thin compact size. 
I particularly like the fact that it only takes one hand to push out the card I want. Other cardholders (like the Ridge, for instance) require 2 hands: one to hold the wallet while the other pushes out the cards. So using just one hand with the I-CLIP is a breath of fresh air. 
The I-CLIP cardholder wallet is designed as a front pocket or breast pocket wallet. If you carry it in your hip pocket, you're just tempting fate. This wallet just isn't built to be wedged repeatedly between your butt and a chair.
Your front pocket is a better location than your back pocket to discourage pickpockets, too. And, needless to say, it's also better for your back.
Because the frame is relatively soft plastic, it will inevitably attract some scratches. For that reason, I would recommend that you never carry coins or keys in the same pocket as your I-CLIP.
I rarely hear people talk about this, but I like to carry my wallet in the same front pocket as my phone. If the footprint of a wallet gets too big, then I have to position my wallet on top of my phone. This is uncomfortable and leaves a thick lump in my pocket for all to see.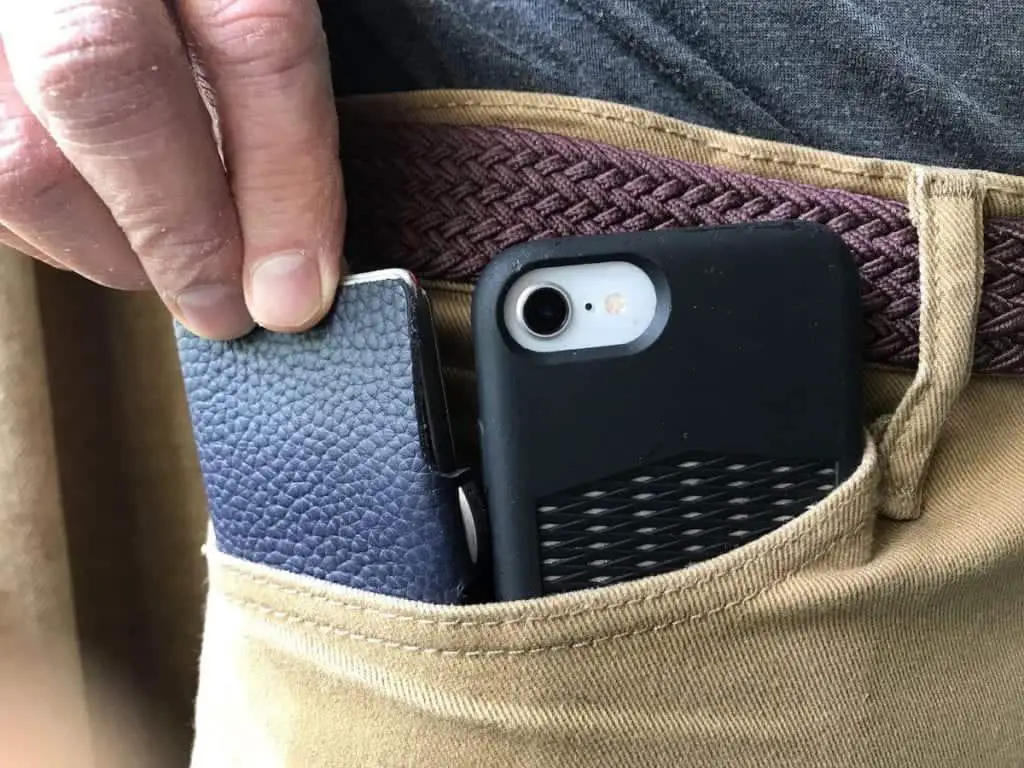 The compact size of the I-CLIP lets me position it next to my phone. And since both of them are nearly the same thickness, the bulge in my pocket is barely noticeable.
Don't over or under stuff it with cards and cash
Even though I-CLIP says their wallet will hold 12 cards (it does, I've confirmed it), the sweet spot for the right number of cards is more like 5 – 8. Reducing the number of cards gives the I-CLIP has a more balanced feel.
If you go much above 8 cards, you really have to push hard with your thumb because of the increased tension from the money clip. That tension increases further if you load up the money clip with lots of cash.
Remember, though, that if any of your cards have raised numbers, the max number of cards will have to go down. The raised numbers don't only make a card thicker, they also make it harder to slide out your cards because of the extra friction. 
In their FAQ, the I-CLIP website says that you can use as few as 1 -2 cards without the cards falling out unexpectedly. Technically, this is true, but…
When you use your thumb to push the top card out, the pressure has a tendency to push both cards askew. Then you have to stop and fiddle with them so they are seated properly again. Stick with 5 – 8 for the best performance.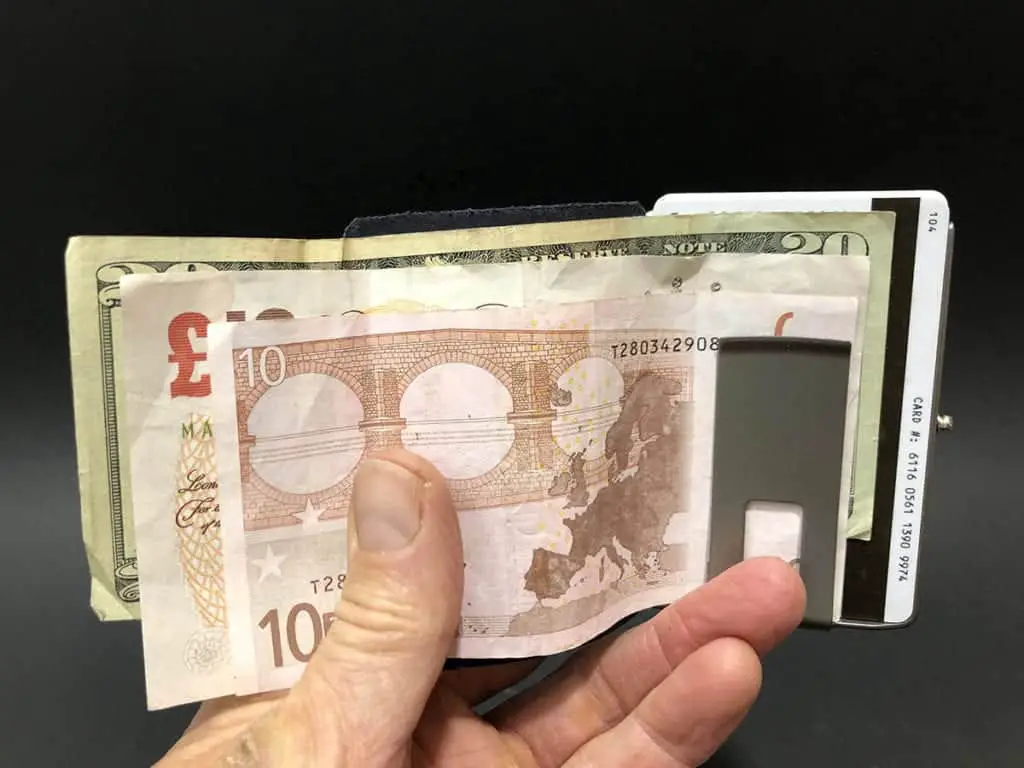 Because the I-CLIP is a cardholder wallet, it isn't designed to carry more than a few bills of cash. It's a slim, compact wallet built for just the necessities. The minimalist credo is to leave the extra clutter at home.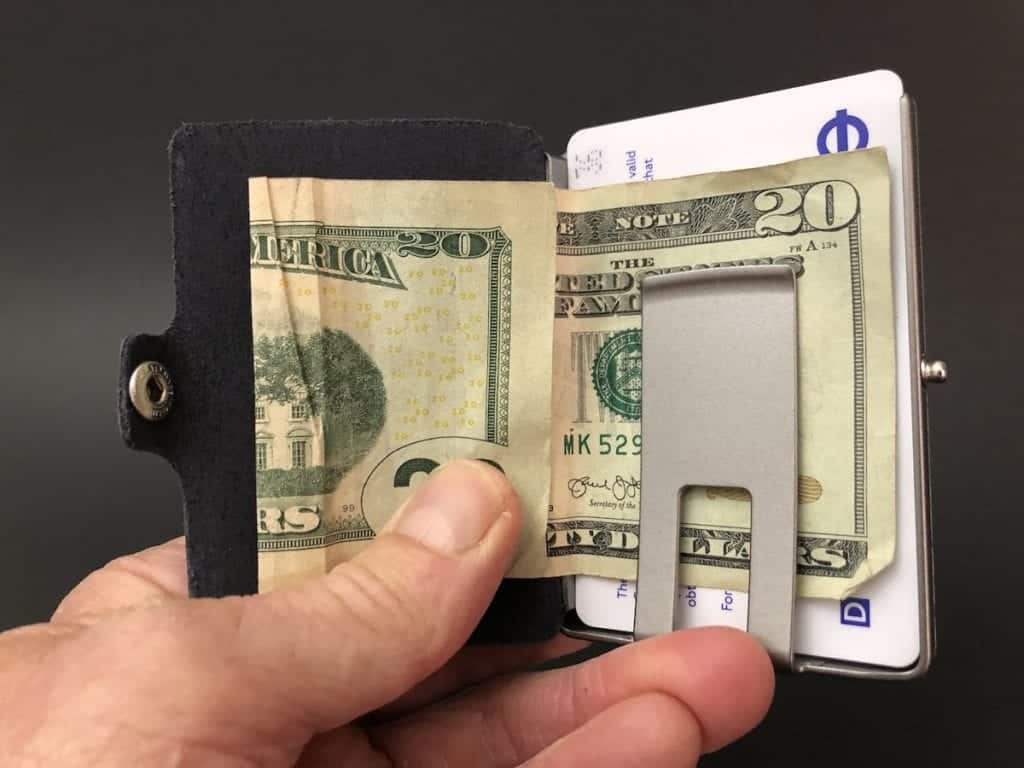 For me, I carry a spare $20 bill (or two) tucked under the money clip. Sometimes I'll put an extra $5 for valets and deserving panhandlers, too. Any more than that and you risk violating the minimalist's unwritten code of ethics. As I-CLIP says in its promotional copy: "Minimize your pocket. Live free."
I find that it's good to always keep at least one card in your I-CLIP if there is cash under the money clip. If you pull all of your cards out at once, the money clip will push the cash into the empty space. This makes it difficult to reinsert your cards without removing the cash first. It's a minor point, but it's real, nonetheless.
Make it trackable
Right out of the box, the I-CLIP cardholder wallet is not trackable. But you can transform it into a wallet you'll never lose again with a Bluetooth tracking card.
There are two Bluetooth wallet trackers that I heartily recommend. I've used both of them in several of the wallets I have reviewed, including the I-CLIP.
One is the Tile Slim and the other is the Ekster solar tracking card. Both of them are the same size as a credit card so they fit perfectly into the I-CLIP's plastic frame. However, they are also 3 times as thick so they will hog the space of 3 regular cards.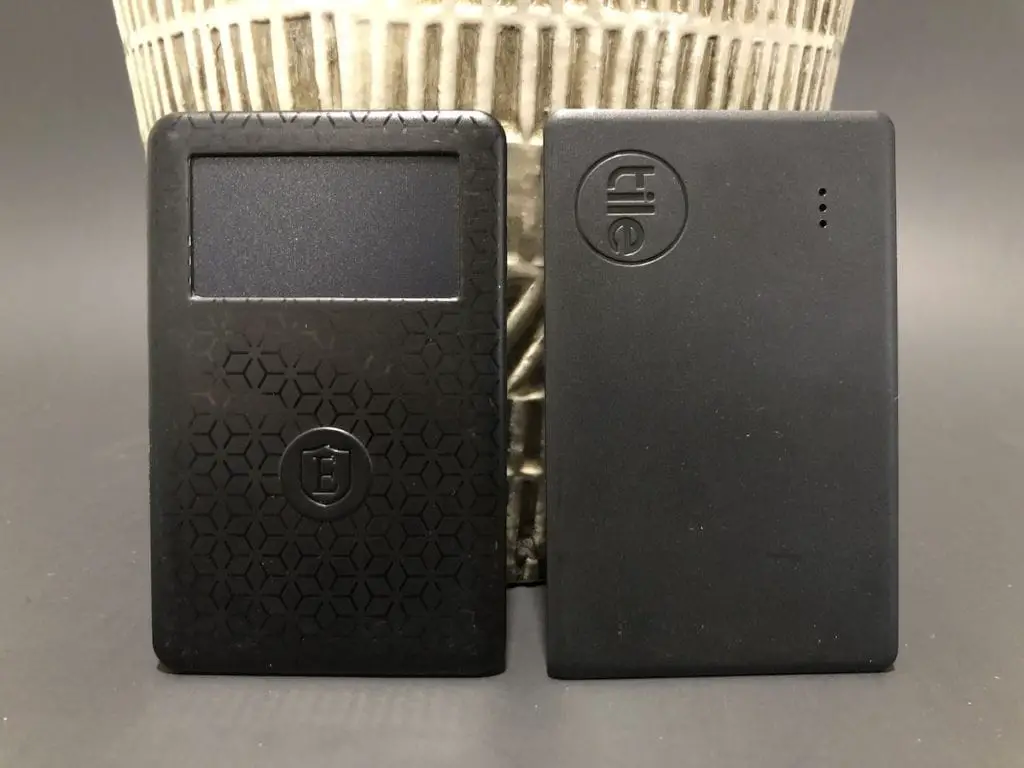 Both the Tile and the Ekster trackers work much the same way. They use their own dedicated app that pairs with your Android phone or iPhone. Your phone has GPS capability, so either of these cards will help you find your wallet in your house or anywhere else in the world.
Hidden value
I have to agree with owners who say that the I-CLIP smart cardholder wallet is a bit overpriced for what you're getting. But you have to remember that you're also paying for what you're not getting: 
It hardly weighs anything. It's super light, only 0.5 ounces with no cash or cards. 
There are no mechanisms to malfunction. There are no moving parts to this wallet (like the Ekster pop-up wallet) and no screws that need periodic tightening (like the Ridge). 
The money clip saves weight by being part of the wallet frame. That means it is made of the same lightweight plastic. No need for an unnecessary aluminum or titanium clip with the extra hardware to attach it. 
The leather cover has no stitching to wear out or unravel. The leather is one solid piece of thick, full-grain leather. 
All sharp corners have been eliminated. Edges are smooth and nicely rounded so they don't catch going in or out of your pocket. It's super comfortable, too, with no digging into your leg.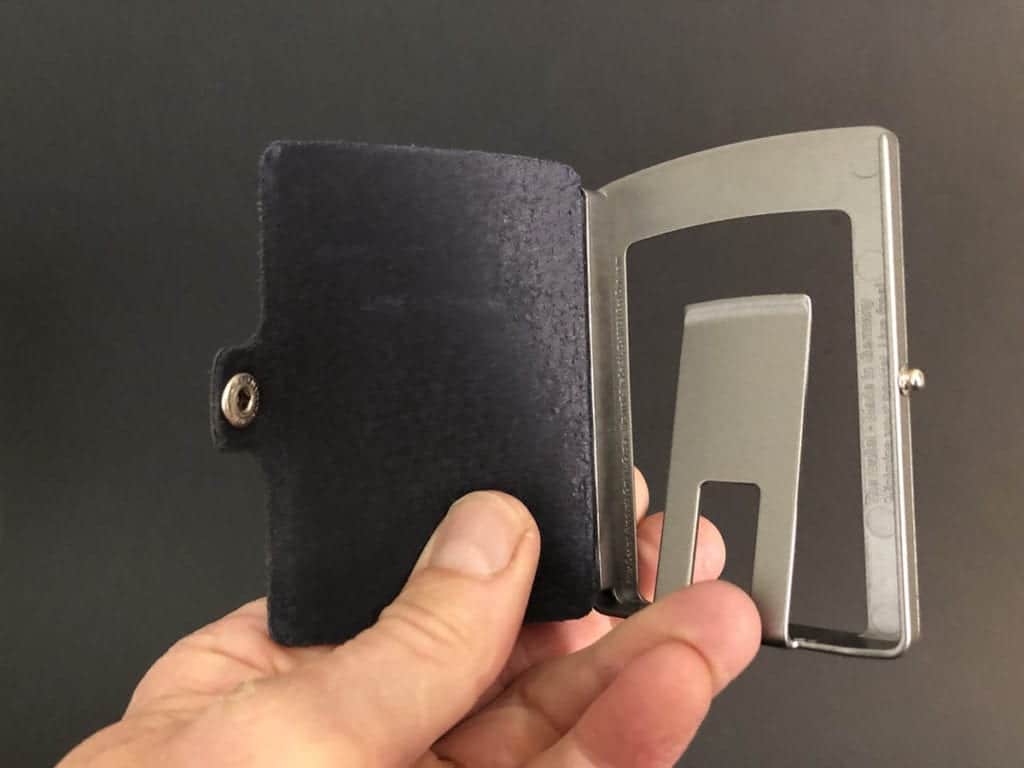 The leather is high-quality, naturally-tanned cowhide. And the entire wallet, top to bottom, is designed and made entirely in Germany. Yes, it's made of plastic, but it is a high-performance composite created by I-CLIP to give this wallet a very strong strength-to-weight ratio. 
It will never be as strong as carbon fiber. But if it was, I have no doubt that it would cost even more than it does.
Should I buy the I-CLIP?
Put the I-CLIP in your BUY column if:
you want what may be the most lightweight cardholder ever made.
you're okay with a wallet made of (high performance) plastic.
you want to access your cards and cash quickly and easily.
you love high-quality, full-grain leather.
you don't mind paying a premium price.
Scratch the I-CLIP off your list if:
you want built-in RFID skimming protection (RFID-blocking shields are extra)
you need a wallet with lots of room for cash and coins.
you typically carry your wallet in your hip pocket.
any kind of plastic construction is a turnoff.
Alternatives to the I-CLIP smart wallet
Lucky for us, there is plenty of collective brainpower focused on creating new designs for progressively designed wallets. Here are two super minimalist wallets that are similar but still very different than the I-CLIP.
Ogon 3C Money Clip
The Ogon 3C Money Clip is advertised as the world's smallest wallet. Despite it's name, it's really not a money clip at all because it holds plastic cards rather than cash. It is made in France with real carbon fiber. The carbon fiber makes this compact wallet five times stronger than steel and much lighter in weight. I really like the way you can easily push up to 7 cards out with an index finger and then fan them like a deck of cards. It's much more intuitive than the Ridge for quickly accessing your cards.
The Ogon 3C Money Clip has an aluminum foil layer inside the carbon fiber that protects your cards from RFID data theft. Inside that is a micro velvet fiber layer that puts a nice, baby-soft surface against your cards.
The only drawback to the design is that there is no place to hold any currency unless you sandwich it somewhere between your cards. But that's what you sacrifice when you carry one of the tiniest carbon fiber minimalist wallets out there.
---
Fidelo Eclipse
Fidelo Eclipse
Eclipse 3 in 1 metal wallet for men - 7075 aluminum black, 7075 aluminum gray & 3k carbon fiber "matte finish" patented design. Each build a wallet 2.4oz, 3.4x2.25x0.25in (0.45 with cash clip)
When you purchase a Fidelo Eclipse wallet, you'll feel like you received 3 wallets in one box. It ships with 3 interchangeable faceplates that screw on with the included screwdriver.  You can have a carbon fiber wallet today and switch to one of two different aluminum finishes tomorrow. 
The Fidelo incorporates a sandwich design like the Ridge, but ejects the cards with a push-from-the-bottom finger slot like the Ogon 3C. You can choose from either a money clip or money band to hold your currency.
With all of this customization, the Fidelo Eclipse has a certain DIY quality to it. And if you lose any of the teensy-weensy screws while you're tinkering with the faceplates,  they include some extras in the box. The wallet blocks RFID frequencies, too, but it will allow the lower frequencies that building access cards and hotel room keys use to pass through. 
Fidelo's credo is "Be minimal, be free," so you know they take their minimalist wallets seriously. Owners rave about the wallet in online reviews and love the reasonable price point for this convertible wallet. 
LEARN MORE: Still looking for more I-CLIP alternatives? Check out this post with the Best Wallets for Men in 2020. You might just find another smart wallet that tickles your fancy.