One of these 18 minimalist wallets for ladies is bound to pull at the heartstrings of any woman seeking to reduce her personal clutter. After all minimalism isn't just a competition for guys to brag about on Reddit.
An increasingly cash-less economy has also kicked minimalist wallet designs for women into high gear. These card holder wallets are thin, light, and beautifully designed to carry just the simple bare necessities of life.
Many of these are unisexual in nature, but I specifically chose the ones that tip the scale toward the feminine side.
1. Vaultskin Chelsea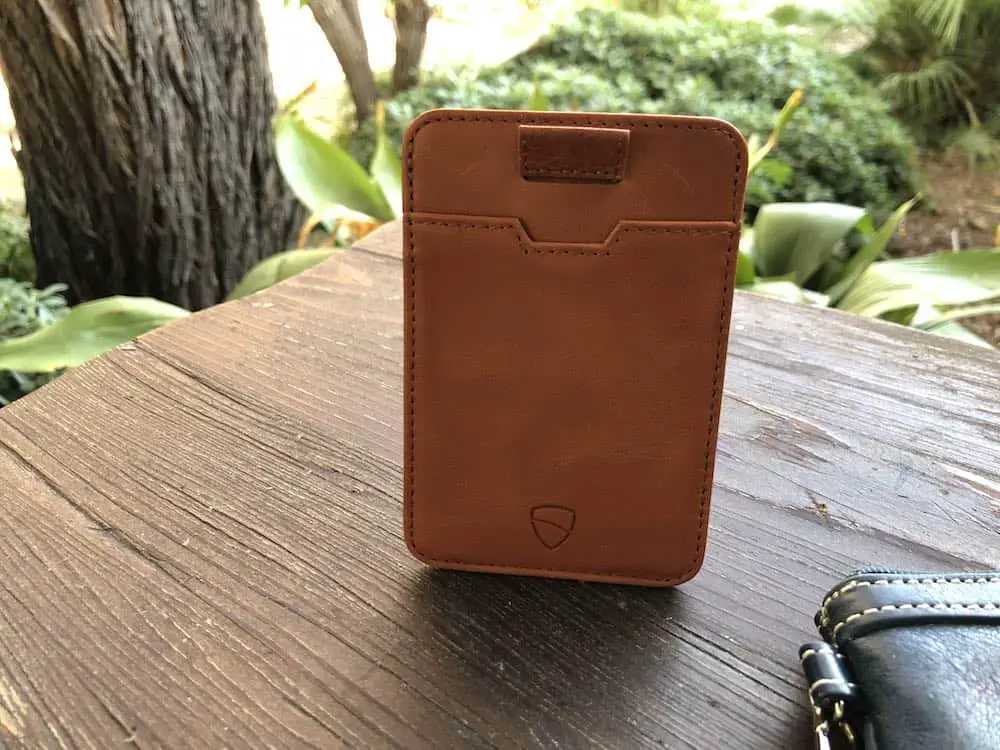 KEY FEATURES
8 card capacity
Smart strap for easy access
RFID-blocking for safety
SPECIFICATIONS
Brand: Vaultskin
Model: Chelsea
Dimensions: 4.3″ x 2.7″
A fan of the Charlie but need something a little more sophisticated for daily use? The Vaultskin Chelsea card holder wallet could be a perfect match. It's got all the practicality you need, with room for around 8 cards, extremely high-end RFID protection to prevent any electronic pickpocketing, and a slim profile that means you can carry it how you want, whether that's in a purse, a bag, or a pocket.
Stylistically, it's all here, too. The genuine leather is gorgeous, sophisticated, and combined with its neutral tones, it looks equally at home in the boardroom, cocktail hour, and the club. Basically, great for a woman on the go.
2. Thread Vertical Card Holder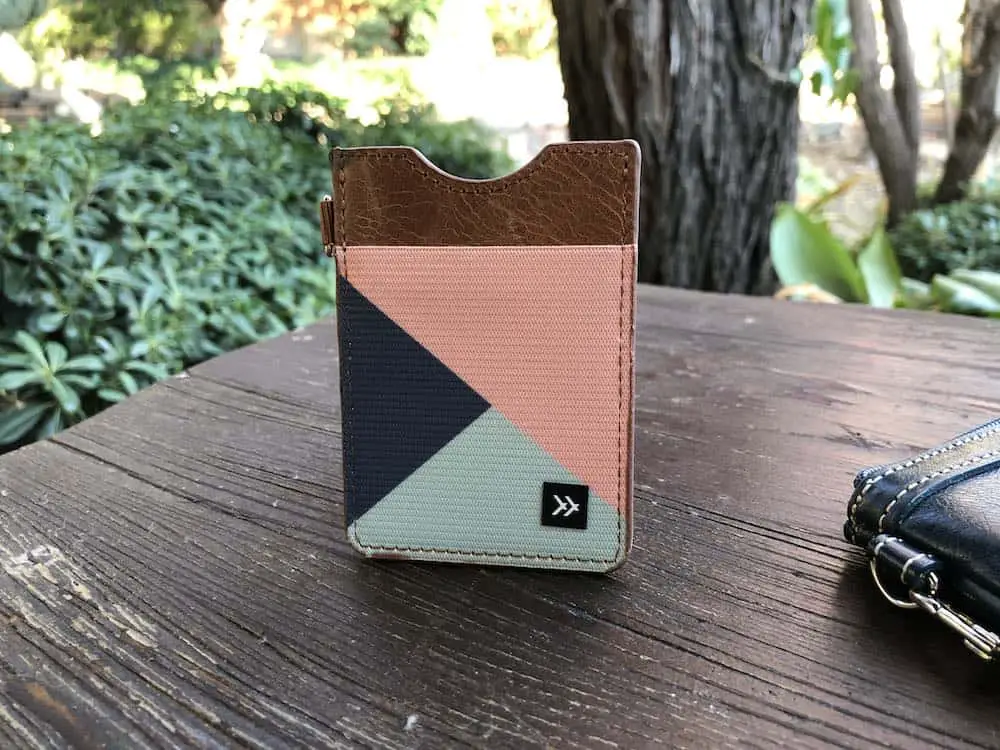 KEY FEATURES
Holds 2 – 8 cards plus cash
Has a unique elastic pocket in front
Attached metal ring for keys, lanyard, etc.
SPECIFICATIONS
Brand: Threads
Model: Fine line
Dimensions: 3.7″ x 2.7″
The Thread Vertical Card Holder is one of the most playful minimalist wallets I've come across, and I love it for that. Much like the Herschel Charlie, it comes in all sorts of colorways. Some are pretty basic, but the majority are cute, flirty, and fun, making this wallet perfect for showing a little personal flair.
The aesthetics are a joy, but does it work well on the function side of things? Yep. It's small, easy to pack around, and can hold all the cards and cash you need for a day out and about. What more could you want?
3. Ekster Secretary Sleeve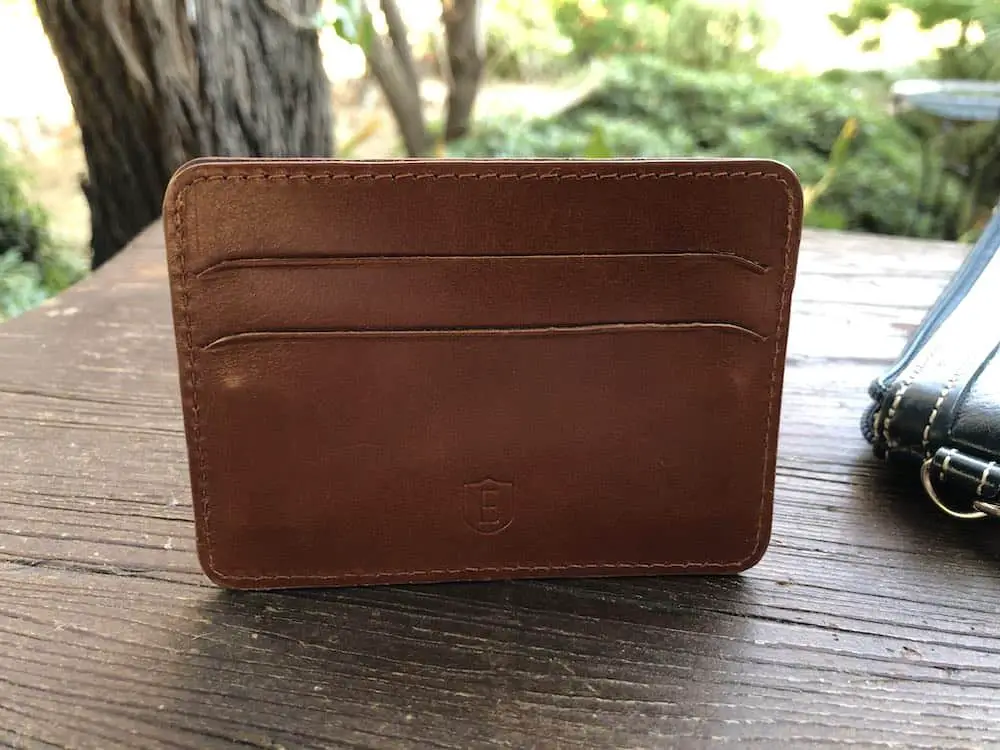 KEY FEATURES
2 RFID-blocking slots, 2 scannable
Cash and coin pocket
Made from top-grain leather
SPECIFICATIONS
Brand: Ekster
Model: Secretary Sleeve
Dimensions: 3.9′ x 2.7″
Looking for something a little less feminine but still stylish? Give the Ekster Secretary Sleeve a try! The design is a straightforward and discreet leather sleeve, but the leather is exceptionally soft, supple, and available in a variety of neutral yet warm, rich tones. 
It's a beautiful piece and one that coordinates well whether you're wearing a simple top and high-waisted jeans or your favorite work blazer. Of course, the actual usability is what you'd expect from Ekster. It's durable, high-quality, and can carry 6-8 cards of your most essential cards. It's function and form done right.
4. Herschel Charlie Wallet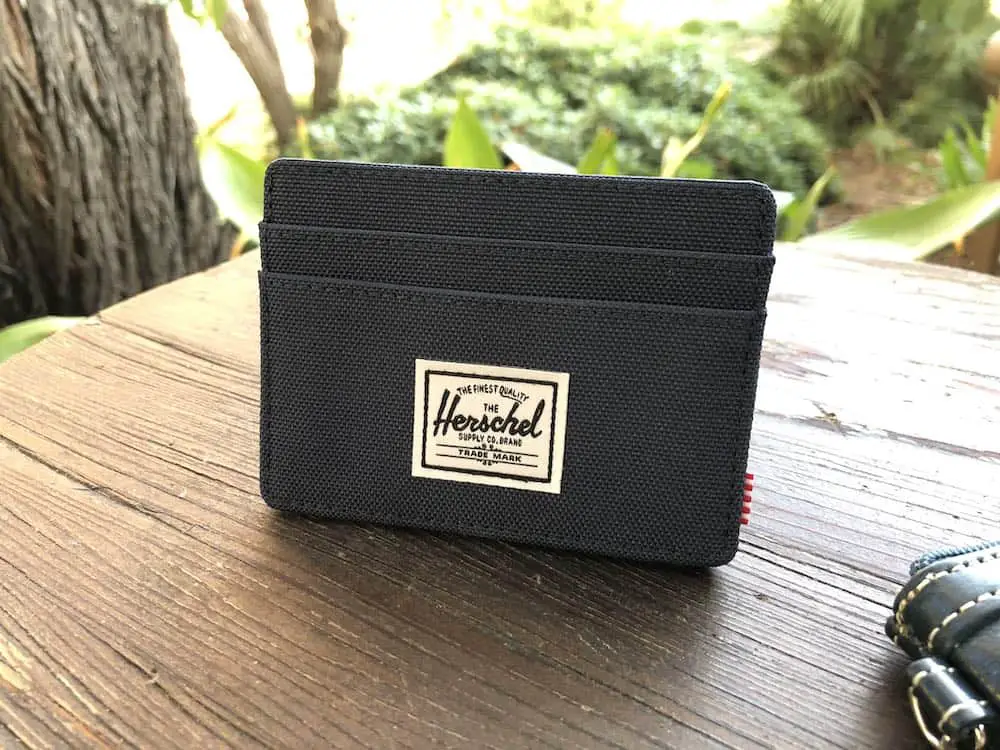 KEY FEATURES
RFID-blocking red-striped liner
Cash storage sleeve and 4 card slots
Famous Herschel logo on front
SPECIFICATIONS
Brand: Herschel
Model: Charlie
Dimensions: 4″ x 3″
For the women who like to keep it minimal but casual, it can be challenging to discover a wallet that matches. Herschel's Charlie fills the role perfectly. It's super pared down and classic, with basic fabric construction, a handful of card slots, and an additional top-access storage sleeve for a few bills, another card or two, or some receipts.
Despite this simplicity, the Charlie slim wallet strays far away from boring with all sorts of cute prints, colors, and designs that'll match your aesthetic – no matter how toned-down or bold it might be.
5. Fossil Logan Bifold
KEY FEATURES
2 bill compartments for extra cash storage
Zippered top
Built-in ID window
SPECIFICATIONS
Brand: Fossil
Model: Logan Bifold
4″ x 3.5″
Fossil may be known for its extravagant, high-end watches, bags, and other accessories, but their Logan Bifold is a small wallet meant for the everyday woman. Just keep in mind that it's a little bigger and thicker than some. It's probably not your best option if you hate carrying a bag, but it's ideal for those of us who carry purses like we carry our phones (read: all the time).
Other than this, it's also fantastic if you need to take a lot. It contains an ID compartment, 2 different cash pockets, and five credit card slots, so you'll never leave the important stuff behind.
6. Travelambo Front Pocket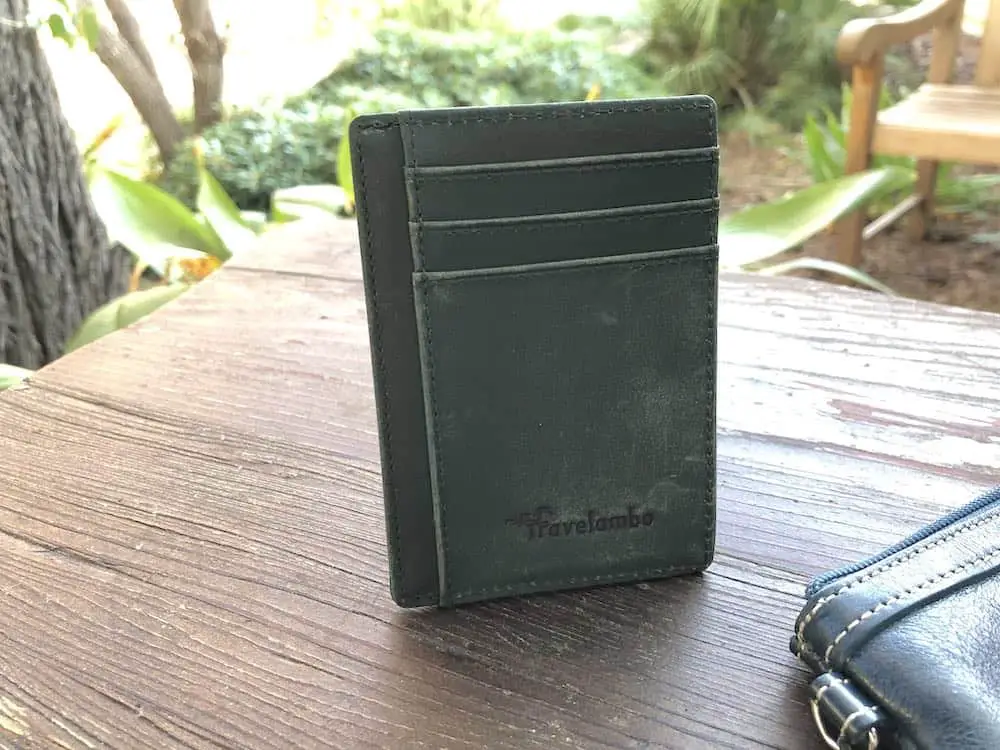 KEY FEATURES
1-year inclusive warranty
3 regular cards slots, 1 slot with clear ID window
Side access cash compartment
SPECIFICATIONS
Brand: Travelambo
Model: Front pocket minimalist
Dimensions: 4.1″ x 3.3″
While many are content to pay a little bit more for their ideal wallet, none of us would turn down a good deal, either. The Travelambo front pocket wallet falls under this. Unlike most of the other wallets I've tried out, this one regularly falls under the $10 mark but still offers genuine leather, secure stitching, and electronic skimming protection. That's thoroughly impressive for a budget wallet.
The design is also attractive and minimal, and it can hold around 4 – 5 cards comfortably without extra bulk – something even established brands don't always get right. All in all, it's a wonderful inexpensive find.
7. Bellroy Micro Sleeve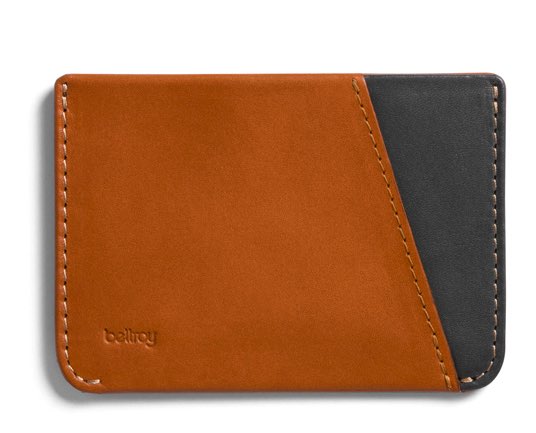 KEY FEATURES
Gold-rated LWG tanned leather
3-year warranty
2 slanted quick access slots and central pocket
SPECIFICATIONS
Brand: Bellroy
Model: Micro Sleeve
Dimensions: 4″ x 2.9″
Where the Travelambo front pocket wallet is an incomparable budget option, the Bellroy Micro Sleeve is a lovely splurge item. I love the feel of high-quality leather, and this has it in spades. Smooth and flexible, it feels great under your fingertips, and it's clear that it's made to last a lifetime. That, together with its reassuring warranty and pleasing, contrasting color design, makes it worth the cost.
It takes a brilliant but simple leap by tapering the two card holder slots so that it's easier to pull the card you want out of the slot. Combine this with the quality, aesthetics, and ultra-slim profile and it's a winner in my book.
8. Ekster Parliament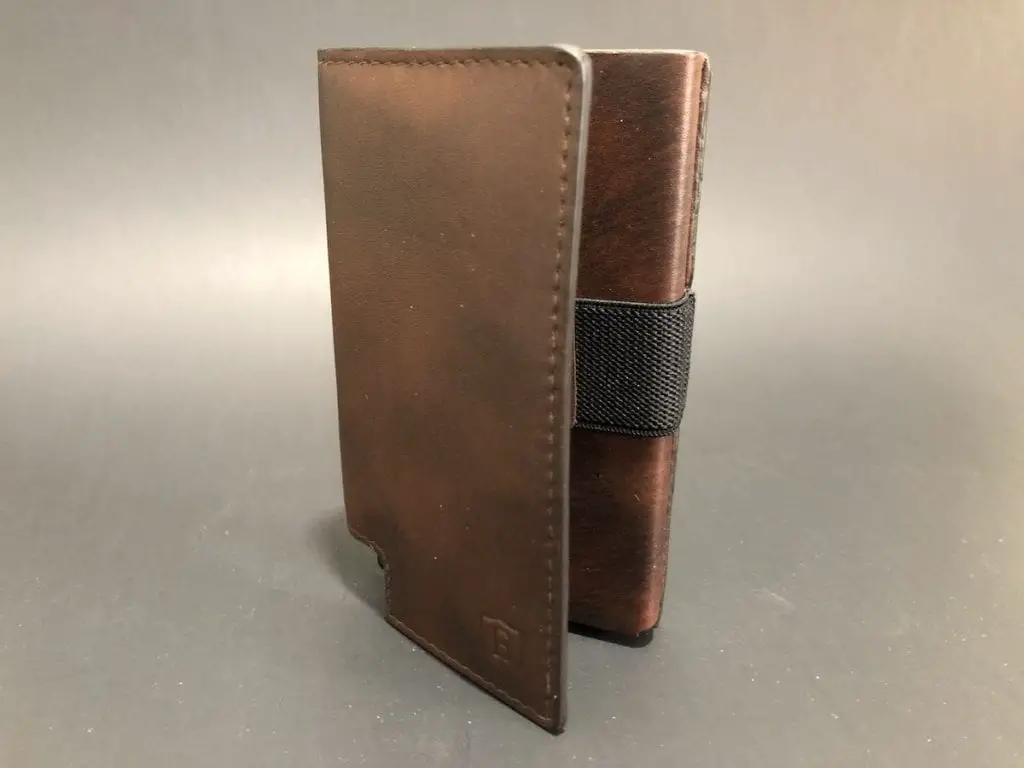 KEY FEATURES
Quick access pop-up card access
Durable aluminum inside with top-grain leather outside
Inner aluminum case blocks RFID
SPECIFICATIONS
Brand: Ekster
Model: Parliament
Dimensions: 4.1″ x 2.5″
The Ekster Parliament gets a lot of press in the wallet world and for a good reason. The Parliament is an excellent wallet for any woman, and it's one I personally love, too. The design uses high-quality materials like aluminum and premium leather that are made with durability and longevity in mind.
Even constant use and abuse won't impact it much. If anything, it just makes it look better over time, helping the leather develop a beautiful, personalized patina. The Parliament can store 6 cards in its aluminum case, all easily accessed with the touch of the button. Beautiful and convenient? Yes, please.
9. Flowfold Minimalist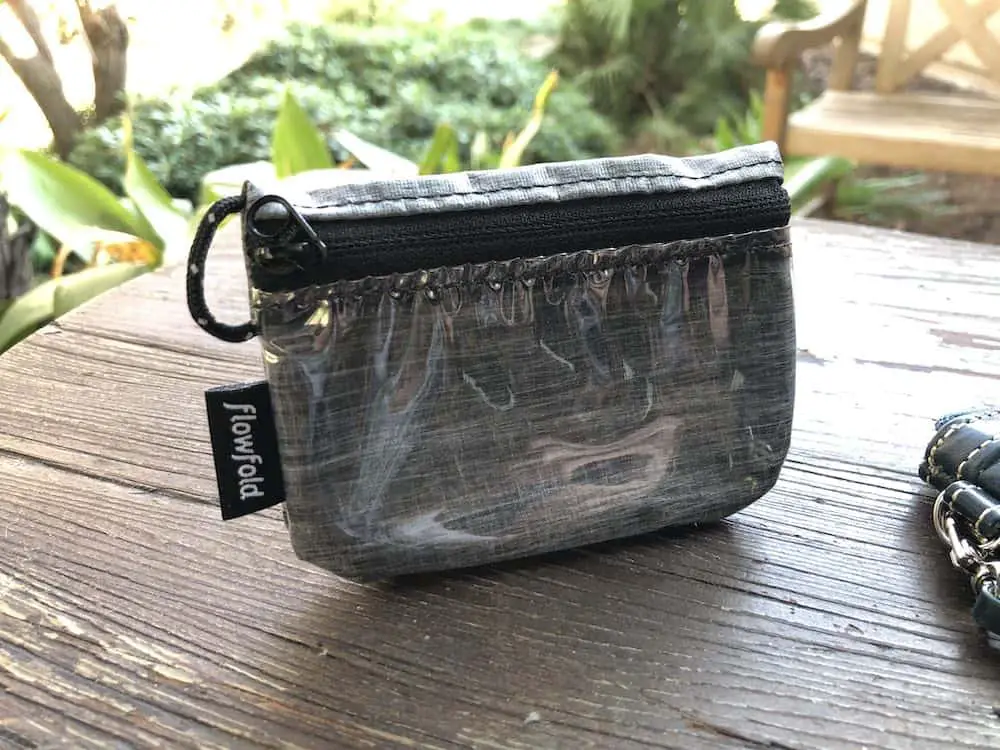 KEY FEATURES
Extremely durable sailcloth fabric construction
6 – 8 card capacity
Clear plastic pocket on one side
SPECIFICATIONS
Brand: Flowfold
Model: Minimalist
Dimensions: 4.2″ x 2.75″
Read through everything else on my list and still want something even more simplistic? Meet the Flowfold Minimalist. Made in Maine from sailcloth, it has a zippered pocket that give you access to a clear plastic outer pocket and an RFID-protected section.
Despite its bare-bones design, though, it's incredibly rugged and high-performance. Intended for hikers, campers, and all other outdoorswomen, the Flowfold is water-resistant, quick-drying, engineered tough, and made to last throughout your adventures. It's nothing fancy, but she gets the job done right every time.
10. Simpleton Industries Leather Card Holder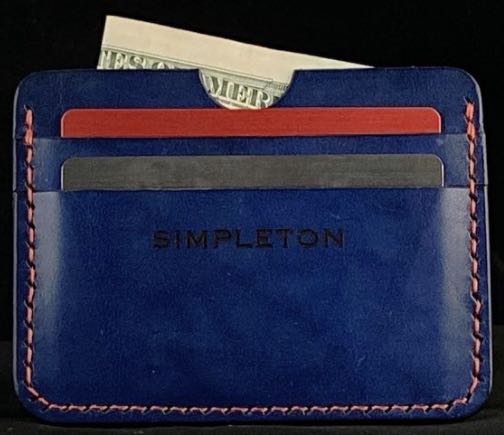 KEY FEATURES
Handmade and assembled
Imported premium "cobalto Italian leather
Engraving available
SPECIFICATIONS
Brand: Simpleton
Model: Leather card holder
What's better than a slim wallet made of Italian leather? One that also happens to be handmade from a small business. This blue Italian Leather card holder finds itself in this category, sold by Simpleton Industries on Etsy. It's made from Cobalto Italian leather from the Conceria La Perla Azzurra Dokota tannery in Tuscany, Italy.
This wallet is laser engraved, assembled, and stitched by hand, for a beautiful, authentic appearance. Not only this, but you can even personalize it and select your own thread color for an amazing custom piece made just for you. It's chic, high-quality, and supports a small business. A win-win for everyone involved.
11. Card Blocr Wallet
KEY FEATURES
PU and carbon fiber materials
One-click card access button
RFID-shielding tech
SPECIFICATIONS
Brand: Conceal Plus
Model: Card Blocr
Dimensions: 3.75″ 3.4″
People often assume that men are harder on their wallets and cards than women, but this isn't necessarily accurate. There are plenty of us who wear them down even faster, either through use or sheer bad luck. If you fall into this camp, it is probably time to upgrade to something more heavy-duty. My suggestion: the Card Blocr Wallet.
This smart wallet offering is a real monster, with an uber-protective mixture of carbon fiber PU leather that keeps all your credit cards safe from skimming, scratching, bending, and cracking. The card ejection is similar to the Secrid Slim wallet with room inside for cash and extra cards. I love the red trim, too.
12. Buffway Slim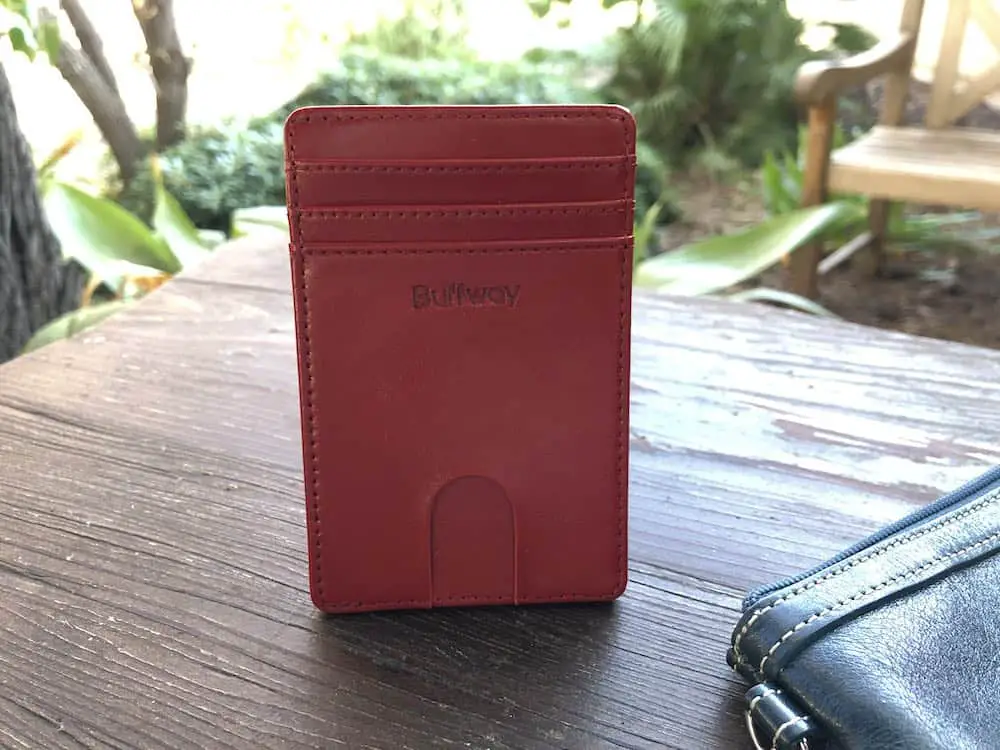 KEY FEATURES
Unisex leather design
RFID-blocking liner
1-year free replacement
SPECIFICATIONS
Brand: Buffway
Model: Slim minimalist front pocket
Dimensions: 4.44″ x 3.125″
Another bargain option that can still hold its own against the more prominent brands is the Buffway Slim. It's a slim minimalist wallet option that satisfies all the necessities. It's small so you can slip it in a pocket, clutch, or bag, but it's also mighty, able to hold around 8 cards plus quite a few bills.
It's practical, although the looks of the wallet don't get left behind, either. Unlike some others, the color options are extensive. Some are extra muted where some are extra bold, meaning every woman can find the right fit for her.
13. Kate Spade New York Spencer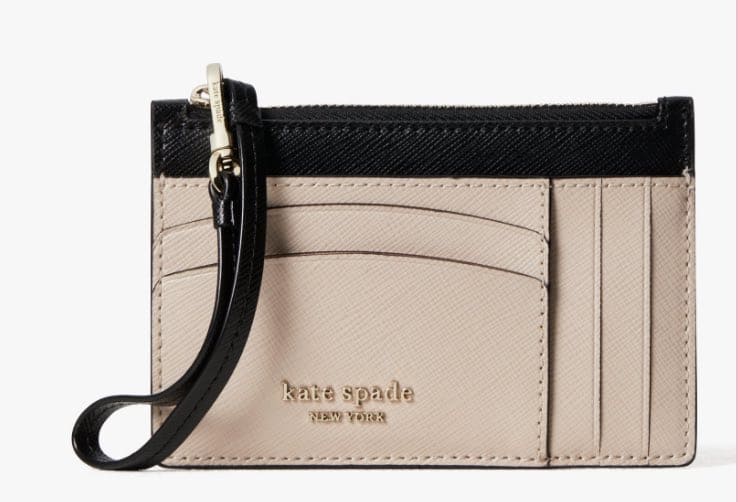 KEY FEATURES
Wristlet strap with dog clip
Zip top closure
8 exterior card slots
SPECIFICATIONS
Brand: Kate Spade
Model: Spencer wristelt
Dimensions: 5.2″ x 3.5″
Finding the right mix of security and quality is critical, but sometimes, those two criteria don't always amount to the most fashion-forward wallet. The Kate Spade New York Spencer wristlet resists this, combining the two into a wallet that's secure and attractive.
Comprised of soft, saffiano leather, it feels pleasant to the touch while also adding durability to protect against any drops and scratches. It also comes in 3 very different colors: a delicate and feminine beige, a badass and luxurious black, and a vibrant hot pink, so you can perfectly match it with your personality.
14. Michael Kors Saffiano Leather Continental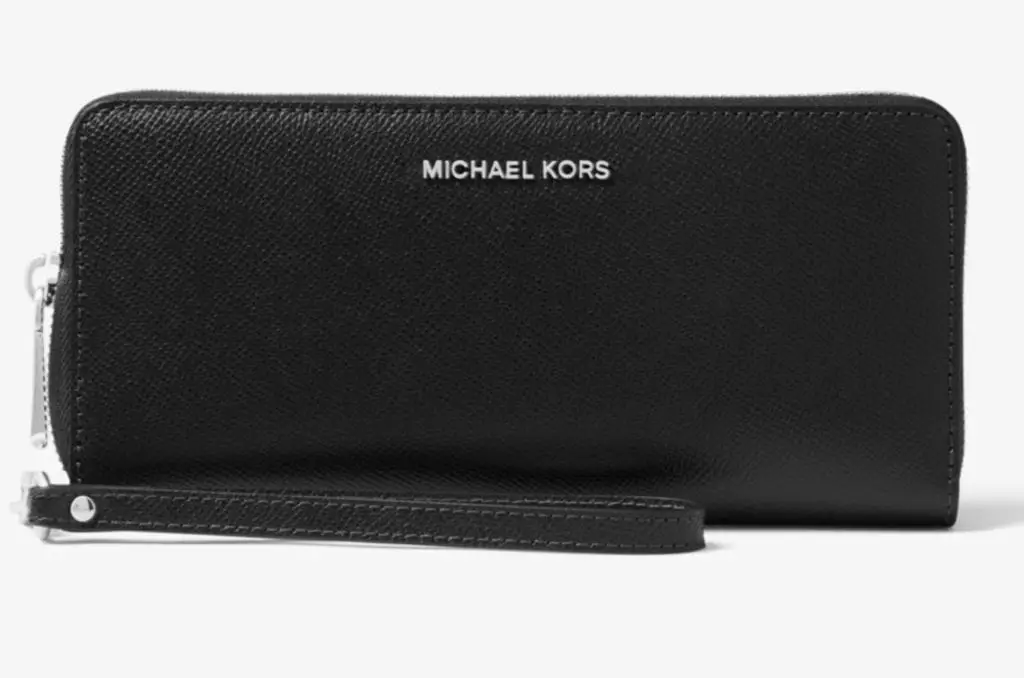 KEY FEATURES
Bifold style with golden hardware
Snap closure
3 full-length bill compartments and tons of card slots
SPECIFICATIONS
Brand: Michael Kors
Model: Saffiano Leather Continental
7.62″ x 3.5″
Depending on who you are as a person, you might know Michael Kors best for his sassy yet fair Project Runway judging. But don't let yourself sleep on his line of wallets, especially his slim travel bifold. It's one of the best minimalist wallet contenders thanks to its saffiano leather, high-end polished hardware, and high card-carrying capacity.
With 14 card slips, a clear ID window, and 3 bill compartments, it can hold all the credit cards and outdated membership cards you can throw at it while still looking fire. For simple styling, grab your wallet and throw on your favorite romper or leather jacket. Easy as that.
15. Coach Mini Skinny ID case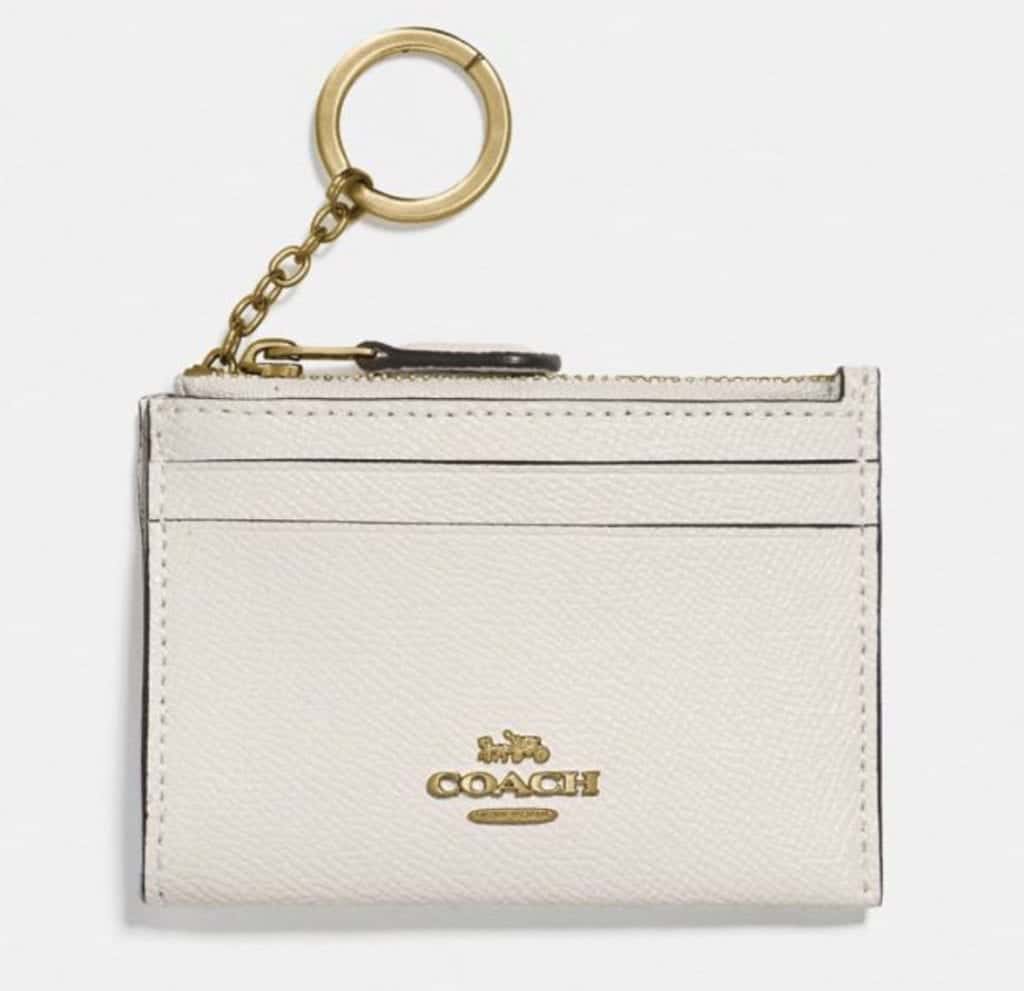 KEY FEATURES
Transparent ID window
Zip top closure and key ring
Canvas and leather construction
SPECIFICATIONS
Brand: Coach
Model: Signature Mini ID
Dimensions: 4.25″ x 3″
Coach is one of those heavy hitters who can truly do anything, offering everything from handbags and backpacks to clothing, shoes, and even my favorite fragrance. They also do wallets – and do them well. Their Mini Skinny ID case is one that stands out, combining Coach's signature canvas material and refined calf leather to create a wallet that's both striking and tough.
Clip it on to your best handbag, and you're sure to get compliments all day long. There are 2 external card slots, including a clear ID window. A top access zipper gives you additional storage inside. No need to compromise here.
16. Vaultskin Notting Hill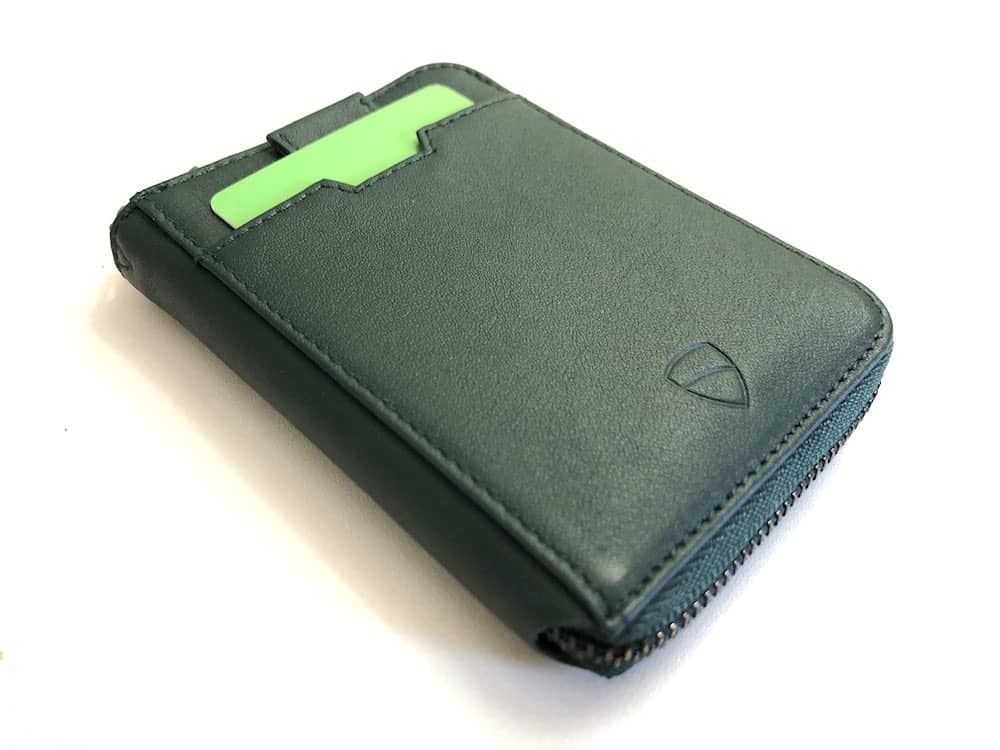 KEY FEATURES
Zip-around design
Quick access strap for frequently used cards
10-card capacity, multi-use compartment, internal cash strap
SPECIFICATIONS
Brand: Vaultskin
Model: Notting Hilll
Dimensions: 4.13″ x 3.15″
I know I've already mentioned a small Vaultskin wallet, but I gotta mention the Notting Hill Zippered wallet because it's the one I carry everyday. Like the Chelsea before it, Notting Hill has amazing workmanship and quality, comprised of top-grain Italian leather, precise stitching, and metal zip details. It feels elegant, and the design reflects that, too.
It's small yet efficient, able to hold 10 cards, cash, and even a key or a few coins, and all while being slim enough for a front pocket. Pick one up in alpine green (my choice), black, brown, or cognac for a sophisticated accessory that naturally fits with any wardrobe. 
17. Serman Brands Slim Wristlet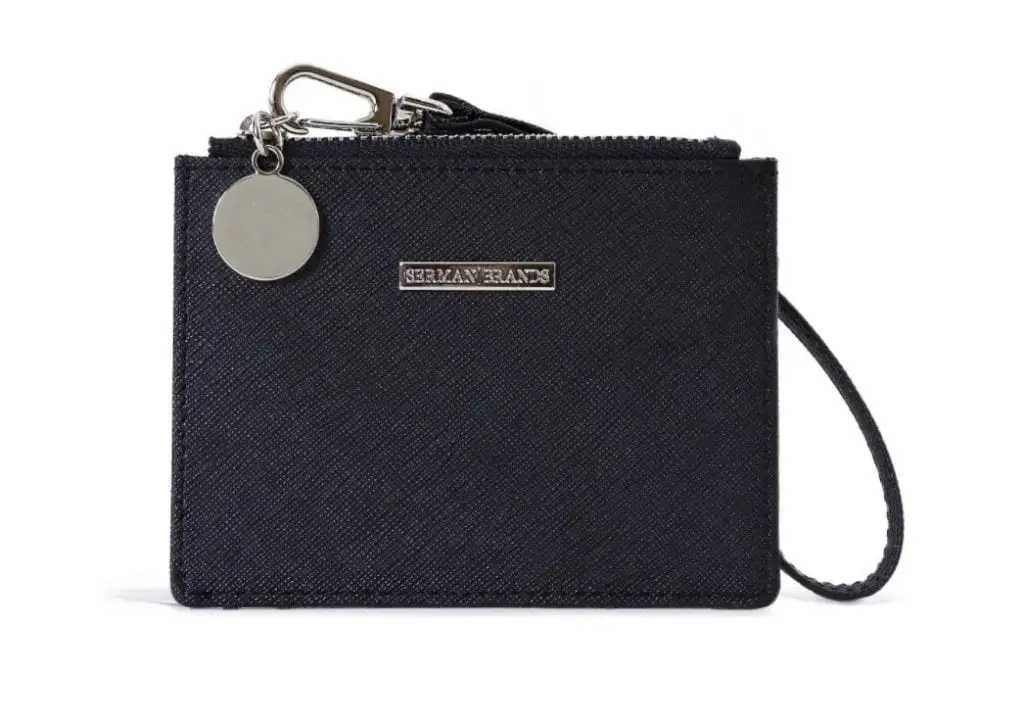 KEY FEATURES
Vegan leather construction
Wristlet design with room for 8 cards
30-day money back guarantee
SPECIFICATIONS
Brand: Serman Brands
Model: Wristlet
Dimensions: 4.5″ x 3.4″
Finding a small, well-made wristlet and holds enough isn't always an effortless task. But finding one that also happens to be vegan? Damn near impossible. I'm always on the lookout for one that achieves all of these, and Serman Brands has done it with their Slim Wristlet wallet.
Made out of quality vegan leather, it maintains a classic look and provides plenty of protection from scratches and dings. It's also small enough to carry around your wrist or in a pocket, but still offers enough space to hold 6-8 cards (plus cash!) comfortably. It's chic, useable fashion you can feel good about.
18. Hobu Euroslide Card Holder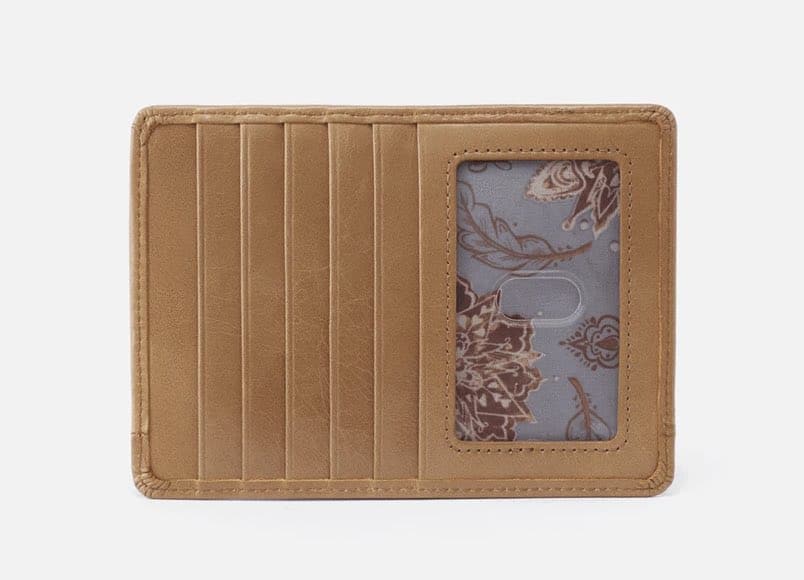 KEY FEATURES
Brushed antique brass hardware
High-quality, top grain leather
Made for travel
SPECIFICATIONS
Brand: Hobo
Model: Euro Slide Card Holder
Dimensions: 5.5″ x 4″
I love a wallet that hold all the cards I need and my passport while staying true to the spirit of a thin minimalist wallet. The Hobo Euro Slide is perfect for traveling and fits neatly into my crossbody bag. There are 21 different leather finishes available, including 12 pretty colors in a leather they call vintage hide. Yeehaw.
There are 5 credit card slots and a transparent ID holder A zippered pocket holds change and maybe a couple of safety pins (you never know when you might need one). On the zippered side, there's a nice big pocket for your passport. The Hobo Euro Slide is designed by women for women.