These zip-around wallets with RFID protection give you the opportunity to zip up, zip down, and zip all around. Like a cozy sleeping bag on a cold, clear night, a zippered wallet makes you feel comfortable and secure to know that everything inside is going to stay inside. 
The wallets on this list range from a 9-inch clutch to minimalist-sized wallets that fit in the palm of your hand. All of them are RFID protected and each has at least one zipper that buttons them up like a bug in a rug. There's one here to appeal to every taste, from rugged to refined to just plain practical. 
Let's unzip 6 of these wallets and take a closer look.
These are the RFID wallets with a zipper that I review in this post.

My Top Pick! Vaultskin 'Notting Hill' Slim Zip Wallet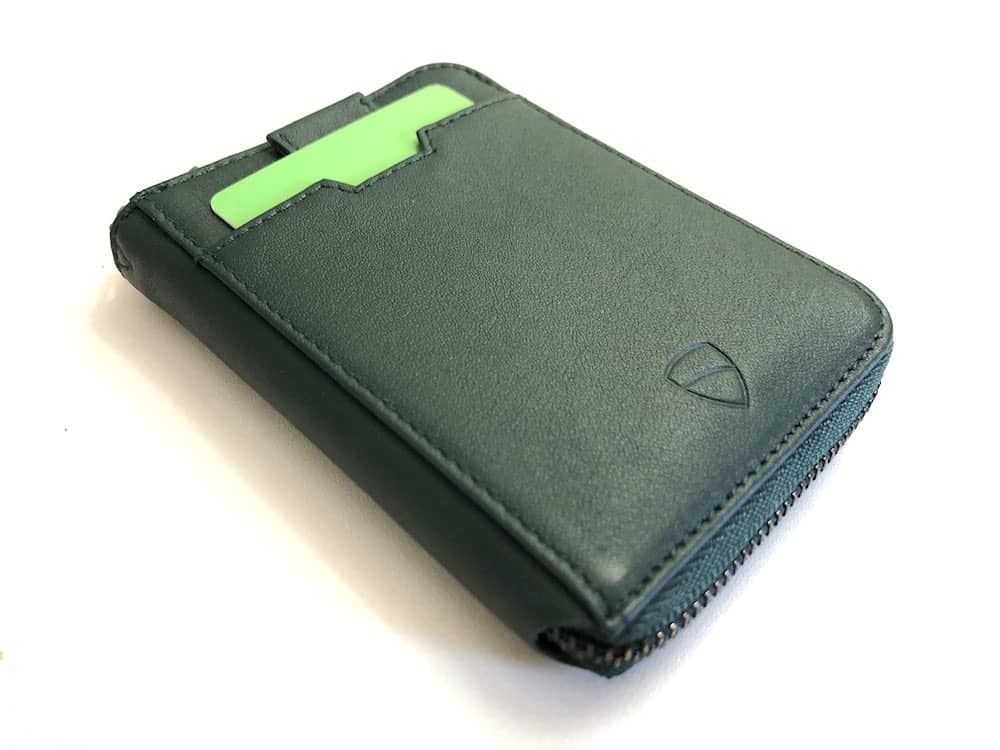 This is my favorite zippered wallet and the one my wife carries everyday.
The Vaultskin Notting Hill wallet is a minimalist zippered wallet with a unique pull strap that gives you access to your most frequently used cards. With the name Notting Hill, it should be no surprise that it is made in the UK (but uses genuine Italian leather). Inside, this RFID protected wallet has cash strap for half-folded banknotes and pocket for loose change. There is a nifty metal loop on the outside for attaching your house or mailbox key. 
I like the sleek exterior look with two tabbed exterior pockets that make it easy to extract a store receipt or a Starbuck's gift card. Because of the zip-around design, this palm-size wallet can store miscellaneous things. You could add a thumb drive , for instance, or some breath mints and decrease the chance of them falling on your feet in the checkout aisle.
A few owners have complained about occasional zipper issues (especially if the wallet is over-filled). But all-in-all, the Vaultskin Notting Hill wallet earns a solid five-star rating from many owners and a thumbs up from Walletopia.
Also Great: The Bellroy Card Pocket Wallet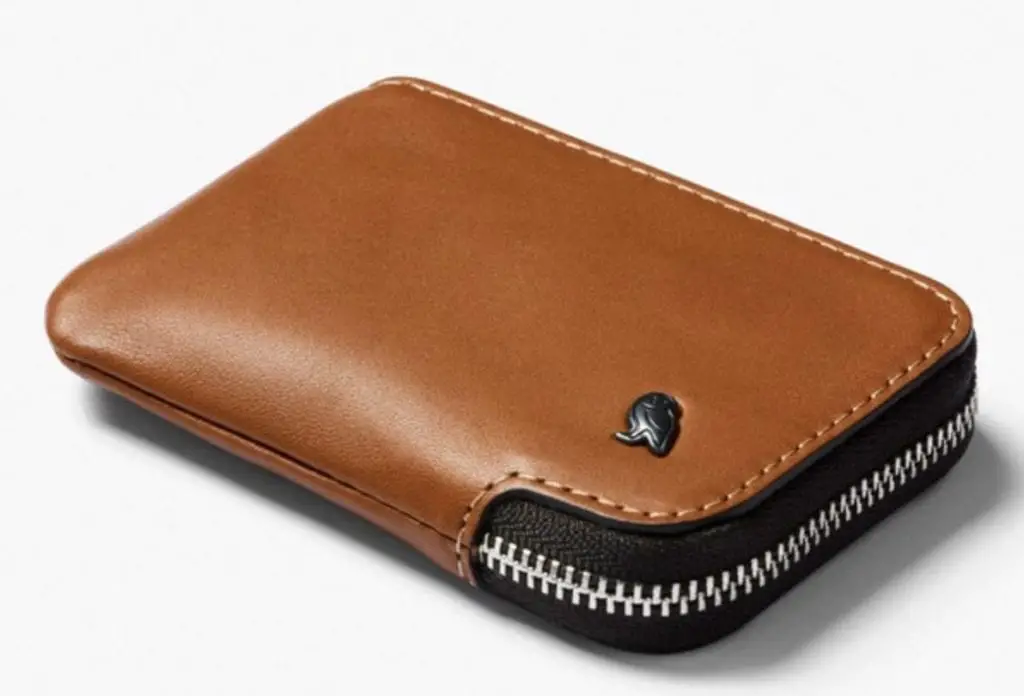 The Bellroy Card Pocket wallet is made with double-tanned leather. It has been dyed all the way through so that the color won't wear off as the wallet ages. The interior showcases woven fabrics that Bellroy chooses for their lightweight performance and durability.
The surrounding metal zipper is sturdy and secure. It does what it's supposed to do: Keep what's in from falling out. The Bellroy holds up to 15 cards and but cash has to be folded in thirds to fit.  There is also a leather slot for a SIM card.
The wallet isn't as small as some cardholders. But that gives it more flexibility for travel while still doubling as a comfortable every day carry. It comes with a surprising amount of internal organization for receipts, shopping lists, or a small book of stamps. 
Besides wallet-making, the Bellroy Company campaigns for animal welfare and donates a portion of its revenue to charity causes they support. Check out this excellent video review of the Bellroy Card Pocket.
When you're ready to hit the road, there's a larger version of this zippered wallet called the Bellroy Travel Folio. Check it out in my mini-review here. 


Admetus Zip-around Bifold Wallet
Admetus purposely designs its Zip-around wallet to look a little "old." It's a vintage look that the manufacturer achieves with Crazy Horse cow leather (a type of leather better known for its use in saddle making). This imparts a good-looking ruggedness with understated simplicity.
It comes equipped with a unique RFID blocking metal composite. The wallet lining is engineered to block 13.56 MHz or higher RFID signals from penetrating the wallet. 
There is one ID window, two bill slots, and nine cardholders, giving you plenty of space to carry more than you probably need. The internal organizer has a spot for cash, coins, SD cards, or earbuds. With the coin pocket and extra flap of leather that contains the ID window, the Admetus Bifold Zip-around is not as slim as other wallets. But then, it's not trying to be.
I'd call this a men's zipper wallet, with owners touting its classic leather smell. It would surely make a great gift for someone who wants an RFID wallet with a zipper but doesn't want to sacrifice the look and feel of a traditional wallet.
Lavemi Women's Clutch
Ladies, this one is just for you. Made of 100% real top grain leather, the Lavemi RFID Zippered clutch comes in three finishes. Choose from supple waxed leather, a velvety suede leather, or a fashionable pebbled leather. Then pick from 27 different colors and finish combinations.
Comfortable and luxurious feeling, this leather clutch ages well and will look even better after you break it in. The Lavemi fits nicely in the palm of your hand as a clutch or in your purse as your everyday wallet.
Yes, it looks pretty, but it's functional, too. It has an ID window with a central cut-out for quick and effortless removal, plus 17 card slots. Carry all of your cash and coins with a zippered pocket for change and three currency pockets.
This wallet is large enough to fit your cell phone, passport, and checkbook. It comes with a detachable wristlet strap. Lavemi constructs all of its RFID wallets with an advanced and unique proprietary blocking material that prevents RFID skimming.
Henley Fox XL Travel Wallet
Henley Fox classifies the size of this travel wallet as "XL" for a very good reason: It's over 9" long. This pushes it a little past wallet-size into the clutch category, which means it's big enough to replace a purse. Yet it's design isn't overly feminine. It's made of genuine cow leather with a striped polyester interior lining.
For the business professional or the head-of-family traveler, the Henley Fox XL Travel wallet is big enough to hold all your travel documents. And it's engineered with RFID protection to keep your cards, bank information, ID, and passport safe.
It comes with so many pockets and card slots that you'll have a hard time filling them. There are two individually zippered sections that hold a cell phone, the family's boarding passes, cash, Air Pods, a notebook, and up to nine credit cards. There is even a dedicated pouch for passports.
It has a handle on top to make it easy to carry and a detachable strap to hang from your shoulder or your neck. 
Protectif RFID Wallet with Zipper
This Protectif Leather RFID Blocking wallet is oh-so-simple in its design with a price that's as minimal as the wallet. The exterior of the wallet has three pockets on one side and a transparent window on the other. And inside? Lots of open real estate with no pockets, compartments, or slots to try to dictate your organizational style.
It's made from premium NAPA leather dyed in your choice of 8 different colors. The wrap-around zipper keeps your cash or stale package of airline pretzels from falling out when you least suspect it. 
The lined interior is as much like a coin purse as a wallet, with plenty of open space inside to get creative. Owners like the smell of the leather and the easy fit into their front or back pockets. It's not particularly cutting edge in its design, so it doesn't pop-out your credit cards with a lever or button like the Secrid and Fidelo card wallets.
But if you're looking for a basic, inexpensive minimalist-size wallet with RFID protection—and a zip-around design—give this wallet a closer look. 
Learn More