The OtterBox wallet for Magsafe is a slim and trim magnetic wallet that attaches to your iPhone 12 or newer It holds a couple of cards and some cash that you can access quickly without removing the wallet from your phone.
Capacity
I generally carry a credit card a driver's license and maybe a little bit of cash. With 2 cards lots in front and a cash slot on the side, the Otterbox MagSafe wallet is perfectly set up to quickly access any of them.
I put the card I rarely use (usually my drivers license) in the back slot and the credit card which I use more often in the front slot.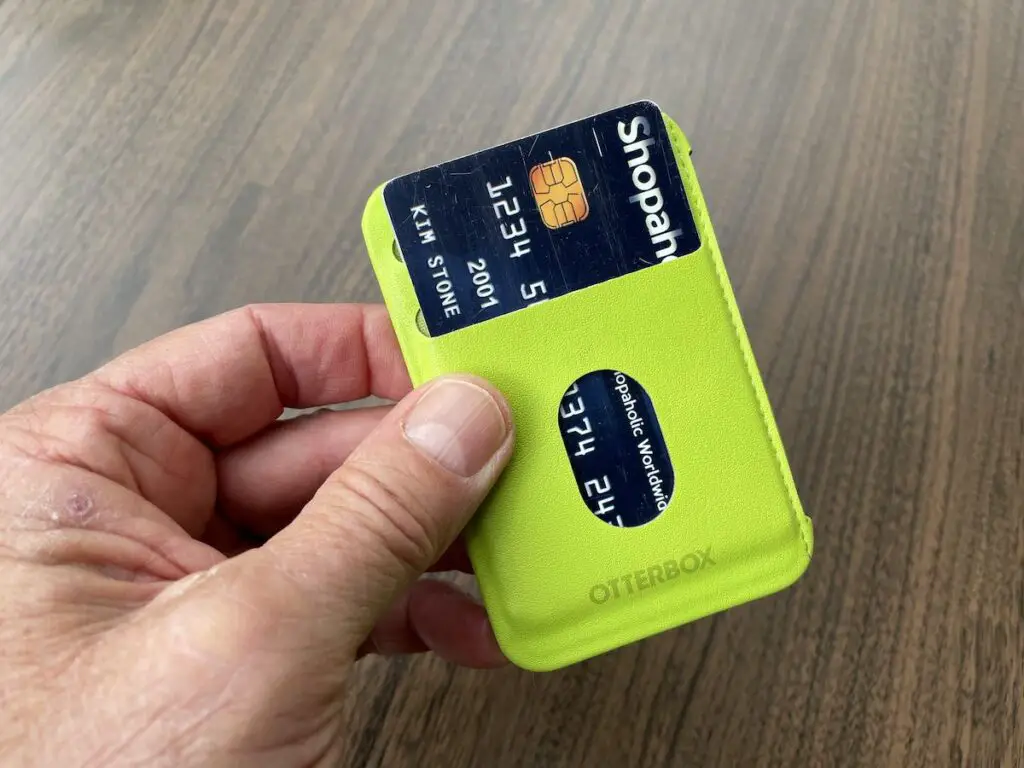 I also like to carry a few bills of cash for emergencies like hot deals on cucumbers at the farmer's market. There's a handy side slot designed just for that. It will also hold a few receipts.
How to use it
With the Otterbox, accessing any of your cards is super simple. First, always put your most used card in front. You can easily access the front card with your finger tips or by pushing it up with the thumb slot.
If you want to get to the card in the back slot just pull out the front card out first.
For carrying cash, there's a handy cash slot on the side. A $10 dollar bill folded over in quarters slips in and out easily.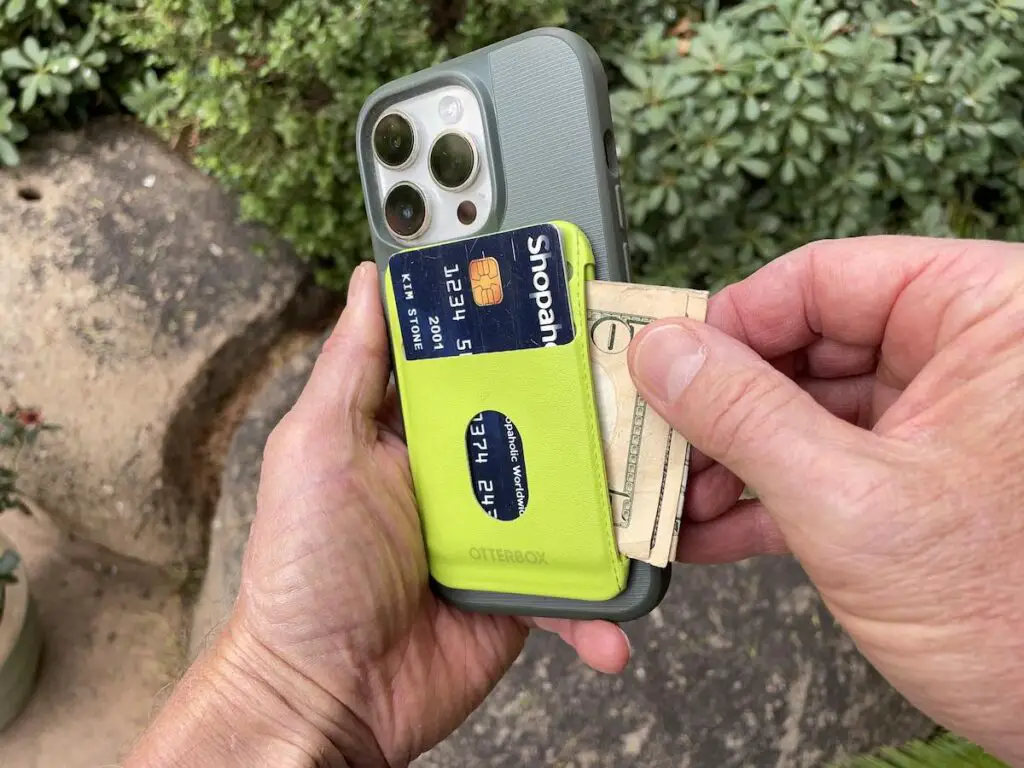 There might be a little dog-eared part of the bill that sticks out if you don't stuff it in all the way. But this makes it easy to use your fingertips to pull it out. Or you can just remove the wallet and use the thumb slot to pull your cash out and then push it back in.
What about receipts? No matter how automated we get, receipts are inevitable. So where do we put those?
The Otterbox MagSafe wallet doesn't have dedicated place for receipts, but you can fold a typical receipt over in quarters or eighths and I'll slip it right in with your cards or your cash. Just remember to empty it when you get home.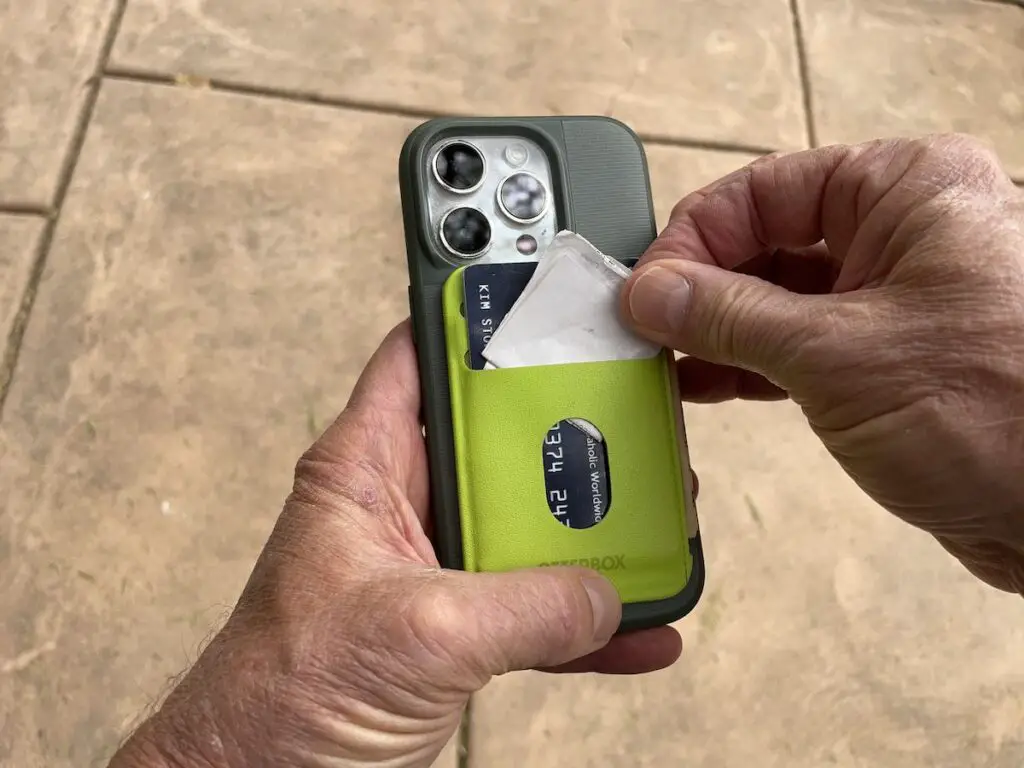 The best feature about the Otterbox wallet is you can access your cards without having to take the wallet off your phone. For me, this is the most basic requirement for any MagSafe wallet.
By the way… the reason I don't recommend the Apple MagSafe wallet is that you have to take it off your phone to access your cards. There's a thumb push in the back, but to access it, you have to take the wallet off first. And… there is no place for cash. It's crazy.
How well does it adhere to your phone?
What I really like about the Otterbox MagSafe wallet is how thin this is. The increased thickness of your phone with the wallet is barely noticeable. This thing stays nice and thin in your pocket you hardly even notice it's there.
The other thing is it's got a really strong magnet. OtterBox says that their Magsafe wallet works best with the four or five Otterbox cases they make.
Well, this may be true.
But in my personal experience, I've used the Otterbox MagSafe wallet on my Peak Design MagSafe compatible case, Apple MagSafe silicone case, and my Moft MagSafe enhanced case. The wallet adheres perfectly to all of them.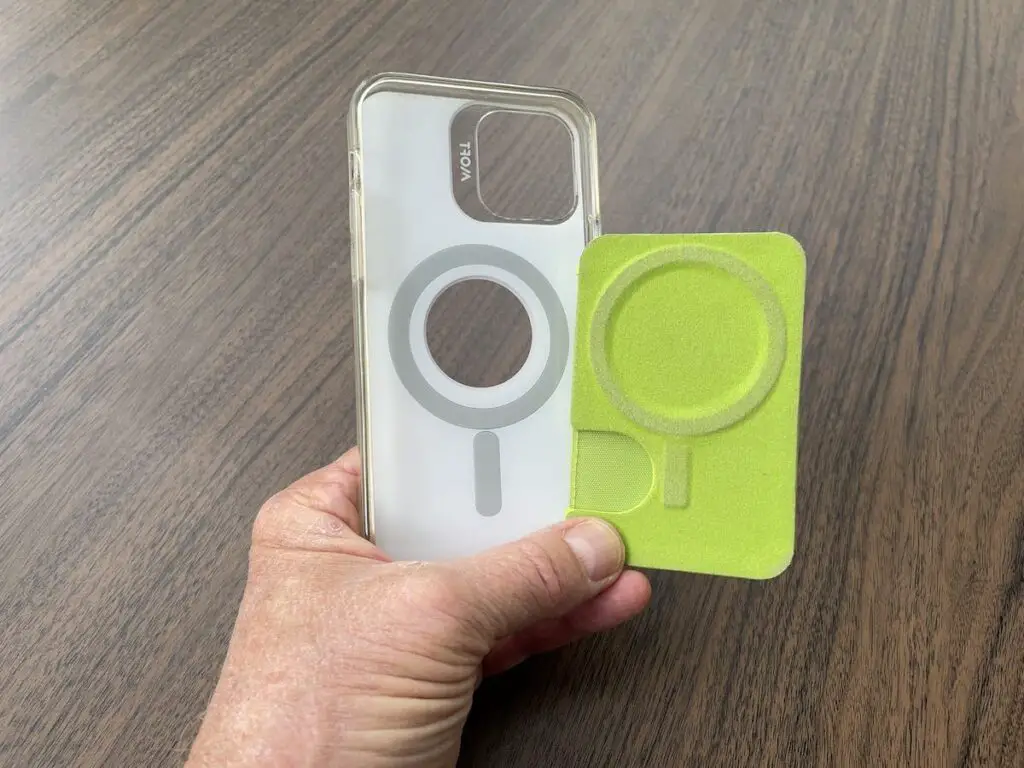 For those of you who like to temp fate and carry a bare phone without a case, it'll also attach equally well to a case-less phone.
There are a 3 ways a MagSafe wallet can fall off your phone.
twisting forces
sliding side to side and up and down forces (shearing forces)
plucking forces
The Otterbox MagSafe wallet resists all of these forces adequately, so there's little chance of the wallet falling off your phone unexpectedly.
Luckily, the most likely place for it to get dislodged is inside the safety of your pocket.
It's safe for your cards
Like all MagSafe compatible wallets, the OtterBox has an Apple-spec'd ring magnet and positioning magnet embedded in it. This mates with a similar magnet in your iPhone or in the MagSafe compatible case.
This is what keeps the wallet attached to your phone. But does the magnet damage the magnetic strip on your cards?
Not with the Otterbox wallet.
It has a shield that protects the magnetic strip on your cards. You would think that this kind of protection would be an industry standard, right? Otterbox is on a short list of companies that has added this feature to their MagSafe wallet.
Cool colors, stout construction
The OtterBox wallet for MagSafe comes in five different colors, all with memorable names. The lime green wallet that I'm demonstrating in this review is "Lime All Yours." There are four more colors to choose from.
The wallet material is faux leather with a rigid backing. It looks and feels like leather, and seems well constructed.
I've been using it now for two to three weeks and it fits great in the front pocket of my Levis. It's nice and thin and the additional thickness it adds to my phone is hardly noticeable.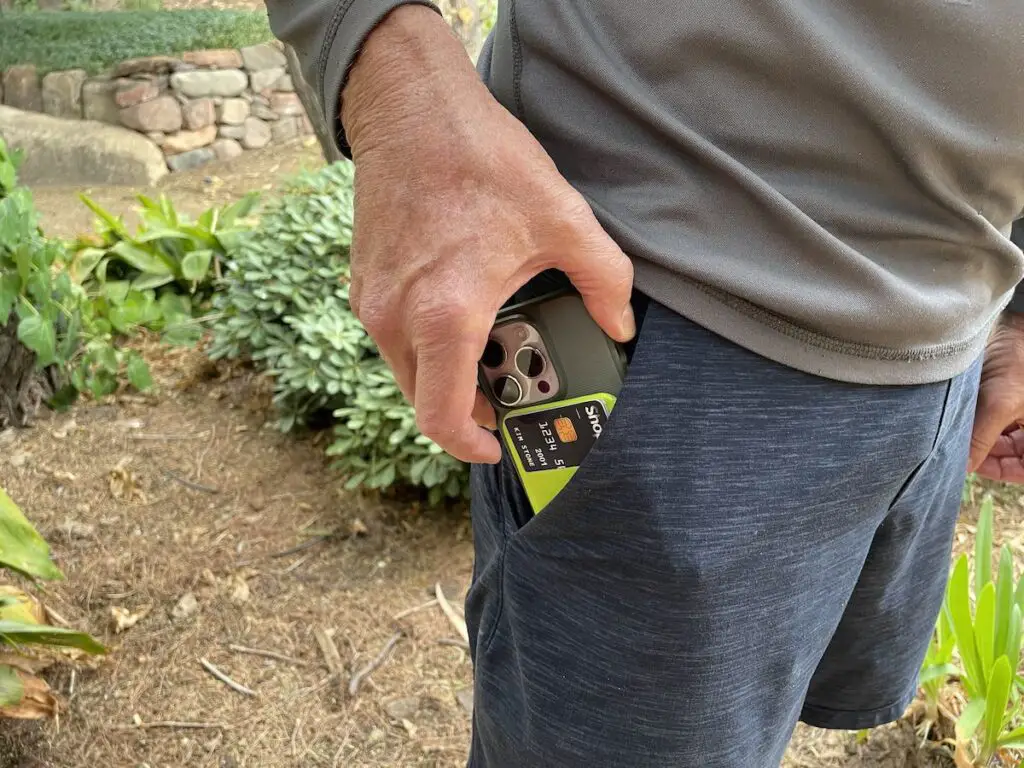 Bottom line
If you just need a basic, no frills Magsafe wallet to carry a couple of cards and a bill of cash, Otterbox wallet for MagSafe is perfect. It stays on your phone and it's relatively inexpensive. There's lots of value for the price.