The Ekster Aluminum Cardholder is a card ejector wallet that pops-up 6 cards from a slim aluminum case. Squeeze the slider button on the bottom and you'll pop-up these cards into a perfect fan.
It's fast, efficient, and it only takes one hand to do it.
These are the 3 things that set the Ekster Aluminum cardholder apart from just about any other.
1. An amazing card ejection system 
With just a quick pull of the slider at the bottom, you can eject up to six cards into a perfect fan. You can use your index finger, pinkie, or anything in between.
The cards pop-up with cards exactly equal distance from each other, and they don't fall out no matter how hard you shake the wallet.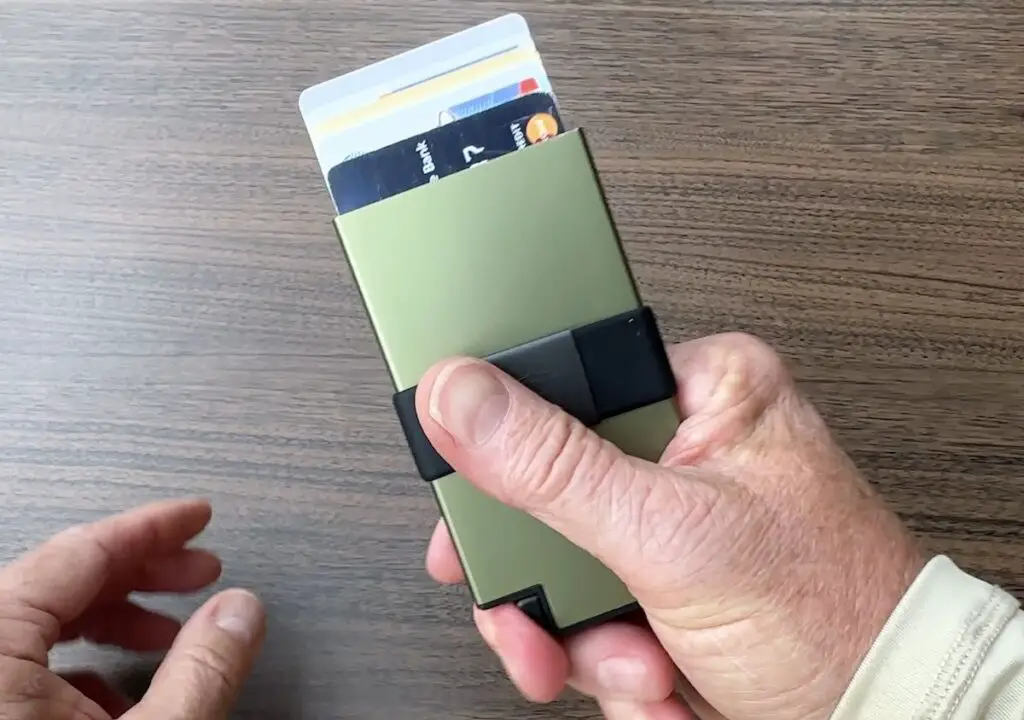 Even if you really wail on the slider and try to launch the cards into the sky, it just won't happen. They stay securely in the wallet.
What if you wanna carry less than six cards you ask? Well, you can do that too. Two or three cards resist a good shaking as well as if you max it out at six.
In my mind, Ekster's ejection system is way better than using a Ridge-style wallet.
Why?
With a Ridge-style wallet, you have to push the cards out with your thumb.
Then you have to pull them out with your finger tips and spread them out. It's a two-handed operation that's clumsy and unnecessary.
With the Ekster aluminum card holder it's a one-handed flick of the slider, pick your card, and stick it back in. 
Flick, pick, and stick. How much easier and more convenient can you get?
2. It's a minimalist card holder, but with a high card capacity
It's thin and compact wallet but will still hold up to 15 cards.
When I say minimalist, I mean that it's downsized so that it's no larger than it needs to be. You just need to carry what you really need and nothing more.
Cash isn't used as much as it used to be, so minimalist wallets have done away with the full lengthy cash slots in old school wallets.  The Ekster Aluminum cardholder just a silicone strap to hold a couple of bills folded over twice.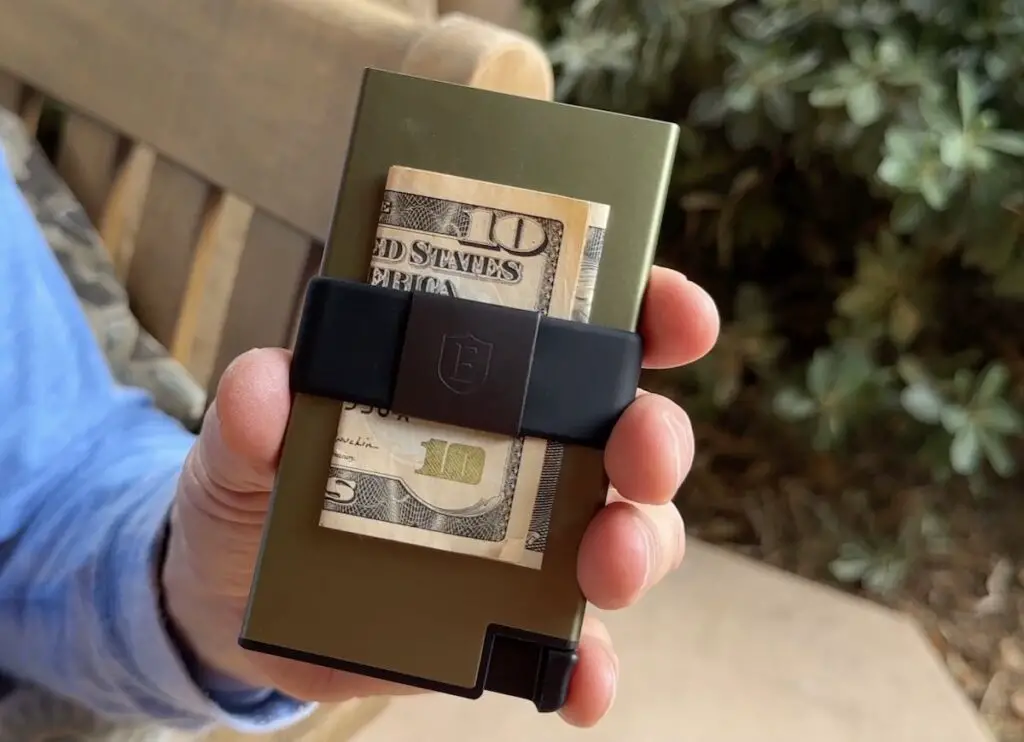 I like to carry a few bills for tipping a valet or for a good deal on cucumbers at the farmer's market.
 It's also a good place for receipts. 
If you're a real card hog (I mean that in the nicest possible way), an aluminum plate on the back will expand to hold 9 cards. 
Rather than using the pop up slider, you push these up with your thumb. Then just fan them out, pluck the card you want, replace it and tuck it back inside. 
So this is more of a push, pluck, and tuck. With the card ejector it's more of a flick, pick, and stick. 
Under this backing plate is where you stash the cards you rarely use, like medical, insurance, auto club cards and fake IDs.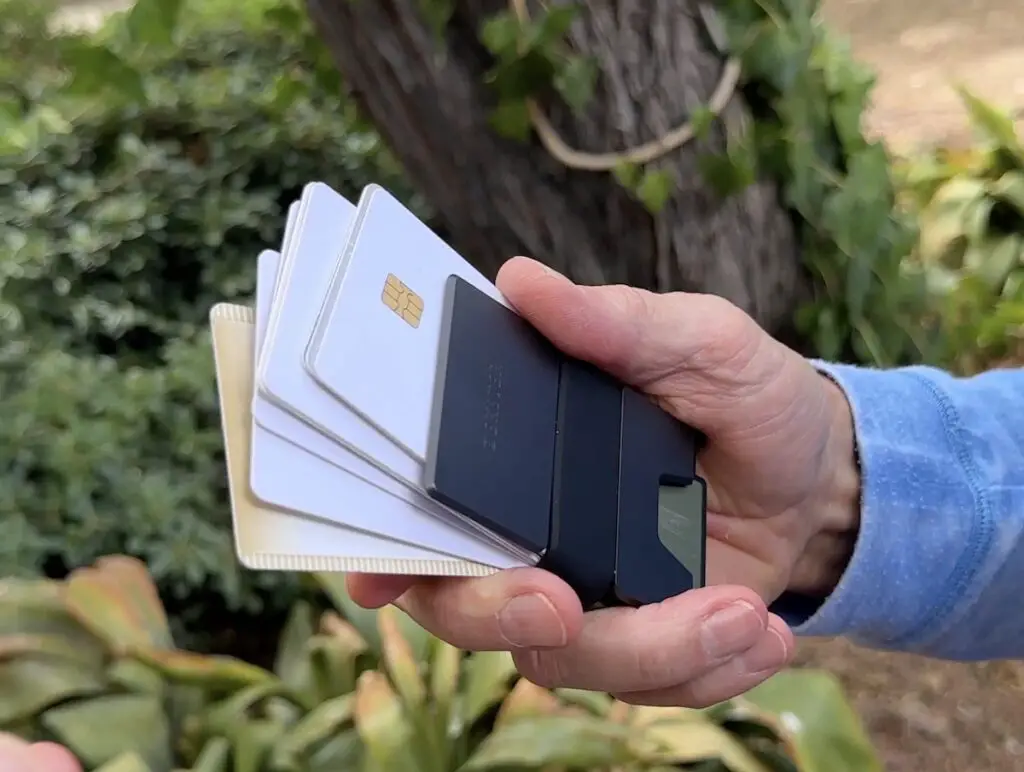 If you want to make the cardholder even slimmer you can take off this backing plate and just put the silicone band on to the bare aluminum card holder. 
Personally, this is the way I like to carry it because I really don't need the space for all those extra cards.
3. 14 different colors of aluminum plus two made from carbon fiber
It's available in 14 different colors and you can even get it made from carbon fiber instead of aluminum.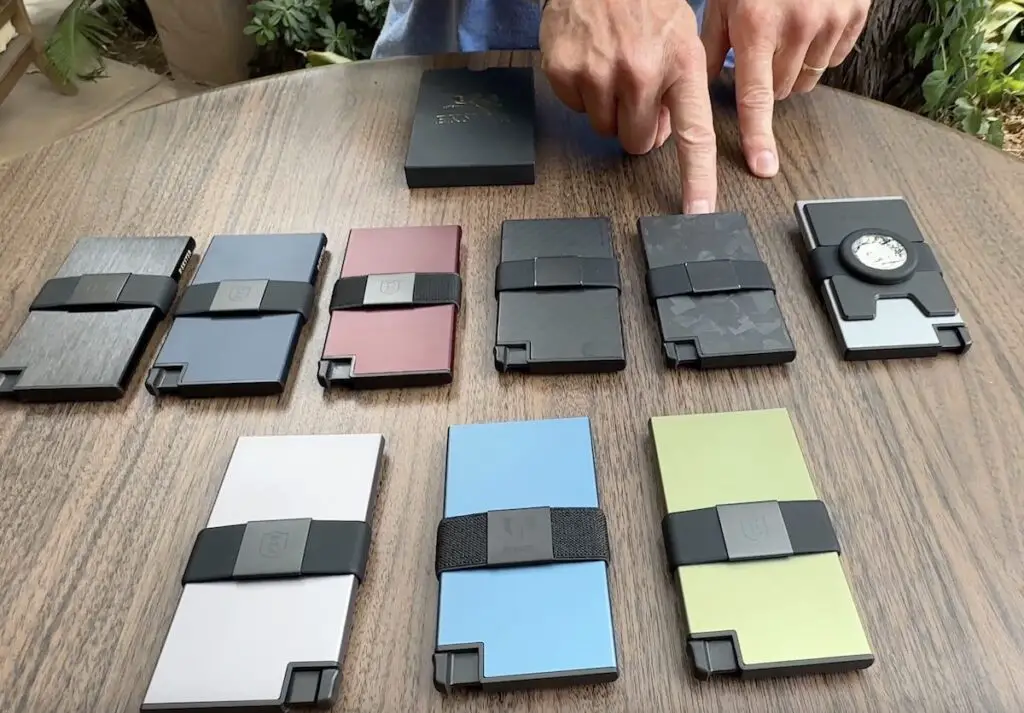 If you want to make it unloseable, you can also buy the Airtag version of the cardholder. It has identical design and functionality, but with an AirTag holder integrated into the silicone band.
If your lottery winnings are burning a hole in your pocket, you might also consider the 18k gold version. (I have this one under lock and key.) 
All versions of this wallet are easy to carry in either of your front pockets. 
The Ekster aluminum cardholder is slightly longer in length than some other card holders because of the incorporation of the ejection mechanism. 
But it's still really narrow and thin. 
And the truth be told, most front pockets have more room up and down than they do side to side, so the extra length isn't really noticeable.
Just one minor downside…
The only real issue I found with the Ekster  aluminum card holder is that if I carry it in my pocket next to my phone, I can potentially scratch the phone
And if I put it in my other pocket with my keys, the keys, because they're made of steel,  will inevitably scratch the aluminum of the wallet.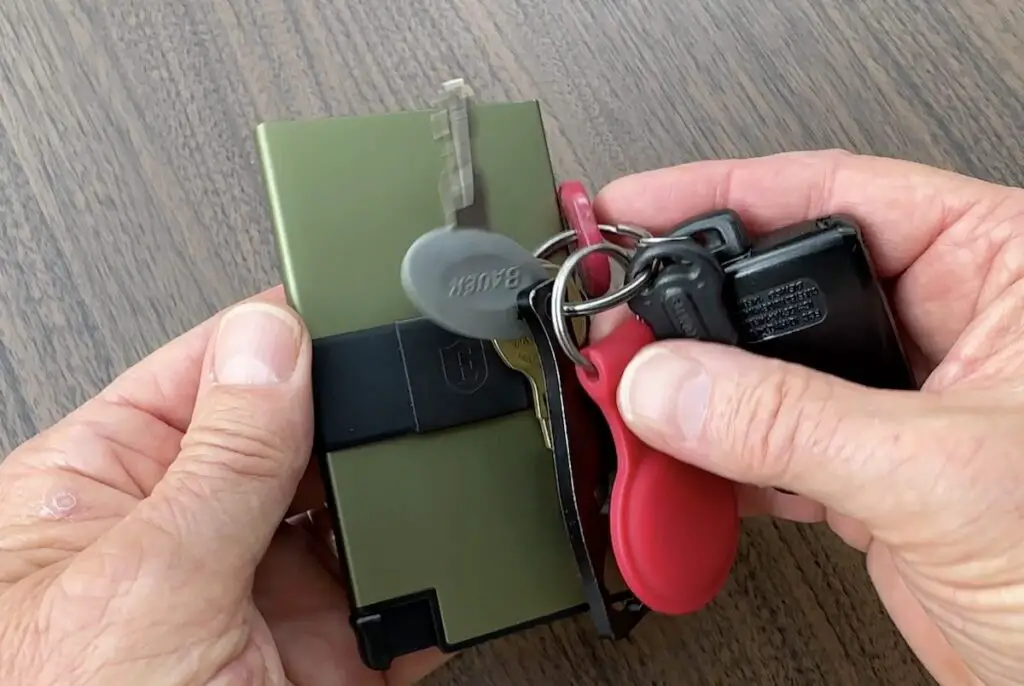 The solution for this might be to go for the Ekster Senate or Parliament wallets. They also have the same card ejector mechanism, but they're wrapped in nice, soft, supple leather. 
The leather definitely won't scratch your phone but it's possible that your keys will scratch the leather. 
What can I say, no pocket is perfect. 
The Ekster aluminum card holder retails for $90. But I have never seen a single day go by without Ekster having some seasonal sale going on where you'll save at least 20%.