The Vera Forma Leatherworks Commodore wallet is one of the best affordable full grain leather wallets on Amazon. It uses vegetable-tanned leather sourced from the Conceria Il Ponte tannery in Tuscany. Depending on the size you choose, there are between 4 and 8 card slots with room for cash.
And it's only $40.
Vera Forma Leatherworks designed this wallet in Canada and hand-crafted it in Bosnia and Herzegovina. Three sizes (Minimalist, Slim, and Ultra Slim) are exclusively sold on Amazon, which means you get free shipping if you have an Amazon Prime membership. 
Amazon Prime Day is July 12 and 13 in 2022. Even if you don't have Amazon Prime, you can get a free trial 30-day membership that gives you all the Prime benefits. I wrote a post about how to do that here.  
Commodore Slim version
All of the Commodore wallets are made from deliciously fragrant vegetable-tanned, full grain leather. The slim version has 6 card pockets and a cash slot that handily fits Euros or USD bills.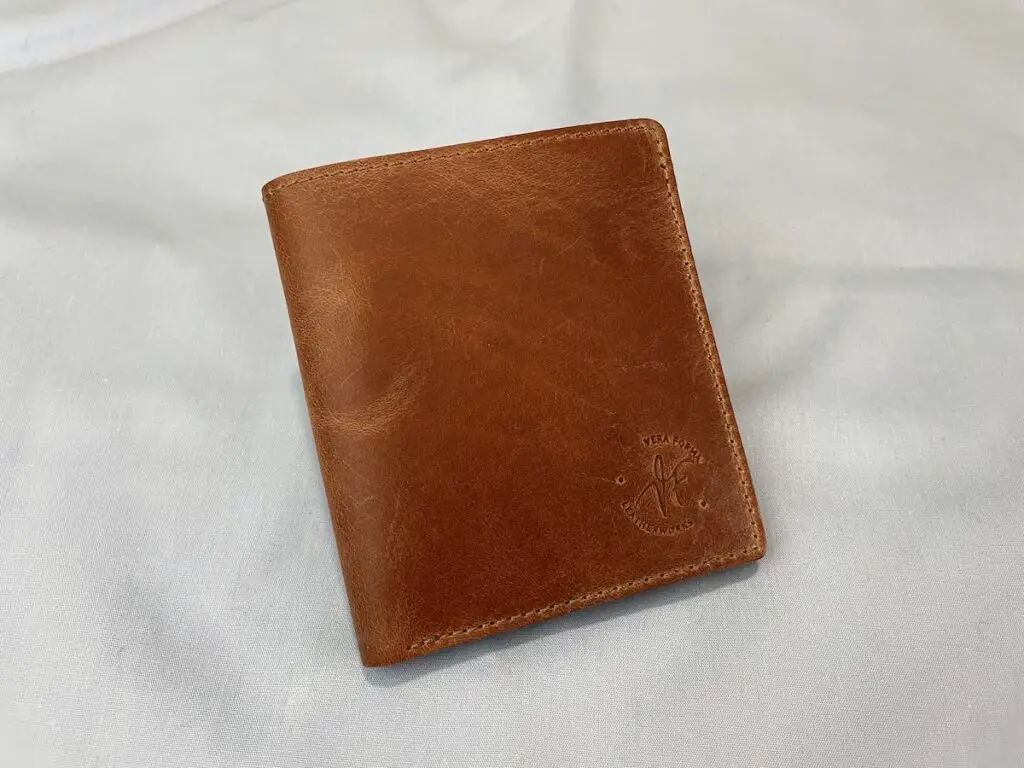 There are no space-hogging RFID linings or any other additional materials that would increase the thickness of the wallet. The Commodore Slim is made from full-grain leather with simple, secure stitching to hold it all together. 
It's about as simple of wallet construction as you can get. No more or less than you really need. 
You can easily fit one card in each slot, which keeps the wallet delightfully thin. If you must, the slots will hold 2 cards each, but that's probably twice what you really need to carry. More cards will also increase the thickness of the wallet accordingly. 
Also, because it's leather, trying to jam too many cards in the card slots will stretch out the leather. Over time, this might make the slot too loose to securely care just one card. That's not a fault of the Commodore—it's the nature of all leather.
As a comparison, the size of the Commodore Slim is just about the same as the Bellroy Note Sleeve. But the Commodore uses better quality and thicker leather. And costs about 50% less. It really like the way it fits in my front pocket.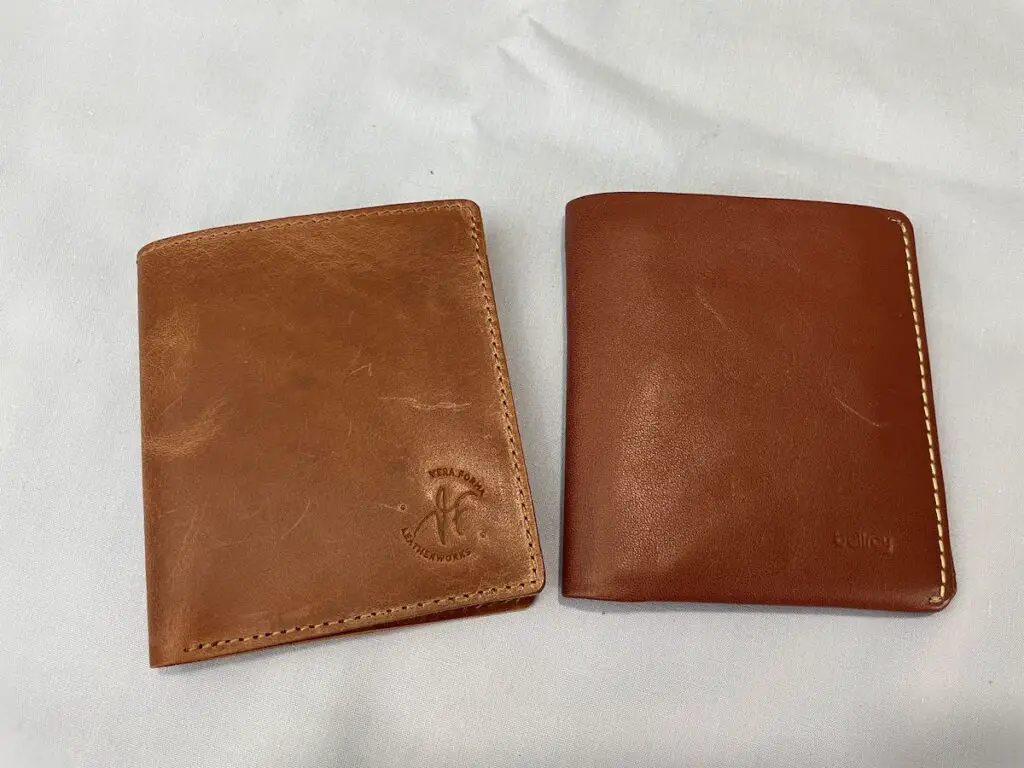 The Commodore Slim (left) is almost identical in size but half the price of the Bellroy Note Sleeve (right). Photo: Kim Stone
The Vera Forma Leatherworks seal is stamped into the lower right front corner, which gives it a nice European monogrammed feel. 
Commodore Minimalist version
The Commodore Minimalist is more of a credit card wallet with 8 card slots, 4 on each side.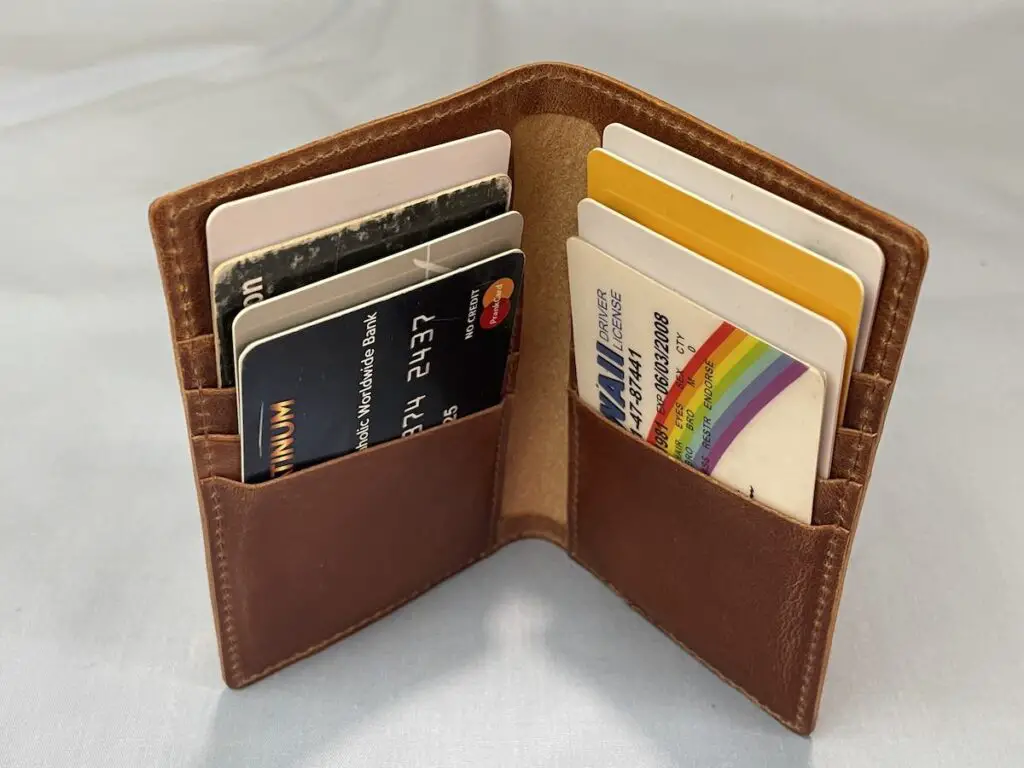 The biggest difference to me is the dramatic difference in shape. The Commodore Minimalist feels more like a dedicated card wallet. It is much taller than wide, which allows it to fit in front pockets more comfortably. 
It's narrow enough that I can fit it next to my iPhone 12 Pro in the same pocket. The medium version of the Commodore is more squarish, which means that it has to fit over or under my phone. So, in a certain way, the Slim feels more compact than the Minimalist size.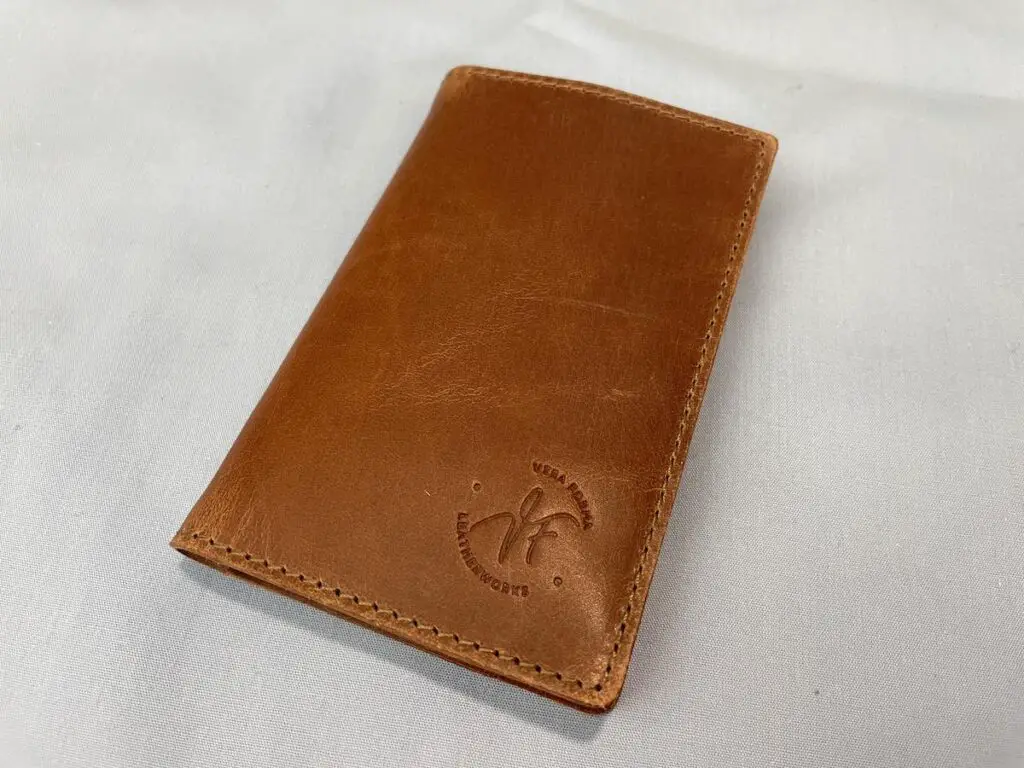 With the Minimalist, you also lose a dedicated full length cash slot in favor of two slots that will handle a cash bill folded over twice (in quarters). There is also room for receipts, or a spare key, memory card, or a guitar pick. 
The shape of the Commodore Minimalist reminds me of the Ekster Senate and Parliament wallets. The biggest difference between them is that the Ekster is a pop-up card ejector wallet. Its internal mechanism and solid aluminum case make it over twice as thick as the Commodore.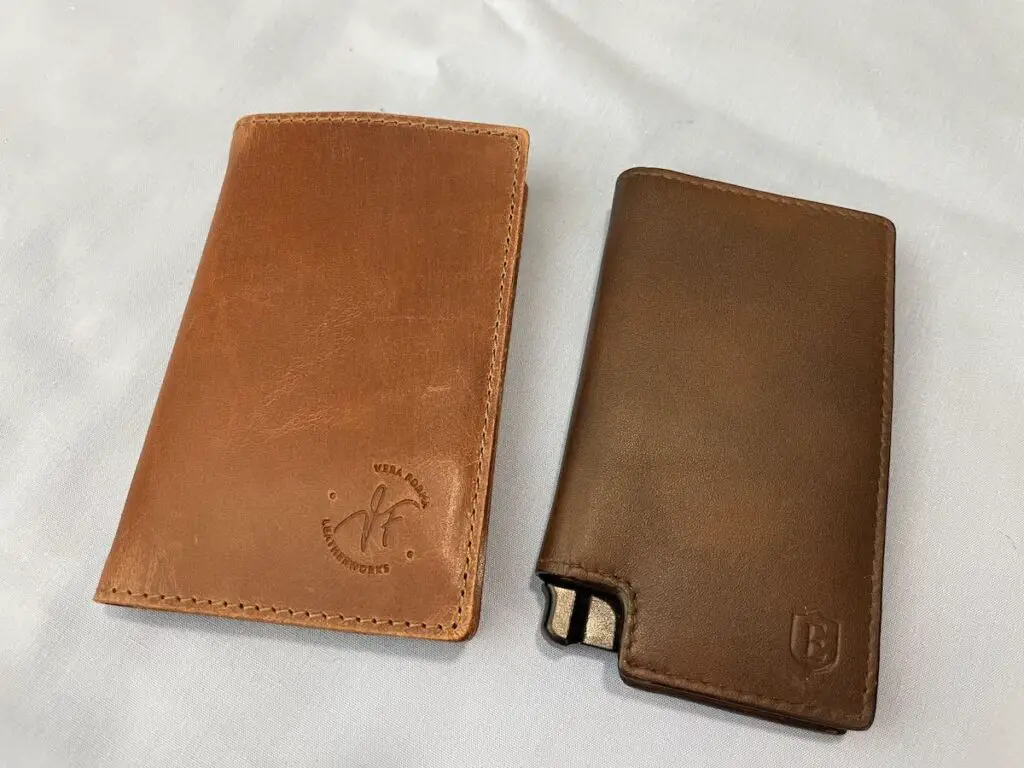 Should you get it?
To be honest, I was sold on both these Commodore wallets from the moment I opened the box and smelled the sweet fragrance of the natural, full-grain, vegetable tanned leather. I review a lot of wallets, and the leather quality of this wallet is as good as it gets.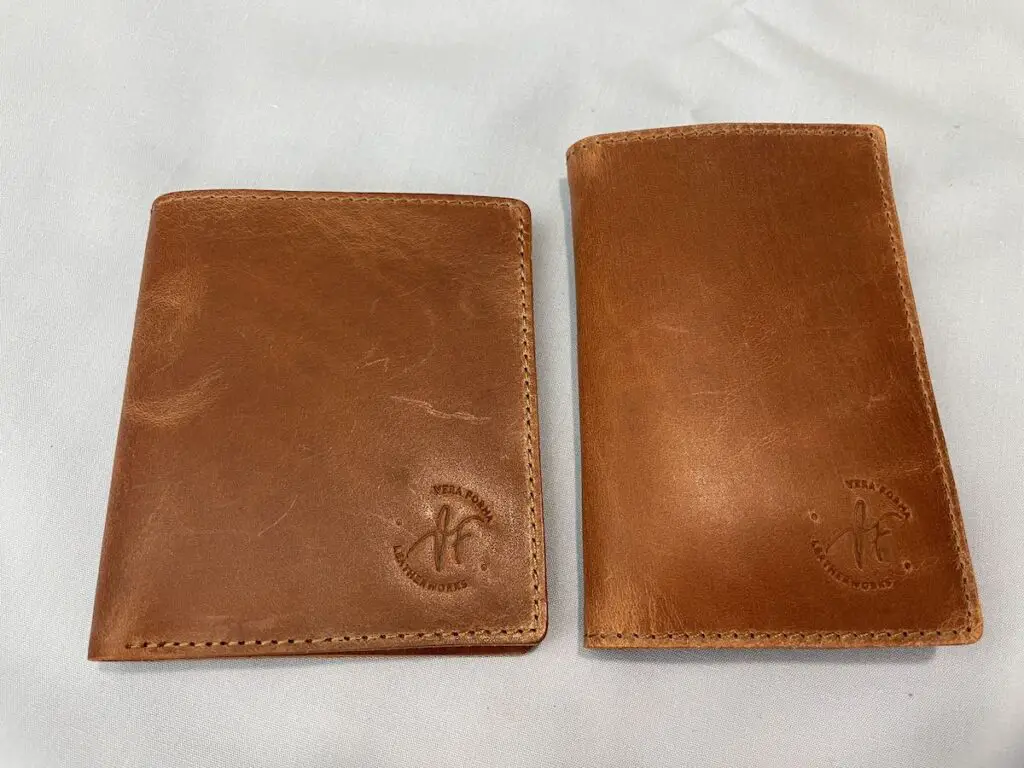 The design is super simple, with just beautiful leather and strong stitching. The edges are nicely burnished with no fraying of stray leather fibers. Some high quality wallets, like Secrid, sport the leather "fresh cut" look. But I prefer the burnished and more finished look.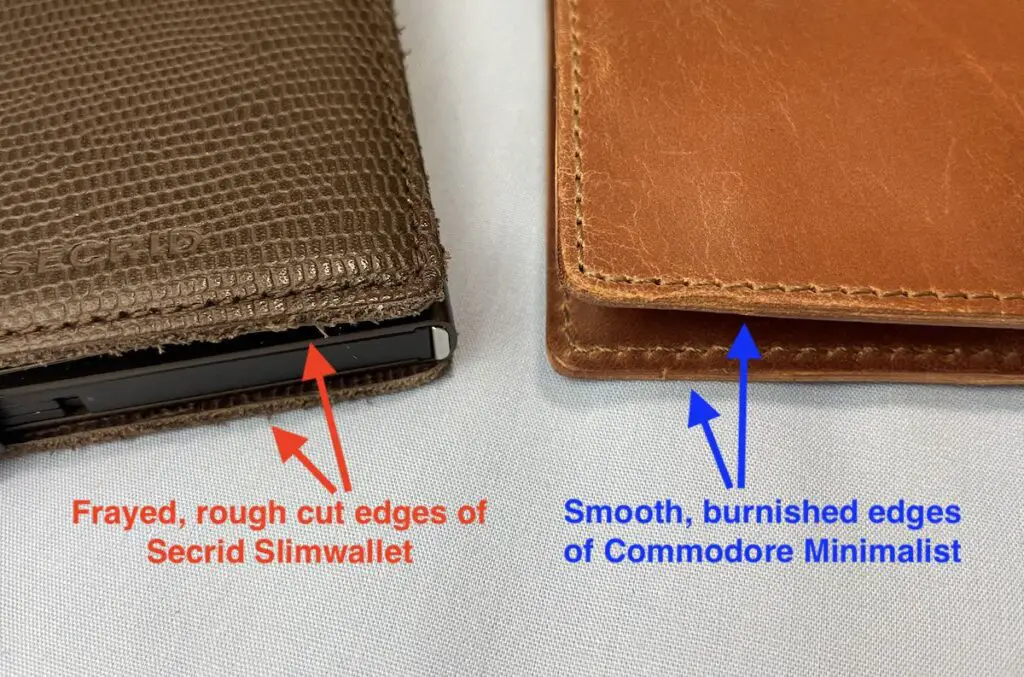 Lastly, this kind of leather will age gracefully as you carry it over the years. Whether you want it to or not, it will develop creases, bends, and a natural patina that will reflect your character and personality as you carry it. The best quality leather always does that.  
It has an old-world quality without the unnecessary bulk. As long as you don't overload it with cards, it's as slim of a wallet as you'll ever carry. 
Which to choose: the Slim or the Minimalist?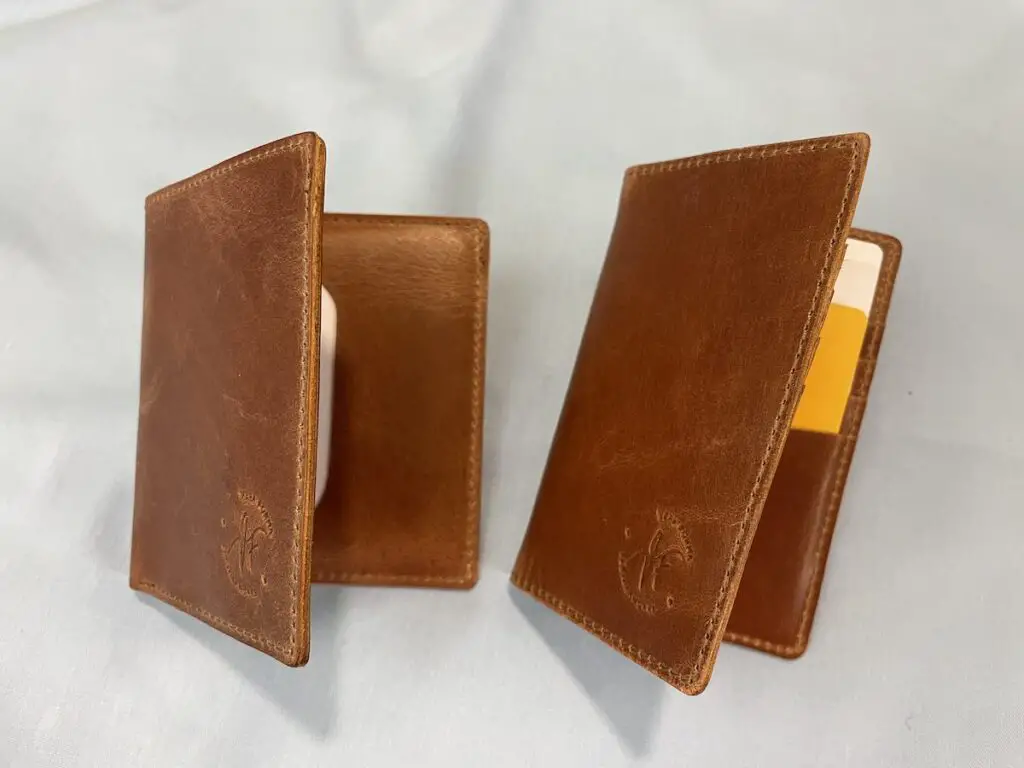 I'd choose the Commodore Slim if you want a more traditional wallet that stays super slim, even when loaded with 6 cards and cash. Because of the way the cards are arranged in the slots, this wallet is much thinner than the Minimalist, even with the same number of cards. 
If you want more of a card style wallet that stands taller but with a narrower profile, I'd go with the Commodore Minimalist. This style fits a front pocket better, especially if that's the same pocket where you carry your phone. 
There is also an Ultra Slim version with just 4 cards slots that's built much like the Minimalist. But since I've never tried that wallet, I'll leave it for another review. 
At $40, either of these wallets will be some of the best money you ever spent.
I want to thank Vera Forma Leatherworks for sending me samples of the Minimalist and Slim versions of the Commodore, because otherwise, I would have no idea they even existed.