Bellroy Note Sleeve Wallet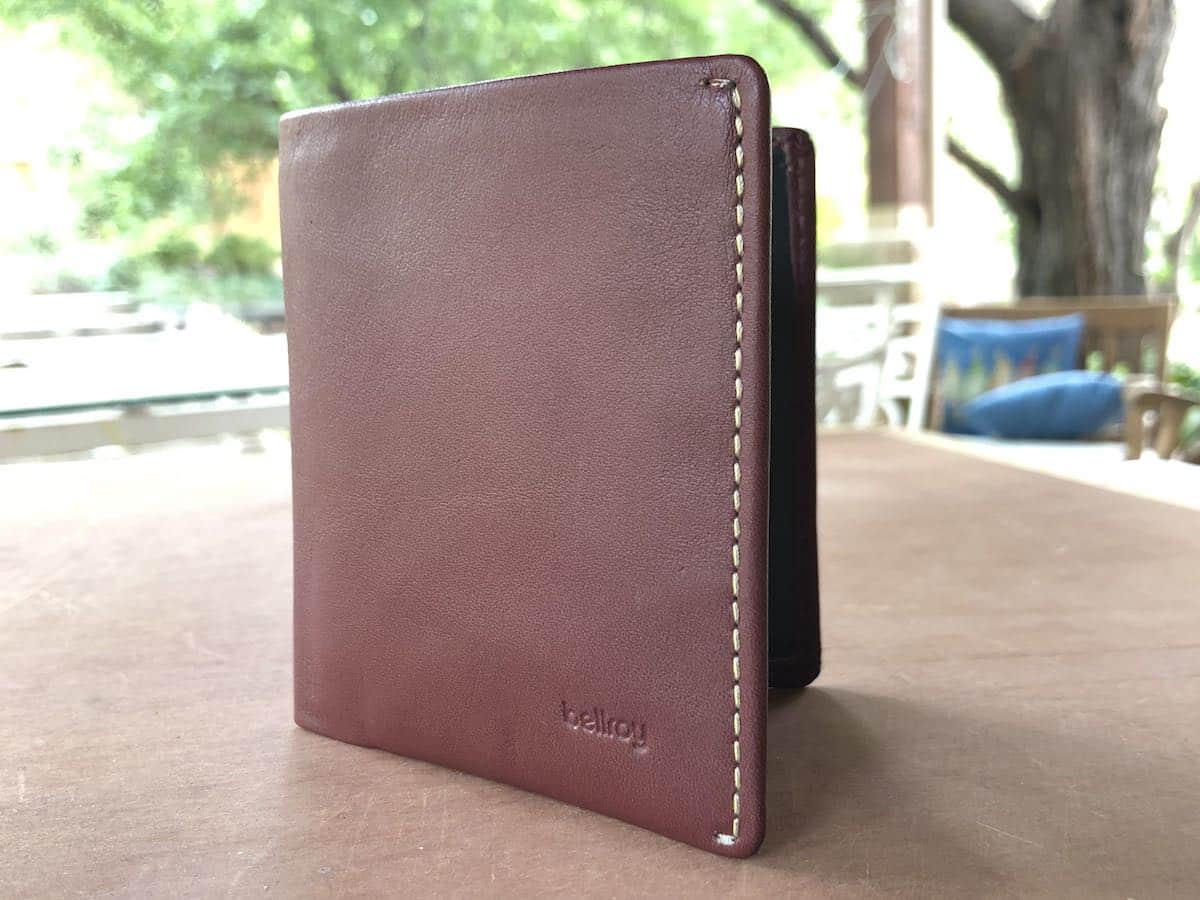 Summary
The Bellroy Note Sleeve is a classic because of everything it can hold while maintaining a slim profile in your pocket. It handles flat bills from most countries and sports a hidden coin pocket for coins or a spare key. All with a pull tab for quick access to 2 cards with more storage area for another 9.

1. Made from environmentally certified premium leather
Where does the leather come from?
The Bellroy Note Sleeve is constructed from premium leather. In the last year or two, Bellroy started using ECCO hides produced in Gold-rated LWG tanneries.
That's a mouthful, but what it means is that ECCO tanneries are certified because they meet high environmental standards.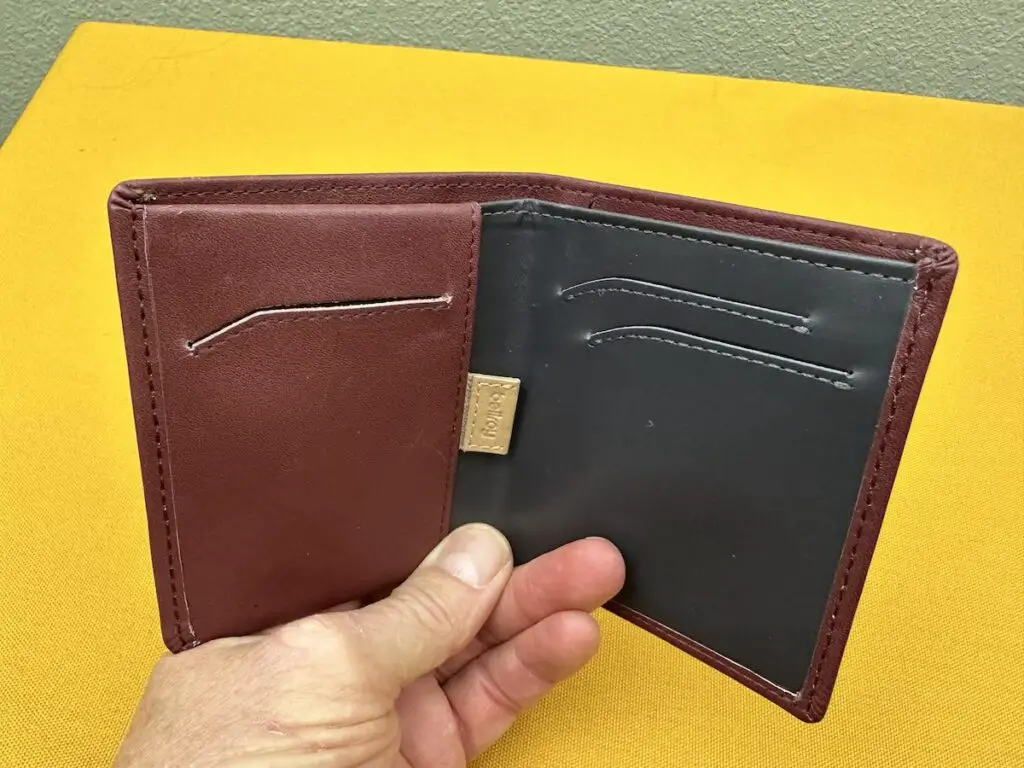 The leather for the Note Sleeve is chrome-tanned (rather than vegetable tanned) and sourced from four different ECCO tanneries located in Indonesia, Thailand, China, and the Netherlands.
FYI: Ekster wallets also made the switch to ECCO leather in October 2020.
The Netherlands tannery uses something called Dri-Tan technology, which is a water-saving process that uses the existing moisture contained in each hide. Only the premium version of the Note Sleeve uses leather from this tannery.
Construction
Is it top-grain or full-grain leather? Well, Bellroy is purposely vague about that, choosing instead to call it "premium leather." It is dyed all the way through with a choice of nine different colors.
My only reservation about the leather is that it is fairly thin. This helps to keep the wallet slim, light in weight, and flexible, but it also seems it could be more vulnerable to wear and tear over time.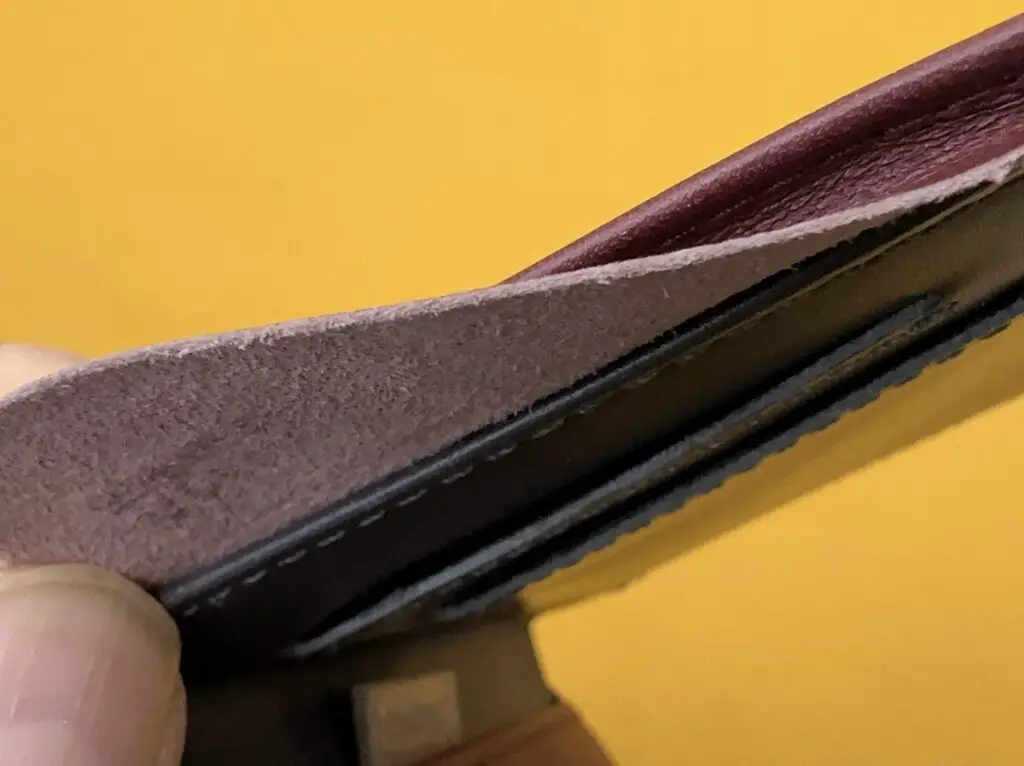 The Note Sleeve is lined with a synthetic lining that blocks RFID skimming. This lining is sewn directly to the leather, which undoubtedly reinforces the leather and adds to the Note Sleeve's overall durability. The stitching is tight and accurate.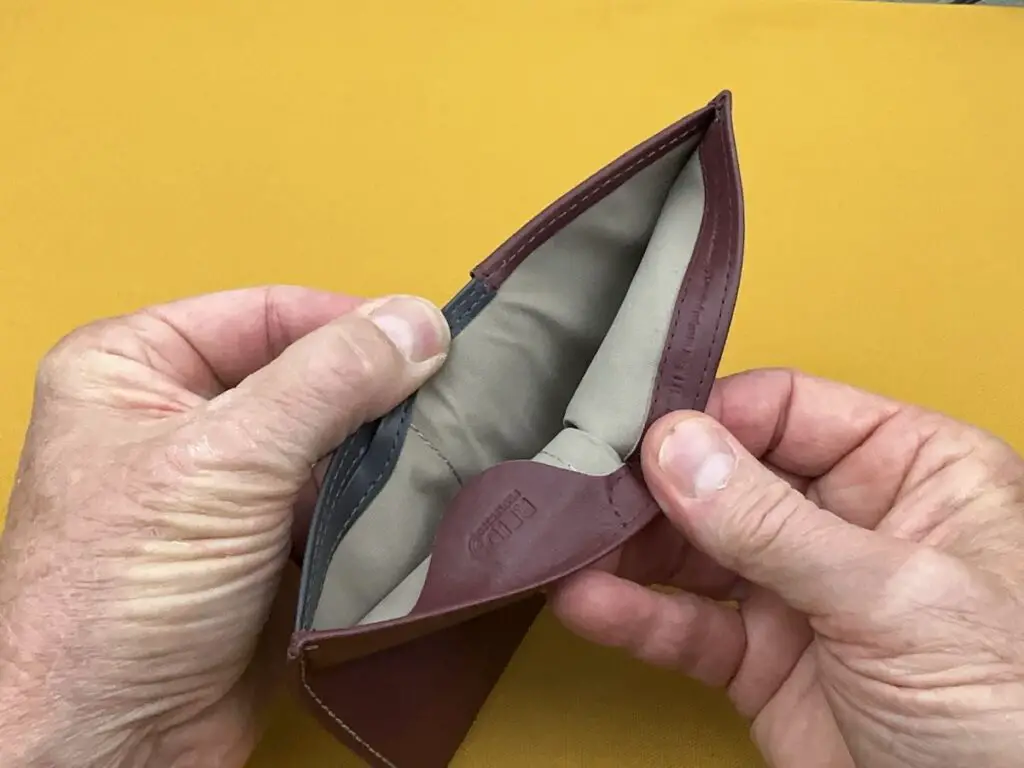 Just in case something goes awry, there's a 3-year warranty for all Bellroy products.
Here is the fine print:
This warranty covers faults in materials and workmanship and doesn't apply if damage is caused by unreasonable use or neglect, normal wear and tear, or if you change your mind.

Bellroy
If you want to go vegan and avoid leather altogether, Bellroy also offers the Note Sleeve with two different colors of water-resistant, 100% recycled nylon that has a woven, natural look.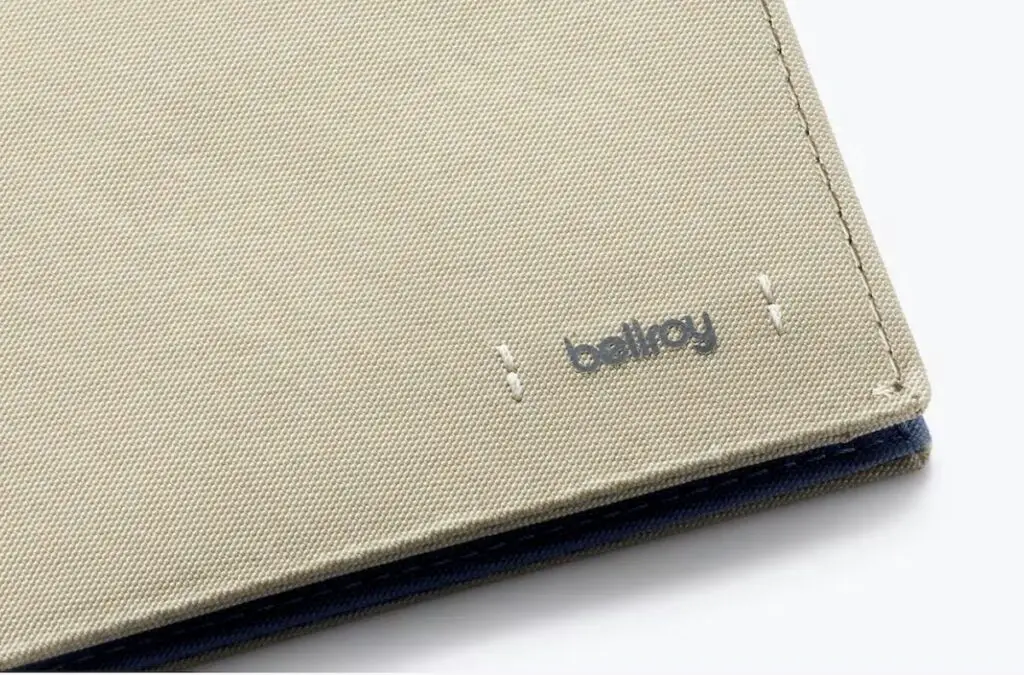 2. Ultra slim profile
I'm not completely sure about how Bellroy pulled this off, but the Note Sleeve is one of the thinnest bifold leather wallets you can buy. Even when fully loaded with credit and debit cards, gift cards, and cash, it still has a slim silhouette in your pocket.
Part of the reason is because the leather and lining is fairly thin and flexible. Also, there are no unnecessary internal dividers, fold-over seams, money clips, or other clutter.
The hinge of the wallet folds out in a V shape when it is fully open. This leaves a space for the interior compartment that hold the cards to fold into it when you close the wallet.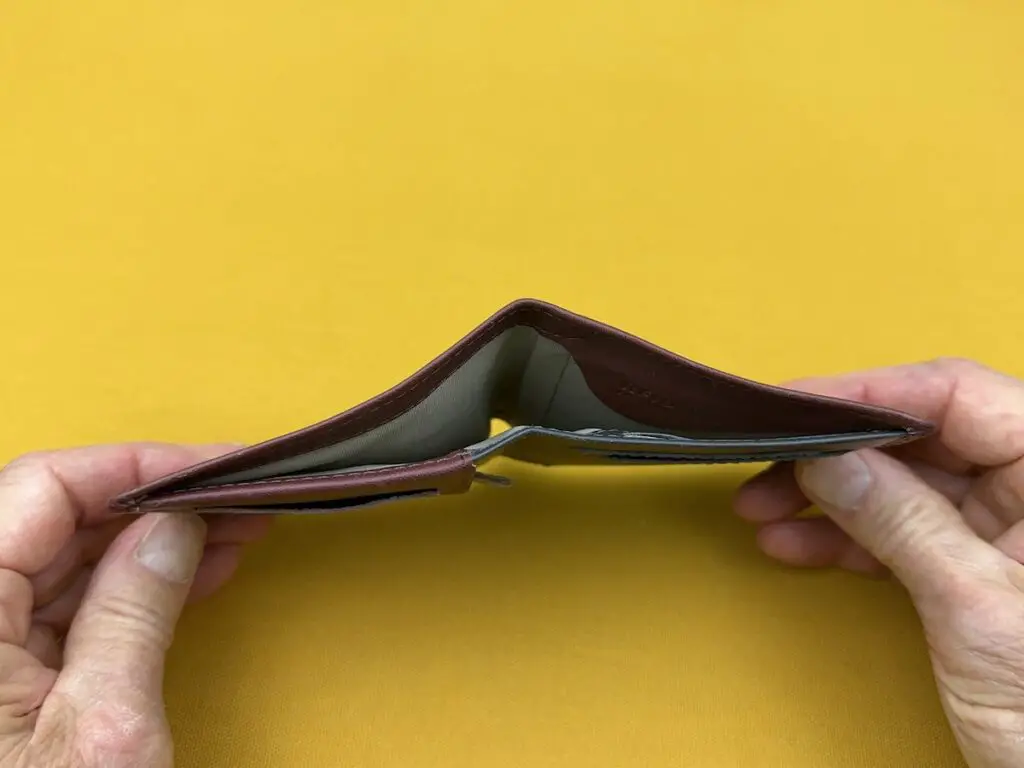 In many leather bifold wallets, the hinge is the thickest part of the wallet. They often feel stiff, too, which means the wallet sometimes won't stay closed until the leather gets broken in.
Not so with the Note Sleeve. It folds up nice and tight, even with 6 cards and 4 or 5 notes of cash. It feels feather light, too–not cheap–just no heavier than it needs to be.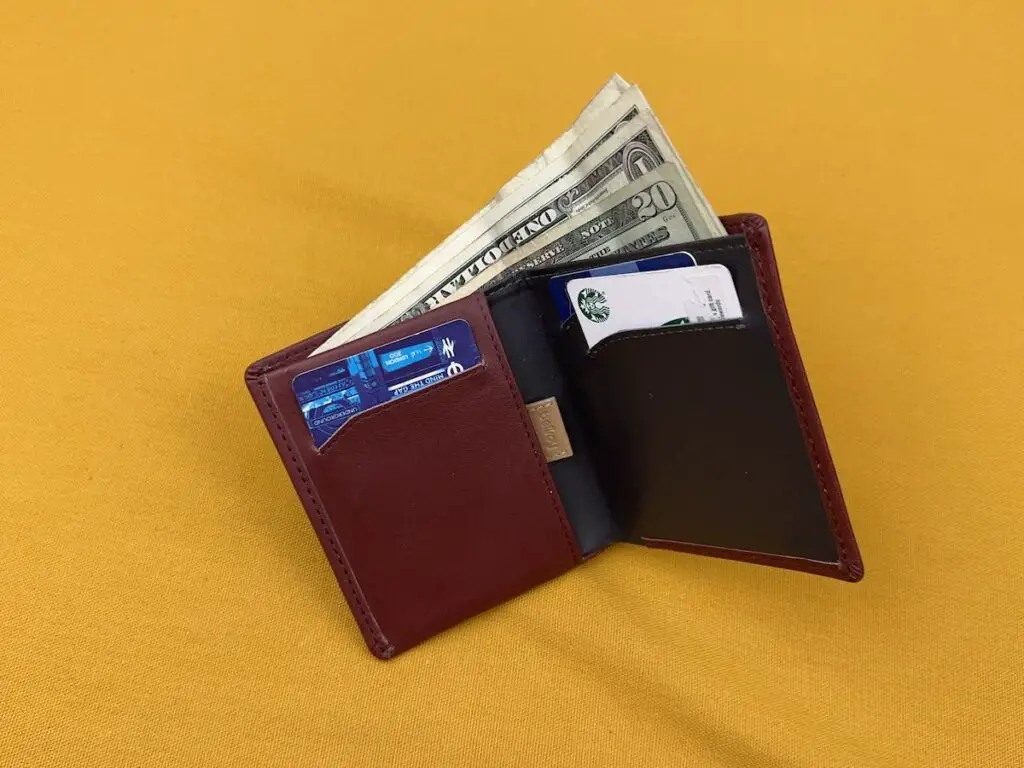 I also like that fact that the wallet is more squarish in cross section, measuring 4″ x 3.5″. It fits in my pocket better than conventional bifolds that are somewhat longer and narrower, like Bellroy's Hide and Seek.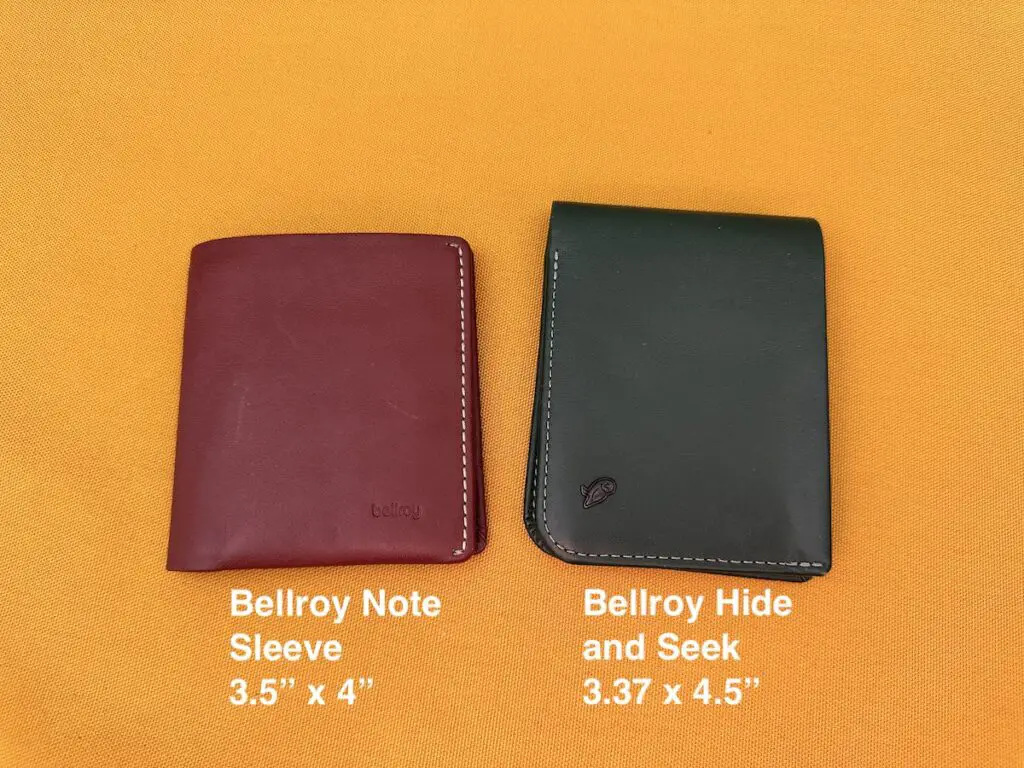 When compared to most other leather wallets, the Note Sleeve definitely qualifies a minimalist wallet.
3. Quick-access slots with a pull tab for cards
I have a bias for a quick access area for my most often used daily cards. That's why I gravitate towards pop-up card ejector wallets like those made by Ekster and Secrid.
However, these types of wallets all have a mechanism that will eventually wear out.
The next quickest and most efficient way to access your most frequently used cards is with the convenient pull tab. The Note Sleeve uses one of these easy access to 2 – 3 of your most used cards.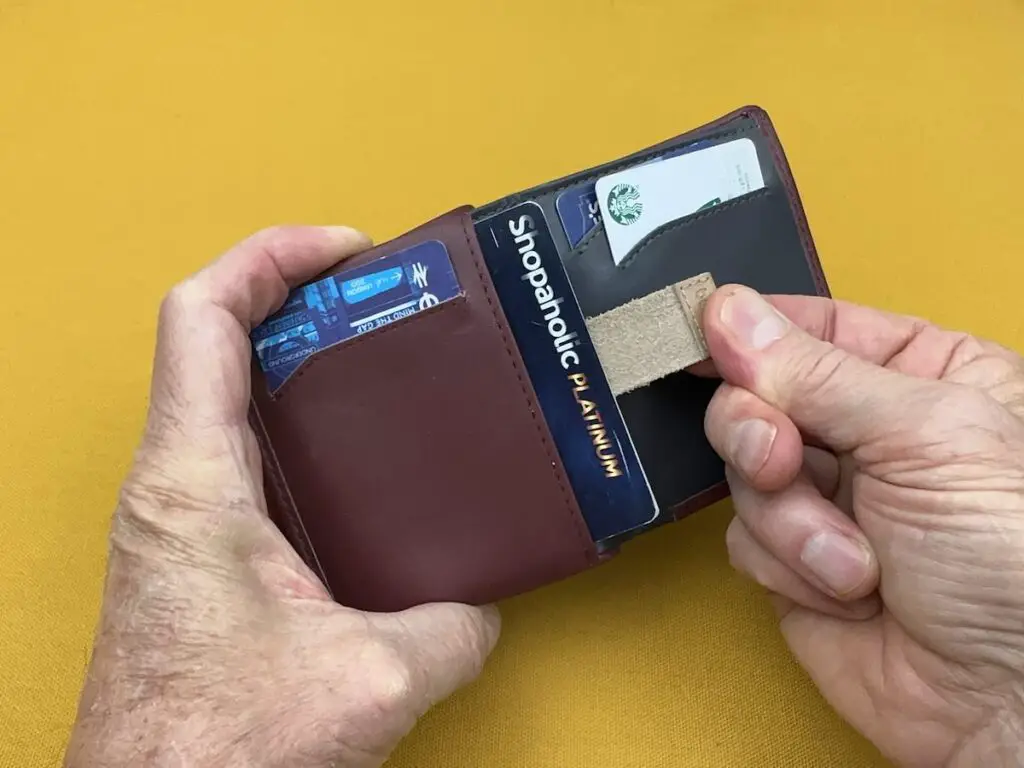 Bellroy recommends that the 3 cards slots in the Note Sleeve (one on the left and two on the right) be used as easy-access slots, reserving the pull tab for less-used cards.
But I disagree.
I put my 2 most frequently-used cards in the interior slot with the pull tab. I've always thought that trying to dig out a card from a card slot with my fingertips is clumsy and kind of chore. Not-to-mention, old school.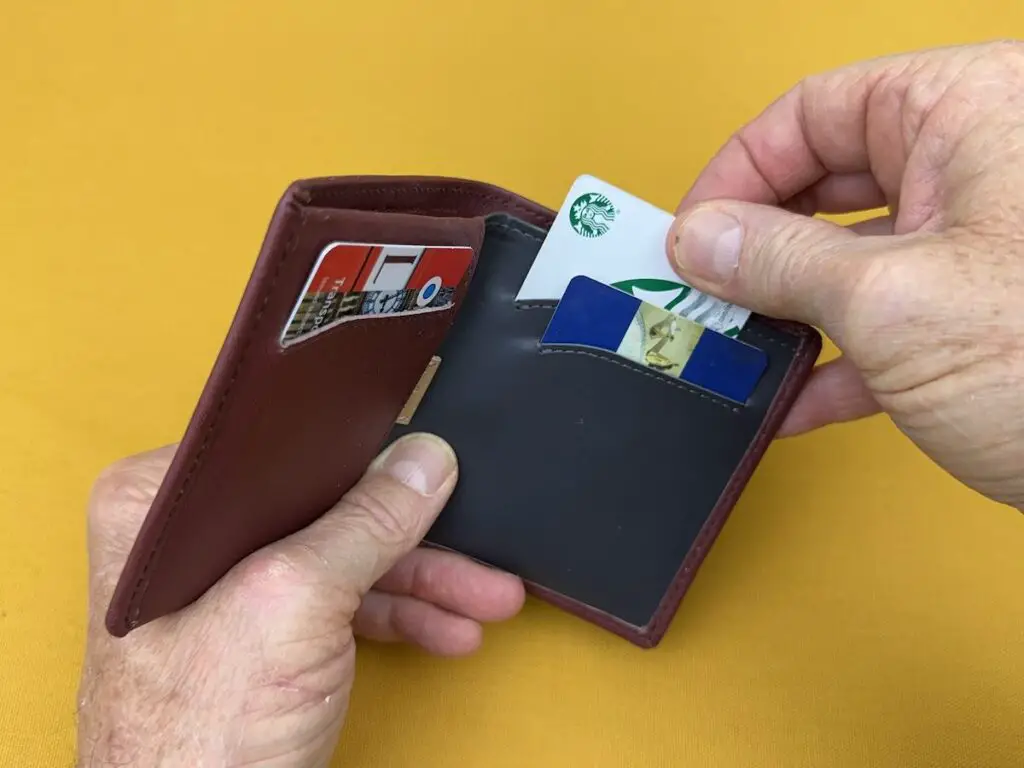 The card carrying capacity of the Note Sleeve is 11, but I'm much more comfortable carrying half that many. Fewer cards also keep the wallet as slim, thin, and compact as possible.
I only wish Bellroy had added another non-RFID protected slot to the outside of the wallet so I could use a transit pass, gym pass, or hotel key without having to remove the card first.
4. Holds flat bills
The Note Sleeve is designed for someone who likes to use cash as much as cards. It has a dedicated slot that fits full length bills from just about any country. USD, Euros, British pound– yes, they all fit nicely.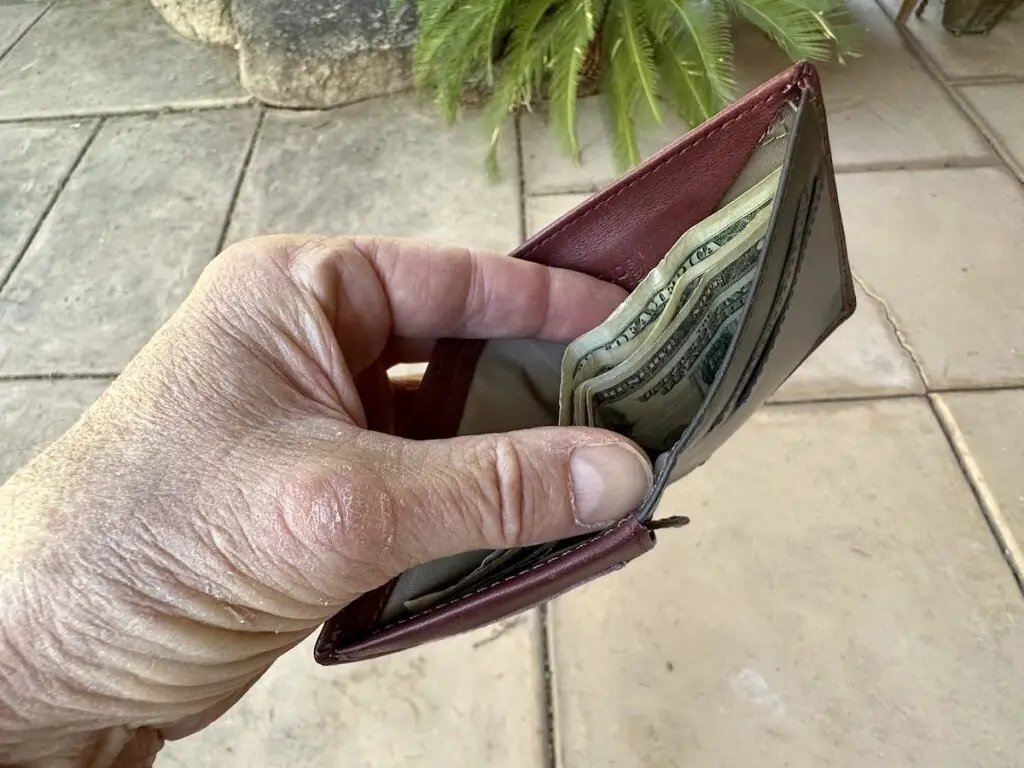 Most minimalist cardholder wallets like the Aviator and Rossm will also hold cash, but there's an extra step because you have to fold them over twice (in quarters) to make them fit.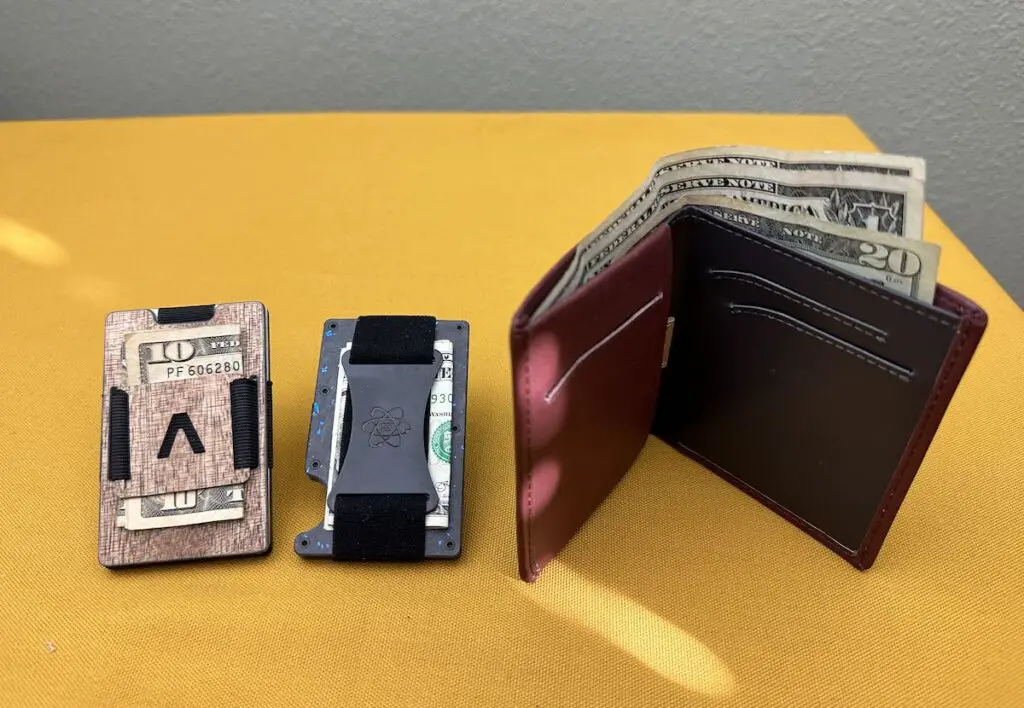 If you're a cash-centric person, the Note Sleeve is more user friendly because you insert them flat, so you don't have to unfold and refold your bills during each cash transaction.
It will easily hold 5 or 6 bills without too much added bulk. Because they're laid out flat, it's easy to leaf through them to find the denomination you want. This leaves room for more cards than you'll ever need on the card slots.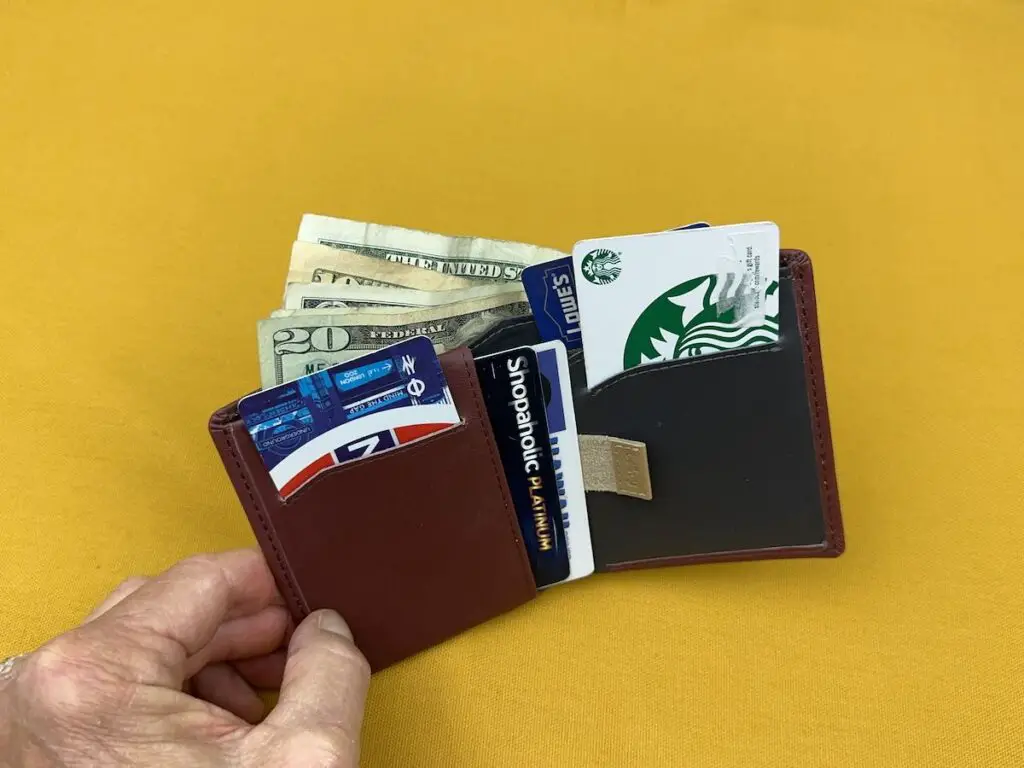 Of course the slot will hold a few receipts and other miscellanea. Just remember it's a slippery slope. You can trash out your wallet real quick if you let that junk get away from you.
5. Coin pocket
A coin pocket is a nostalgic blast-from-the-past, but if you hand someone a note of cash, you'll inevitably get loose coins in return that have to go somewhere.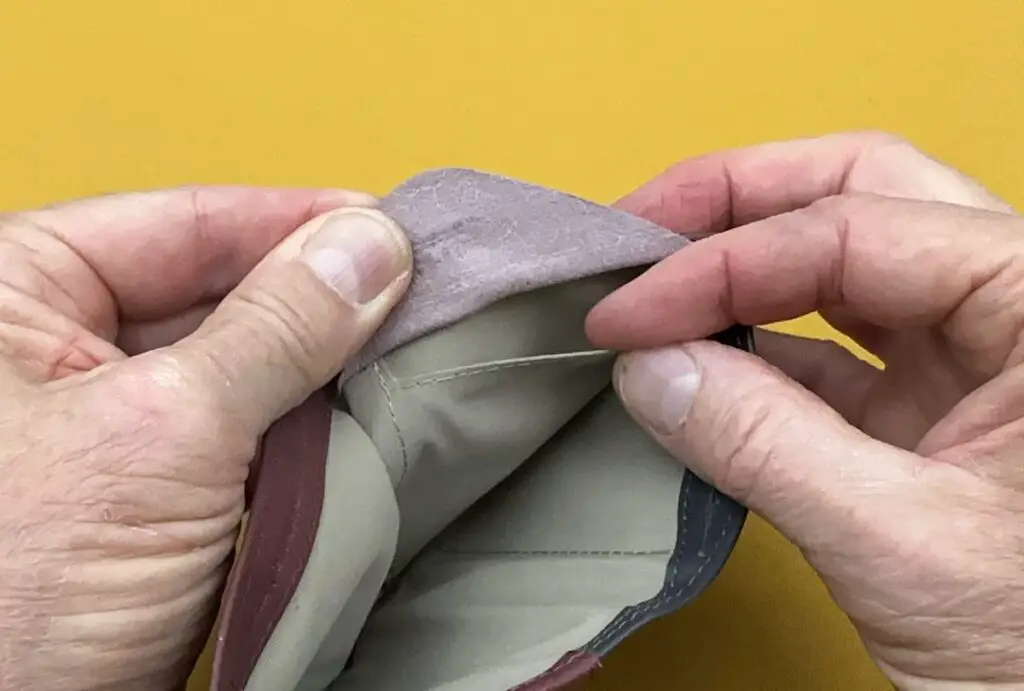 You can stick them in your pocket until you deposit them in your piggy bank. Or you can place a few quarters inside the coin pocket of the Note Sleeve for a future gum ball emergency.
I like to carry a spare key and a guitar pick in mine. The coin pocket will also hold a receipt, a memory card, or a safety pin.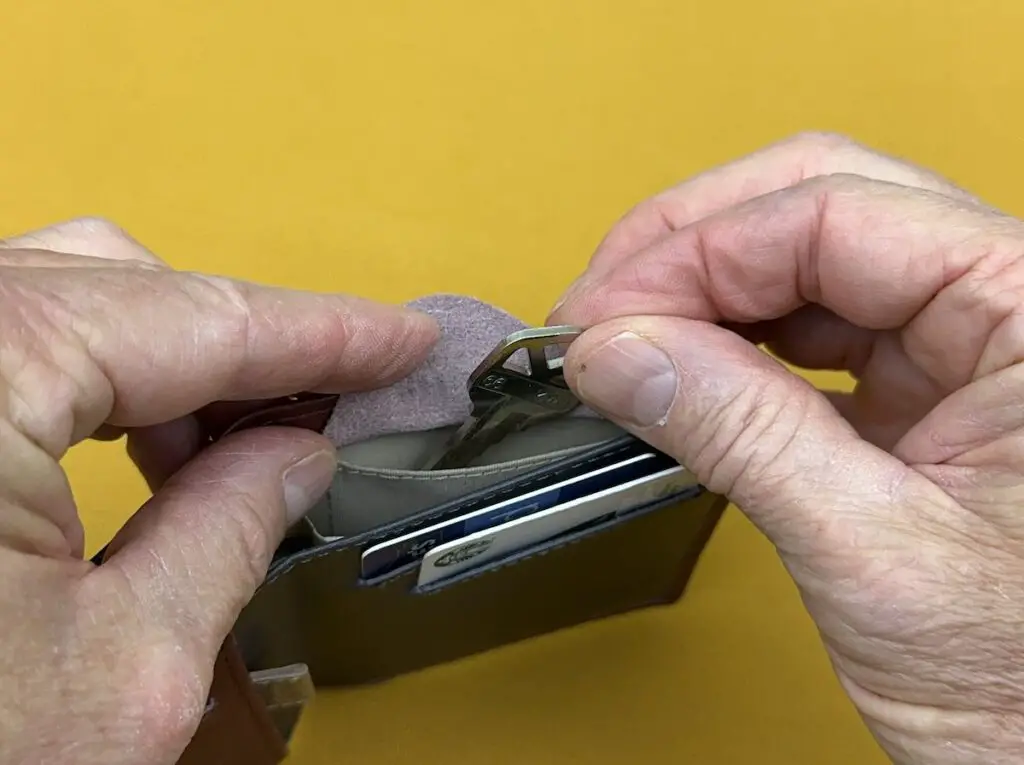 The coin pouch is somewhat hidden, too. A small flap covers the slot, so even if your wallet gets turned upside down, the contents won't spill out.
The pouch is made from the lining material of the wallet, not leather, so its super thin and takes up practically no space.
Should you buy it?
Yes, definitely, if:
You're a cash-centered person that appreciates a wallet that hold flats bills.
You're a fan of fine leather. Bellroy is well known for it's leather quality.
You want a thin and slim "conventional" wallet that easily slips into your front pocket. (It's thin enough to wear in your back pocket, but no one should sit on any wallet.)
You want to carry a few coins or poker chips or bandaids.
You appreciate a pull tab for lightning-quick card access.
Pass on it, if:
You would prefer a more minimalist, credit-card-sized wallet.
You would like a card slot that is not RFID protected so you don't have to remove a card to use it.
You don't have many cash transactions.